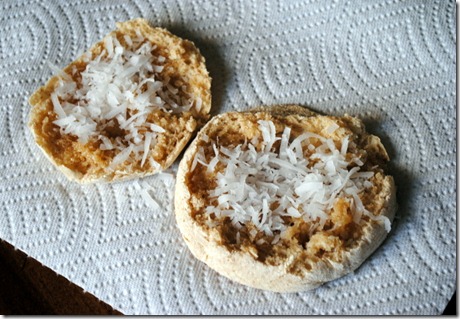 Toasted whole wheat English muffin + Honey + Coconut
Gosh, it's good.
As tempted as I was to assemble another glorious honey coconut English muffin and call it lunch, I figured I'd be better off eating a meal with protein and vegetables that would surely keep me feeling full for much longer.
Heeeey, eggs!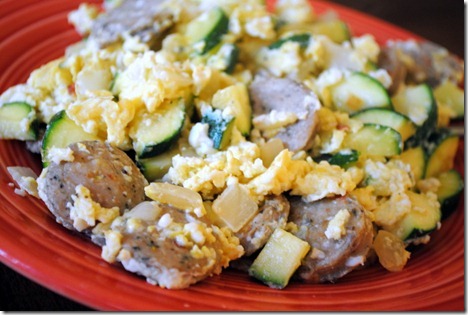 I quickly cooked up a batch of scrambled eggs with three eggs, milk, a sliced chicken sausage, onion and zucchini.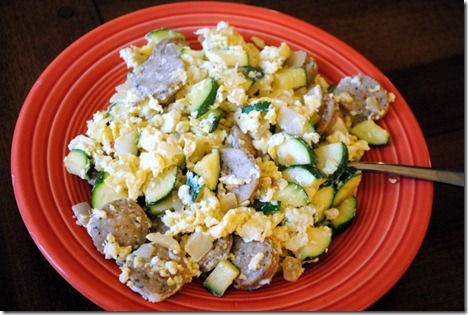 Breakfast for lunch!
August Book Club
Are you ready to select the book for PBF's August Book Club?
As a reminder, this book club is a virtual book club that anyone is welcome to join. Over the next three days we'll vote on a book from the three books noted below and I'll announce the winning book on Monday.
On Tuesday, September 4, I will post my review of the book along with discussion questions for participants to talk about in the comments section of the post. If you're a blogger and post a review of the book on your own blog for the book club, be sure to email me a link before September 4 and I'll include it in the post in a roundup of book reviews from other bloggers!
Taken from your recommendations on the PBF Facebook page, the three contenders for the month of August include: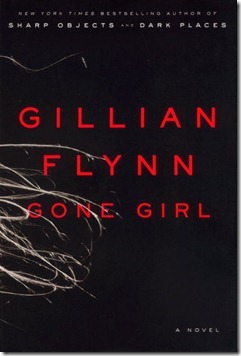 On a warm summer morning in North Carthage, Missouri, it is Nick and Amy Dunne's fifth wedding anniversary. Presents are being wrapped and reservations are being made when Nick's clever and beautiful wife disappears from their rented McMansion on the Mississippi River. Husband-of-the-Year Nick isn't doing himself any favors with cringe-worthy daydreams about the slope and shape of his wife's head, but passages from Amy's diary reveal the alpha-girl perfectionist could have put anyone dangerously on edge.
Under mounting pressure from the police and the media—as well as Amy's fiercely doting parents—the town golden boy parades an endless series of lies, deceits, and inappropriate behavior. Nick is oddly evasive, and he's definitely bitter—but is he really a killer?
As the cops close in, every couple in town is soon wondering how well they know the one that they love. With his twin sister, Margo, at his side, Nick stands by his innocence. Trouble is, if Nick didn't do it, where is that beautiful wife? And what was in that silvery gift box hidden in the back of her bedroom closet?
With her razor-sharp writing and trademark psychological insight, Gillian Flynn delivers a fast-paced, devilishly dark, and ingeniously plotted thriller that confirms her status as one of the hottest writers around.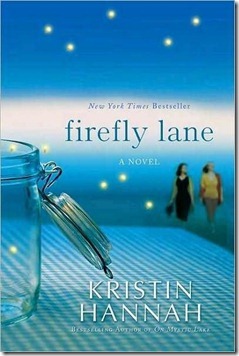 In the turbulent summer of 1974, Kate Mularkey has accepted her place at the bottom of the eighth-grade social food chain. Then, to her amazement, the "coolest girl in the world" moves in across the street and wants to be her friend. Tully Hart seems to have it all—beauty, brains, ambition. On the surface they are as opposite as two people can be: Kate, doomed to be forever uncool, with a loving family who mortifies her at every turn. Tully, steeped in glamour and mystery, but with a secret that is destroying her. They make a pact to be best friends forever; by summer's end they've become TullyandKate. Inseparable.
So begins Kristin Hannah's magnificent new novel. Spanning more than three decades and playing out across the ever-changing face of the Pacific Northwest, Firefly Lane is the poignant, powerful story of two women and the friendship that becomes the bulkhead of their lives.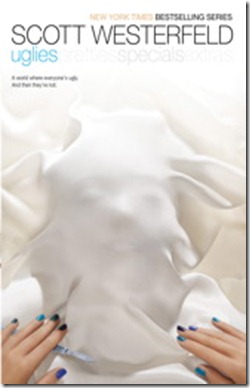 Tally is about to turn sixteen, and she can't wait. Not for her license — for turning pretty. In Tally's world, your sixteenth birthday brings an operation that turns you from a repellent ugly into a stunningly attractive pretty and catapults you into a high-tech paradise where your only job is to have a really great time. In just a few weeks Tally will be there.

But Tally's new friend Shay isn't sure she wants to be pretty. She'd rather risk life on the outside. When Shay runs away, Tally learns about a whole new side of the pretty world — and it isn't very pretty. The authorities offer Tally the worst choice she can imagine: find her friend and turn her in, or never turn pretty at all. The choice Tally makes changes her world forever.

***

Time to vote!

[polldaddy poll=6438128]

Note: This morning I created an Amazon store where you can now find all of the previous PBF Book Club books in one place, along with the three contenders from this month. I had a blast adding a bunch of my favorite things to the store, including fitness, food and kitchenware favorites. While the prices in my Amazon store are the same as those you find on Amazon.com, I want to be very transparent and let you know that should you buy a book or anything else through my Amazon store, I will receive a small commission.

I was tempted to double (triple?) up on this fabulous combination for lunch today.