I'm back, baby!
After a fantastic cruise with friends, a wonderful 27th birthday and five hours in the car today, it feels good to be home.
I have a lot of recapping to do and plan to cover our vacation over the next day or two, but figured I would dive into the fun tomorrow and highlight some wonderful memories from today first!
Meeting Baby Noah
We got off the cruise at Port Canaveral a little after 9 a.m. today and had plans to meet up with our friends Carrie and Dru and Will and Alex in Orlando before heading to my parents' house in St. Pete to pick up Sadie and drive back to Ocala.
We planned to spend several hours in Orlando this afternoon because we wanted to get to know this little guy: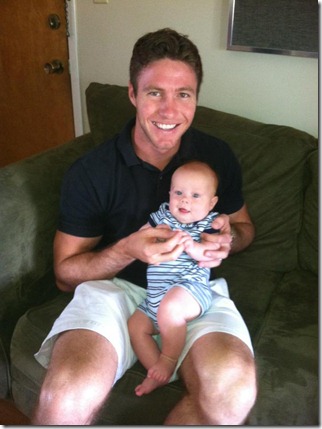 Say hi to Noah!
Noah is Dru and Carrie's adorable baby boy. He was born in January and is just about the happiest, calmest little guy in the world. Noah is the first baby born to friends of ours so it was a lot of fun to talk to new parents about how they're handling such an exciting new addition to their lives.
You can tell Dru and Carrie are head over heels in love with Noah. I also plan to talk to Carrie at length if/when Ryan and I start to seriously talk about having a baby because she is just about the most laid back mother in the entire world. She also described the epidural she had as "not that painful." As someone who is deathly afraid of needles (I don't even have my ears pierced), I obviously think she's a champ.
Family Birthday Celebration
After saying goodbye to our friends, we drove two hours to spend the early evening with my parents in St. Pete. They planned a belated birthday celebration for me which made me smile!
We were pretty hungry when we arrived and dug into the feast my mom prepared that included homemade ribs, corn on the cob and beans.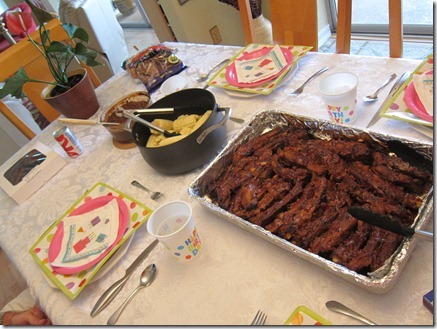 You would think that after a few days of all-you-can-eat food on a cruise that we would take it easy, but the food was too delicious not to pack in. Tomorrow vegetables will make a comeback in my diet. Tomorrow!
My mom also made a red velvet cake with homemade buttercream icing for dessert.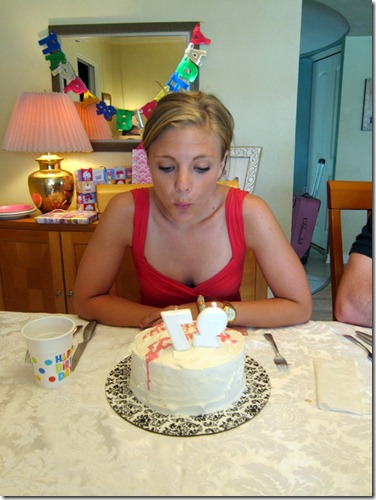 Make a wish!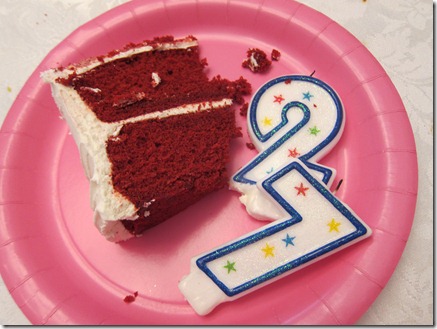 I had two slices and licked the icing off my plate. Loved it!
Ryan and I have plans to relax for the rest of the evening and catch up on last week's episode of New Girl.
See you in the morning! I hope you had a great weekend!