I'm back in Jacksonville again! After spending less than 24 hours in Ocala, I turned around and headed back to Jacksonville late this morning. I am flying out of the Jacksonville airport on a quick trip tomorrow and since my grandma, aunt and cousin are still in town from my sister's wedding, I decided to drive back for a little more family time later today.
I planned my departure time around a BodyPump class in Jacksonville and arrived just in time to begin the warm up. Phew!
The instructor wasn't my favorite but the class still delivered a solid workout.
I concluded my time at the gym with a quick 10 minute cool down on the elliptical.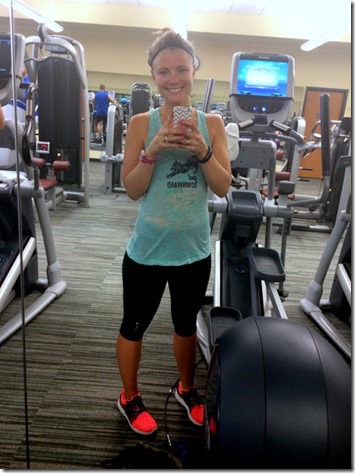 And no, I still haven't washed my hair since my sister's wedding (hence the weird spiral bun and super-teased look).
Lunch
After my time at the gym, I drove to Whole Foods to grab a quick lunch from the hot bar.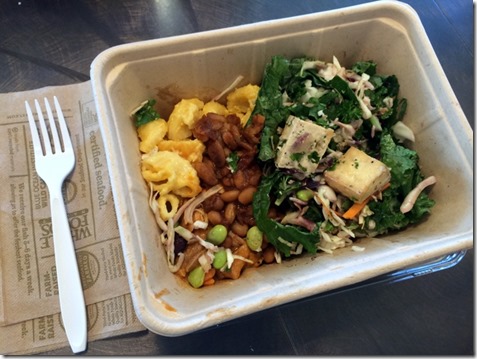 I filled half of my container with a superfood salad and the other half with comfort foods in the form of baked beans, macaroni and cheese and a Moroccan chicken dish.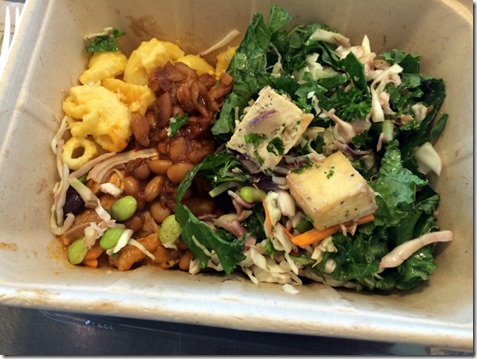 And now I'm nice and full.
I am planning to spend the majority of the afternoon working at Whole Foods before heading off to my parents' place for a big family dinner with our relatives.
Time to participate in a conference call regarding tomorrow's trip while I enjoy this lovely little shortbread cookie!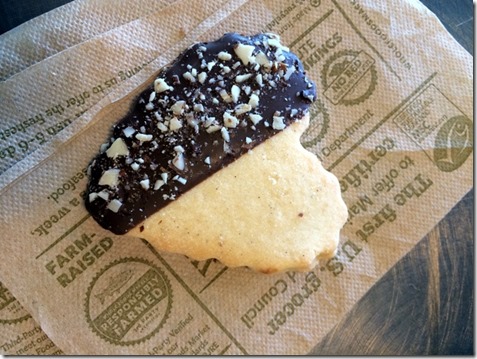 Enjoy your Monday!
White Plum Boutique Giveaway Winners
Congratulations to…
First prize: $300 to White Plum – Winner: Abby – "I liked White Plum on Facebook and Instagram. Totally in love with their scarves, and they look like they would have a ton of dresses that would be great for work!"
Second prize: Pair of leggings and a tunic from White Plum – Winner: Chelsea – "I love the Mesa Verde Day Dress!"
Third prize: A pair of leggings and a scarf from White Plum – Winner: Sommer – "Following them on Pinterest. Love the cute dresses for spring!"
All winners were emailed early this afternoon. Thank you to all who entered!
Question of the Afternoon
What is your favorite place to go for lunch?
I usually pack my lunch, so eating anywhere around lunchtime feels like a treat. My favorite mainstream lunch spots are probably Chipotle or Whole Foods.