planned
to take my first stab at bolognese sauce.
By my not-so-subtle italics, I'm sure you can guess that my plan did not come to fruition, but fear not! The result wasn't all bad…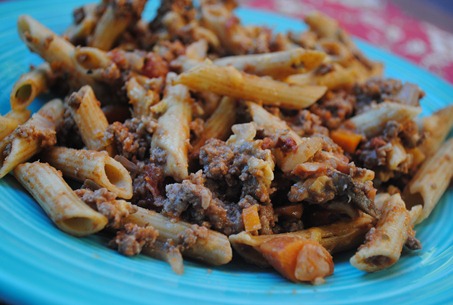 Let's start from the beginning of my bolognese blunder.
I grew up enjoying my spaghetti with the meaty sauce and figured it was high time I make my own from scratch.
I had lean ground beef, an onion, carrots and diced tomatoes on hand, so why not give it a go?
I sat down to browse the internet for inspiration which irritated the heck out of Sadie. Over a game of tug-of-war with Mad Dog, I stumbled upon Ellie Krieger's recipe for bolognese sauce on the Food Network's website.
It seemed easy enough, so I began chopping an onion, crying with every stroke of the knife. Once I had my chopped veggies sizzling away, I added ground beef, chicken broth and spices, as instructed.
This seems a little watery.
I kept waiting for the sauce to thicken, as the recipe said it would.
I'm wating…
I waited not-so-patiently (patience is something I should really work on), and the sauce never thickened. After reading reviews of the recipe, it seemed like a common problem among testers.
Note to self: Read reviews on recipe websites.
Note to readers: Did you know bolognese is also a breed of dog? Just learned that little nugget this evening!
I decided to abandon my bolognese sauce and revamp the recipe.
I drained off all of the liquid and added about a cup of marinara sauce to the ground beef mixture.
I then cooked up a box of whole wheat penne pasta. Once the pasta was cooked al dente, I drained off the water and poured the penne into the bottom of a 13×8 glass baking dish.
I topped the pasta with the meaty sauce and a package of shredded cheddar cheese before baking it in the oven at 350 until the cheese melted and the pasta set.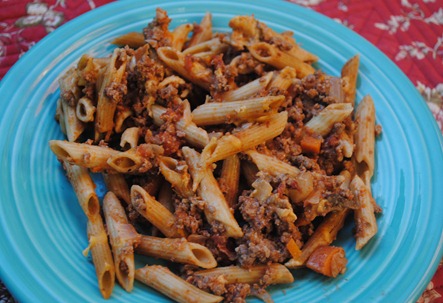 The end result was actually pretty darn delicious!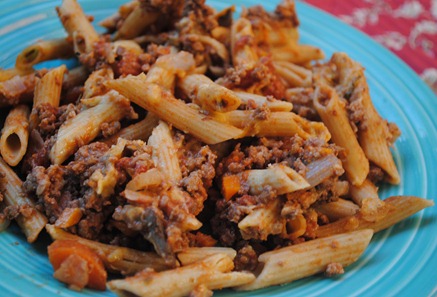 Sometimes a recipe blunder can be turned around into something delicious.

Noted.

Now I'm off to bake some Christmas cookies. It's that time of year! 😀

Tonight I