Those of you who were readers of PBF on Sadie's birthday last year may remember the epic battle between the cheeseburger and the vanilla soft serve cone. We placed both options in front of Sadie and watched to see which one she devoured first.
As expected, the soft serve didn't stand a chance.
This year, on Sadie's third birthday, we decided to kick things up a notch.
Ladies and gentlemen, I present the contenders: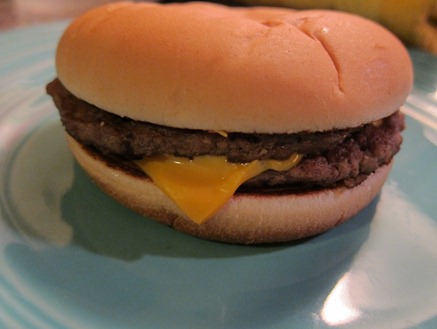 One double cheeseburger
vs.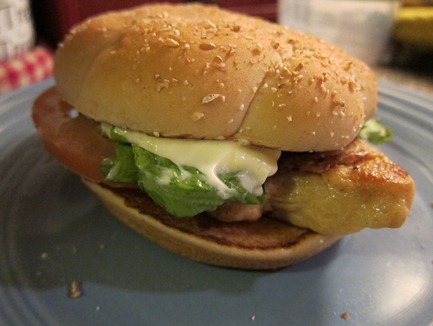 One grilled chicken sandwich 
And the birthday girl herself!
We were actually pretty surprised with the selection she made.
Check it ooout!
(Click here to see this video on YouTube.)
We're already brainstorming contenders for next year's birthday battle!
Interested in a Fashion Page?
And now I have a little question for you guys!
When I asked for your input on things you would like to see more of on the blog in 2011, I had several requests for fashion posts and pictures of outfits I wear. While I definitely don't consider myself incredibly fashionable in the least, I do love clothes! (For an awesome fashion blog, check out J's Everyday Fashion!)
Some of the most common emails and comments on my blog ask me where I got a certain item I wore in a picture that I posted on the blog.
When I was talking to Ryan about ideas for a new page for the blog, he suggested a page dedicated to a "look of the week." Well, I'm thinking it might be fun to randomly update the page with new outfits whenever I (or Ryan) happen to snap a picture of my entire outfit… whether it be once a week, several times a week, or a couple of times a month.
Of course, I would let you know when I post something on that page through my normal blog posts so you wouldn't have to click on it all the time in hopes of seeing something new.
Also, from a logistical stand point, I'm not sure how to create posts for pages (internet savvy folks, is this even possible?), so I'm not sure it would work anyway.
I took this photo as I was leaving work today, figuring a post on the fashion page could look like this: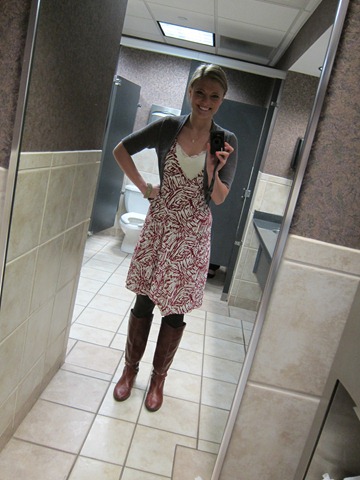 Date: 1/20/11
Dress: BCBG
Lace camisole: Express
Deep gray shrug: New York and Co.
Brown tights: Old Navy
Boots: Colin Stewart (via VictoriasSecret.com)
Gold necklace and bangle: Banana Republic
It's very similar to what Ali of Food, Fitness, Fashion does and I've always loved that feature of her blog, though my fashion-related posts wouldn't be featured on the main page.
Would this interest you? I don't want to throw up a new page on the blog that's "dead weight" and wouldn't really interest you guys. If this particular idea is less than enthralling to you, do you have any ideas for other pages you would like to see?
Please let me know! I aim to serve. 😀