As someone who is a serious planner and likes a set schedule, working at the gym is forcing me to be more flexible and adaptable. On days when I don't have a set shift, I am still there a lot training clients or teaching a class. I think this is actually a good thing for me in the long run, but it will take some getting used to. I missed you guys this morning!
I had a training session with my first client of the day scheduled for 7 a.m., so I got to the gym a little after 5 a.m. so I could exercise for an hour and have time to shower, eat breakfast (overnight oats again) and work on on a training plan before our appointment.
From the time I clocked in, I didn't stop moving. I trained one client (she just signed up for more sessions today – woo!) and took two people through a functional workout before I got a call from another instructor asking me to sub for her water fitness class.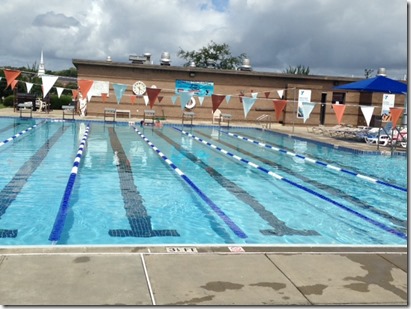 Check out those menacing clouds!
I soon found myself rewearing the sweaty clothes I worked out in earlier that morning to teach the class which was awfully pleasant. I will definitely try to remember to pack an extra workout outfit from here on out just in case something comes up. Ick!
It actually rained halfway through the class as I was teaching (no lightning though, so it wasn't canceled) and I joked that someone was trying to tell me it was time to take another shower. Yikes!
Lunch
My shift at the gym wasn't too long today and I got off work a little after noon and high-tailed it home to make a smoothie for lunch. I knew I wanted a cold lunch since I was overheated from teaching outside and a smoothie sounded perfect.
Too bad it looked like death in a cup!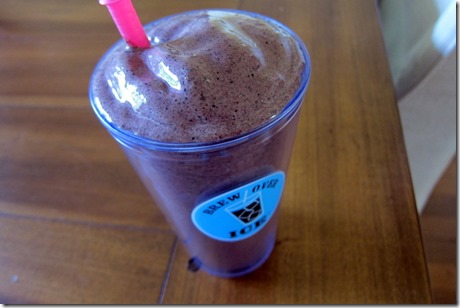 I blame the frozen blueberries.
In this smoothie:
Vanilla almond milk
Frozen blueberries
Frozen raspberries
Cashew butter
Chocolate protein powder
Cocoa powder
Fresh spinach
It was fantastic and totally hit the spot.
Now I'm off to take my second shower of the day and head out to a craft store to pick up some supplies for a project I am working on. More on that in a few days!