Last night Ryan and I enjoyed a rockin' Friday night at home.
I made our favorite cashew crusted salmon and we watched a few episodes of The Big Bang theory while I worked on a craft project that I'll be sure to share with you soon!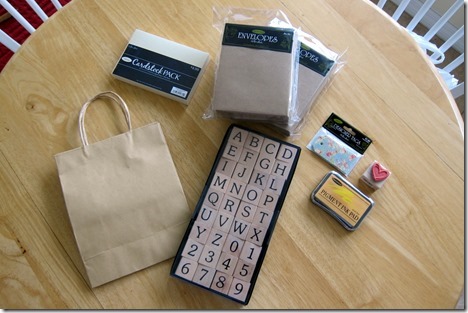 I was pretty tired, so it was the perfect evening. After a few weekends away, I'm happy to have a calm weekend at home in Ocala!
Workout
This morning we were up a little after 7 a.m. thanks to a very rambunctious dog.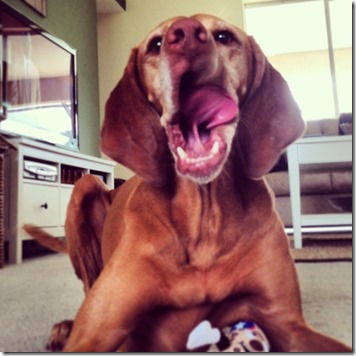 Didn't you get the memo? 7:30 a.m. on a Saturday morning is the perfect time for playtime.
What a stinker.
Shortly after we got out of bed, we changed into our gym clothes and headed out for a quick Saturday morning workout.
I started my workout with a light warm up before I completed two rounds of the following:
15 Upright rows to overhead press
10 Bulgarian split squats (each leg)
45 Second plank with shoulder taps
2 min. run on treadmill
20 Squats with leg lift (alternating sides)
12 Spiderman planks
15 Tricep dips
2 min. run on treadmill
21 Bicep curls (7 upper half, 7 lower half, 7 full)
15 Deadlifts
12 Stability ball roll-ins
2 min. run on treadmill
I was nice and sweaty by the end of that one!
Farmer's Market
Before driving home, Ryan and I decided to make a brief detour to the farmer's market for some fresh produce. We popped into Starbucks first for some coffee before browsing around the stands.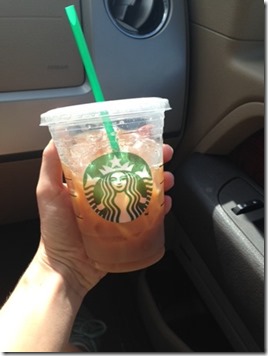 Everything at the farmer's market looked so fresh and vibrant. I bought a pint of cherry tomatoes and ate nearly all of them in the car before we made it home. They were delicious!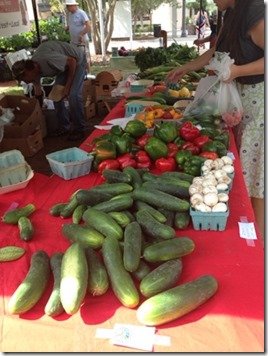 I also was coerced into buying this bad boy…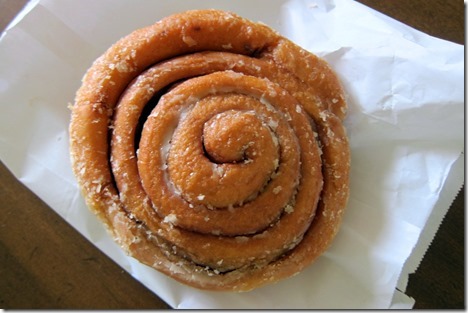 My husband is a fantastic influence, huh?
When we arrived home, Sadie was as amped up as ever, so we put on some music and had a little dance party with her in the kitchen.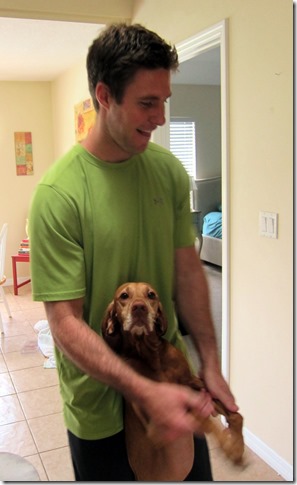 Whenever either of us dance with Sadie, I cannot help but crack up. She gets this feeble, confused look on her face, but the minute you drop her paws back down to the floor, she wiggles around and jumps up at you because she wants to keep dancing. Or she's just reveling in the attention. Probably the latter.
Hope you're having a great Saturday so far!