Good morning, my friends!
This morning I received an email from Catherine, an elementary school teacher from Connecticut. She is working with a group of people to organize a race to honor the victims of Friday's tragedy in Newtown, Connecticut – a 5K or possibly 10K or half marathon. The race will have a virtual component on the same day for those outside of the Connecticut area and will likely take place in the spring. Planning is still in the works, but you can stay up-to-date by visiting this Facebook page.
Christmas in Sarasota
Since the words weren't flowing this weekend, I have a little catching up to do from our Christmas weekend in Sarasota.
We left Ocala on Friday night to meet up with my in-laws for dinner at Puccini's, a seemingly nondescript Italian restaurant.
The restaurant is located in a strip mall and from the outside you'd never know it was even open let alone beautiful inside!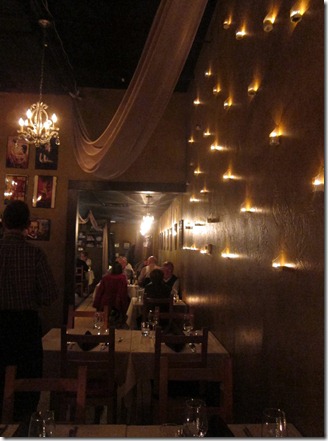 My mother-in-law read about the restaurant on Yelp! and told us it was a "hidden gem" in Sarasota and she was absolutely right. We sat at a table right next to Chef Rich's prep station where we watched him cook every meal and appetizer that was served in his restaurant.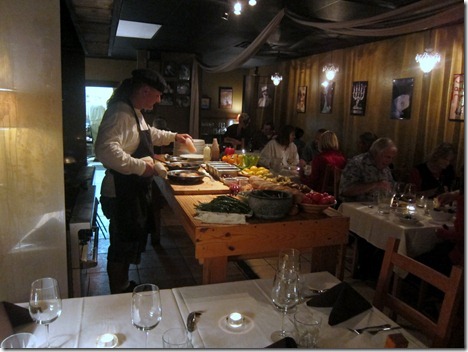 Chef Rich was really friendly and enthusiastically answered all of our questions about the food and his background. He said that he sees Puccini's as a modern Italian restaurant featuring fresh fare with options other than boatloads of pasta and red sauce. He buys his fresh produce daily and everything I tried tasted phenomenal. (I highly recommend his grandmother's gnocchi, the mussels and the scallops!)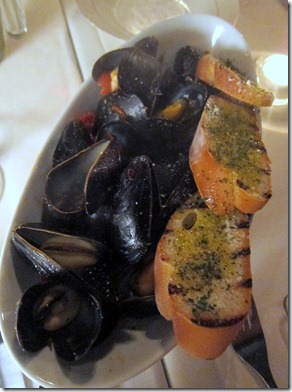 On Saturday morning, I had an eight-mile run on the books to stay on track with my half marathon training plan.
I wasn't in the mood to run when I first awoke, but after a light breakfast and a cup of coffee, I felt much more energetic. I relaxed and digested for an hour or two before heading out to knock yet another long run off the list!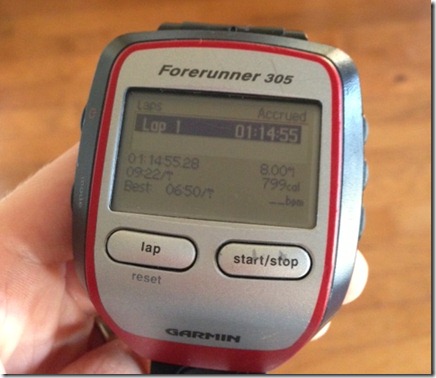 Sadie and I completed eight miles in just under one hour and 15 minutes (9:22/mi pace) and had a really good run. Don't get me wrong – running eight miles is never easy for me – but running gave me time alone with my thoughts and was a great outlet for me that morning. Plus, Sadie seemed to have a ball and watching her enjoy life always makes me smile.
Sadie Claus even made an appearance this weekend!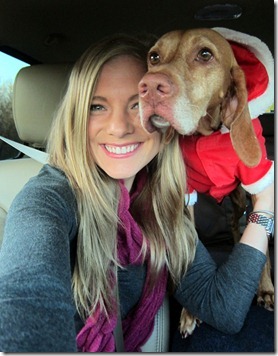 We spent the rest of the weekend at my mother-in-law's house soaking up quality time with loved ones.
After eating a fabulous dinner on Saturday night, we gathered in the living room with Ryan's grandparents to open Christmas presents.
It was really wonderful to be able to be around people we love so much last weekend.