We had some power issues and the electric company came out to our house a little after 9 p.m. to work their magic.
Ryan has a pretty awesome headlamp that he uses on his hiking trips, so while I used the headlamp, Ryan clipped a mini flashlight to his t-shirt (Iron Man?) and we wrapped away while Sadie chased the light. It was actually a really nice night and our wrapping job didn't end up looking too shabby!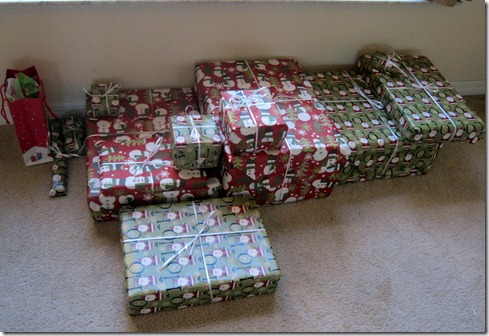 Get ready for some fun gifts, family!
We leave on Friday for Jacksonville to celebrate Christmas with my family (my grandma is flying in from Gettysburg on Wednesday!) and I cannot wait.
Workout
This morning we awoke nice and early and arrived at the gym around 5:15 a.m.
Since Best Body Boot Camp officially concluded last week, I feel a bit of workout freedom this week. Though I typically prefer having a plan or routine of some sort when it comes to my workouts, a few weeks of randomness sounds pretty fantastic right now.
I began my workout with 20 minutes on the elliptical before wandering into the weight room. Almost immediately, the whiteboard caught my eye.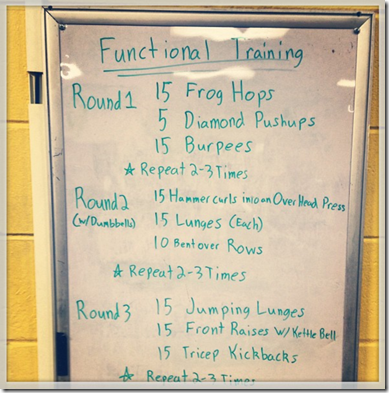 Every week or two, one of the trainers at my gym updates the whiteboard with a new workout. Since I've been following BBBC, I haven't really used the whiteboard workouts too much, but today it inspired me!
As you can see, I kept the second circuit basically the same (I upped the number of rows) and changed the first and third circuits a little bit to my liking. Okay, fine, I didn't want to do burpees or jumping lunges today. Caught!
And yes, more holiday graphics. They bring me joy.
Breakfast
Post workout breakfast!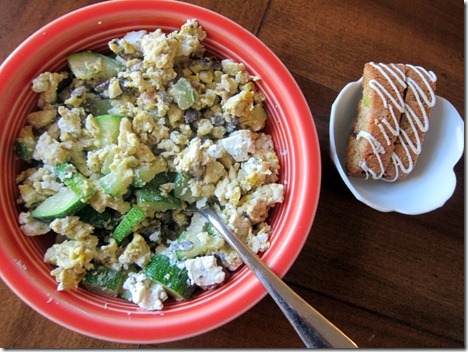 Today's breakfast included scrambled eggs with goat cheese, zucchini and mushrooms.
Plus two mini biscotti on the side!
And there you have it!
Question of the Afternoon
Do you like to have a plan to follow when you work out or do you prefer to wing it?
Last night Ryan and I were up a little later than usual wrapping Christmas presents for my family… in the dark.