Oh heeey there! How are you doing today?
My Tuesday started off nice and early with a workout at the gym. It was in the 30s when we awoke this morning and I was awfully thankful that Ryan turned our little space heater on before we went to bed last night.
Dragging myself out of bed at 5 a.m. when our house is cold is 10 times harder than getting out of bed when it's temperate. I give you northerners a lot of credit for tackling cold-weather workouts. You guys are champs.
Vizslas don't have an undercoat, so Sadie's a big baby when it comes to cold weather, too.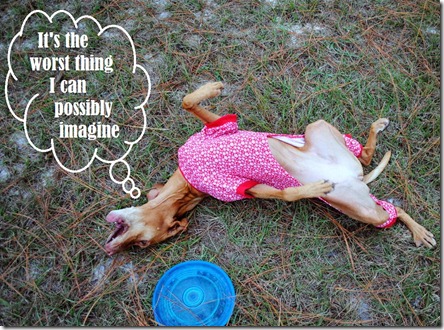 She has yet to emerge from bed this morning and created a little cocoon out of the covers for herself.
I wonder if she's employing the same tactic I used to use during the winter when I was growing up in Illinois? I'd pull my covers up over my head and use my breath to help keep my body toasty in my little bed fort. Warmth!
Where were we? Ah! Today's workout!
I began my gym session with a 20 minute warm up on the elliptical before heading into the weight room to complete the first workout from Phase 3 of Tina's Best Body Boot Camp. This workout used pyramid sets to fatigue the muscles and focused on legs and shoulders.
Breakfast
Breakfast this morning was awfully similar to yesterday's morning meal.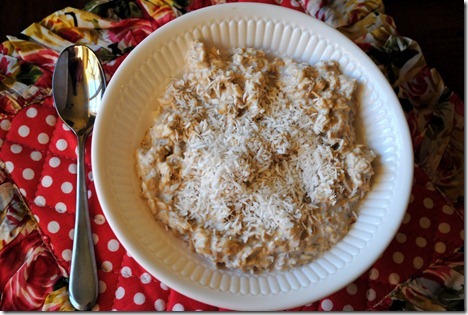 More overnight oats!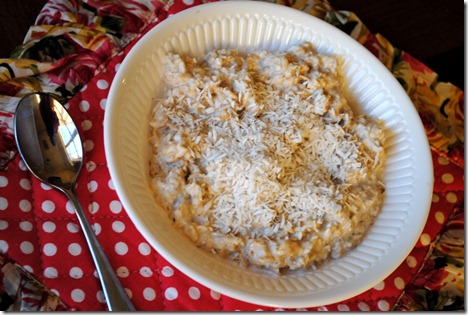 Topped with unsweetened shredded coconut.
Of Possible Interest
Question of the Morning
Do you find it more difficult to motivate yourself to work out during the winter?
How do you motivate yourself to work out when it's freezing outside?