I spent the morning studying for my personal trainer certification. As an advertising and public relations major, I haven't taken a science class since my freshman year of college (and that was a basic pre-requisite class), so a lot of the science terminology (osteoblasts, what!?) goes right over my head.
I want to take my time with each chapter, take notes, create a personal study guide and absorb the information. Every chapter is taking me a lot longer to get through than I initially anticipated, but that also makes me feel better about the certification I chose since it seems very comprehensive and detailed. You better believe I repeated this morning's "determination now or regret later" mantra in my head when I found my mind wandering.
Lunch
Lunch was a welcome break this afternoon and I reheated a bowl of chili leftover from Sunday night's dinner.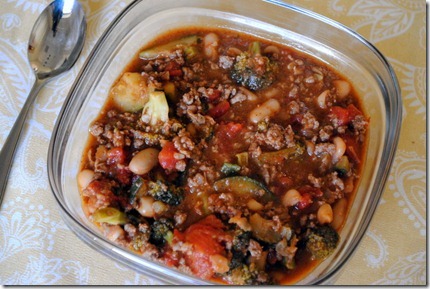 The chili was essentially my simple summer chili, but with cannellini beans instead of the kidney beans and broccoli florets and carrots added to the mix.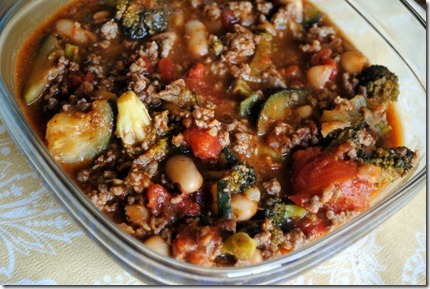 Flavorful and filling!
Coming up in August
Whenever a new month hits, I peek ahead at my calendar and check out everything I have on the agenda for that month. Inevitably something jumps out at me and gets me excited for the month ahead!
This month I have quite a few things planned that I'm really looking forward to, noted in chronological order below:
Indoor triathlon
Beauty and the Beast musical with my mom and sister
Crafty day with Laurel
Katy's baby shower
Taste of the Nation in Orlando (You can use the code ONEDAY get 25 percent off your ticket if you care to attend! I had the best time last year and cannot wait to go again this year. If you live in Orlando, love food and want to help raise money for the Coalition for the Homeless of Central Florida and Second Harvest Food Bank of Central Florida – they get every dollar raised – feel free to use the coupon code, valid today only, and join me!)
Leah's bachelorette party in New Orleans
August should be a fun one around here!
P.S. The July Book Club post will be up soon!
Question of the Afternoon
What are you most looking forward to in August?