I'm just about ready to head to Tampa!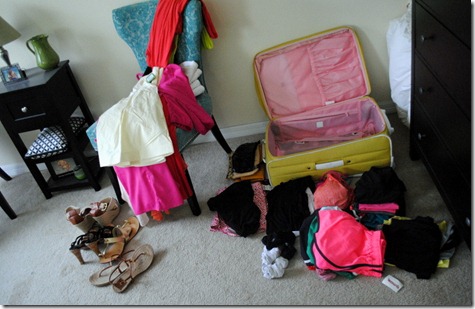 I spent a few hours this morning packing up the rest of the things I will need for the next 11 days. Yup, you heard that right… eleven days.
Check out this crazy travel schedule:
Drive to Tampa tonight
Fly from Tampa to New Orleans tomorrow morning
Fly from New Orleans to Texas to meet up with Ryan on Sunday morning
Fly from Texas to Hawaii with Ryan on Sunday afternoon
As you can see, I had to pack everything I need for this weekend's bachelorette party and our trip to Hawaii in one suitcase since I won't be heading home in between the two trips. As someone who absolutely abhors packing, this task was pretty darn miserable. I wasn't feeling very creative this morning and ended up packing a ridiculous amount of dresses since thinking about one piece of clothing is a lot easier than packing tops and bottoms. Why do I find packing so awful? 
One of the reasons is surely Sadie's reaction to packing. She gets all stressed out the minute I pull my suitcase out of the closet. Usually this isn't that big of a deal because she generally comes with us wherever we go, but I couldn't help but feel sad knowing I'm not going to see her feeble little face for 11 days.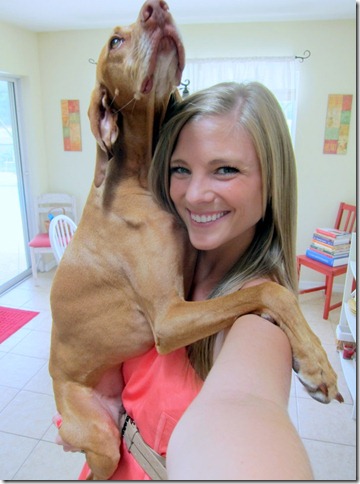 That picture always cracks me up. She was hunting reflections on the ceiling. Sadly, she came up empty handed.
I'm going to miss my needy little lady! At least I know she absolutely loves my sister and will be in the best hands.
Lunch
Lunch was another "use whatever is in the fridge" kind of meal and included chicken salad made with avocado and red pepper and a cup of Greek yogurt.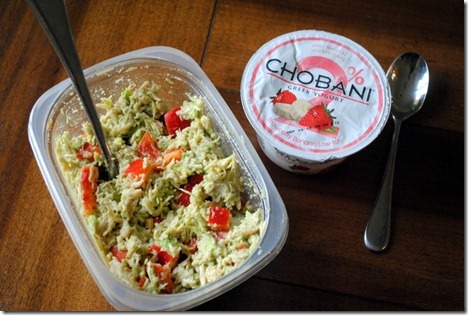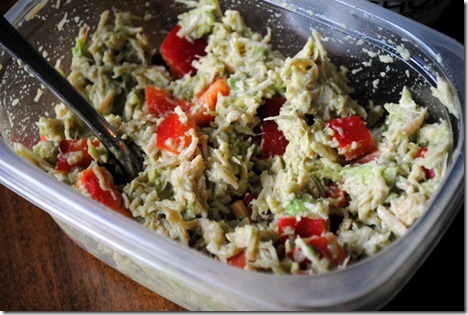 Nothing I've consumed so far today has really hit the spot, so I'm hoping to find something extra delicious for dinner with my dad and sister tonight. 
Off to Tampa!