Friday
The weekend began on a high note! fter I put Chase to bed, I had plans to meet up with some of my girlfriends for dinner. Ryan was home sick again on Friday and since we were trying to keep Chase away from him, I was pleased that the timing of everything worked out so well and I was able to nurse Chase and put him to sleep before leaving for dinner. Ryan said he didn't make a peep the whole time I was gone and I was able to sneak into his nursery for his dream feed at 11 p.m. when I got home.
A night out with my friends was so incredibly nice, especially since it was the first time we've all hung out without our babies. We all met after our babies were born (through Stroller Strides, library story times, etc.) and I feel grateful to have connected with some great women who are going through such similar things so soon after Chase was born.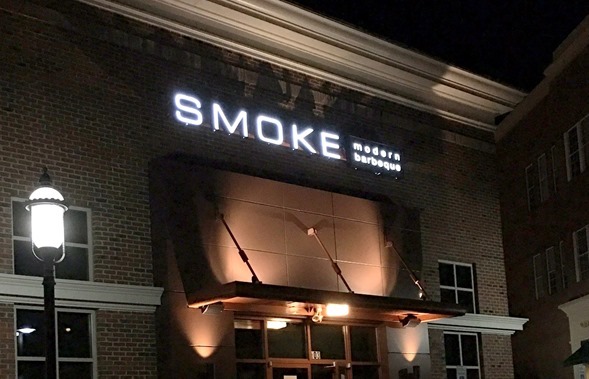 We had a great time and laughed a lot over wine, nachos and barbeque at Smoke Modern Barbeque in Birkdale Village. It was such a fun night and we're hoping for many more just like it in the future.
Saturday
Saturday began bright and early! Chase started to stir around 6:30 a.m., so I fed him before he fell back asleep, ate breakfast and then got ready for the day. I headed uptown for a shoot with the Charlotte Marriott City Center hotel a little after 7:15 a.m.
The Charlotte Marriott is working with a handful of local bloggers to highlight different aspects of Charlotte and the hotel and I was hired to be in a short promo video focusing on their new fitness center for their Design Charlotte series.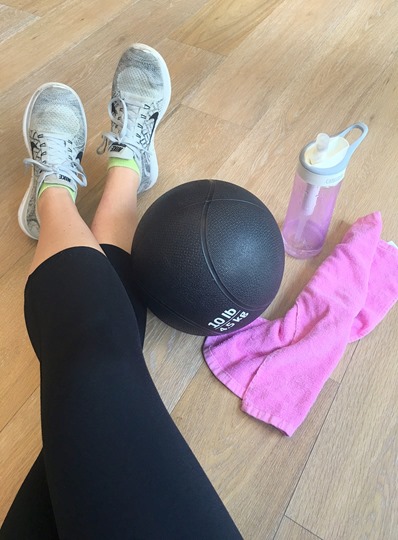 Early last week, I met with several people from the Marriott and the videographers to discuss the shoot and everything went really well on Saturday! The shoot was very casual (just me and two videographers who were so laidback and fun) and I had a really good time.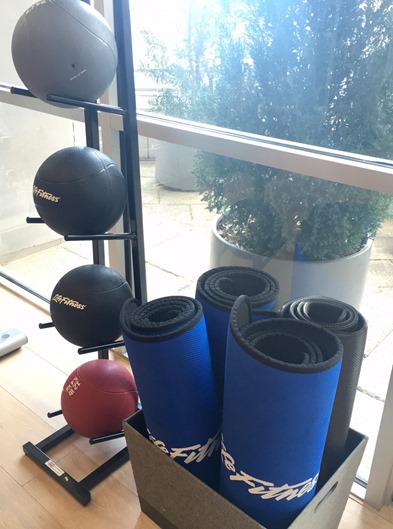 The shoot took place in the Marriott's new fitness center which is easily the nicest hotel gym I've ever seen. They have everything you could possibly need for a workout and their fitness on demand technology is SO cool!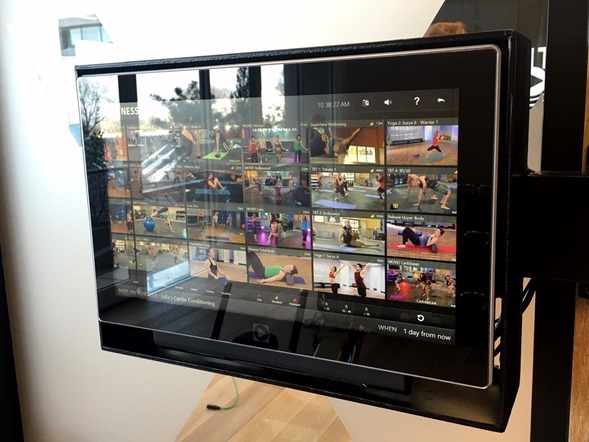 To use the fitness on demand feature, you select a workout from a kiosk outside a small fitness studio and the fitness video you choose will then play on a big-screen TV in the room so you can follow along. It was seriously awesome and I was filmed doing three different videos and had a blast!
(Pic from my Snapchat. I am officially obsessed. –> juliepbfingers)
After the workouts, I did a short interview for voiceover purposes before we wrapped and I walked to 7th Street Public Market for a latte and green juice before heading home.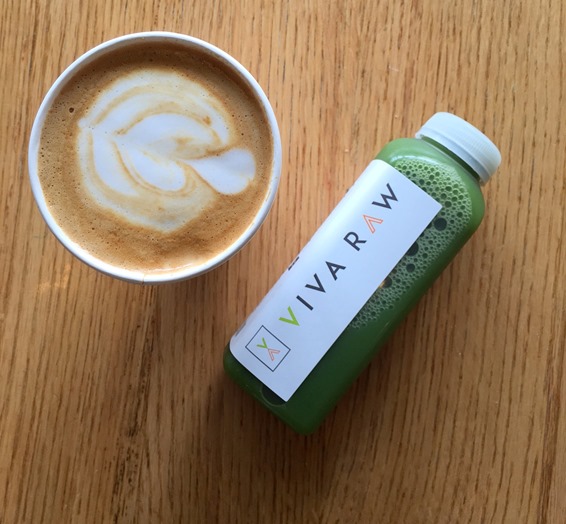 I made it back to our house around lunchtime and inhaled a sandwich before joining Ryan, Sadie and Chase on a walk around our neighborhood. It was SO beautiful outside on Saturday and we were sweaty by the end of our 60-minute walk. Spring is coming!
The rest of our Saturday passed by in a blur of cleaning, working and grocery shopping for a casual barbeque Ryan and I hosted on Sunday. Oh and we made it through a few more episodes of House of Cards. I'm SO glad this season is a good one! I missed ruthless Frank and Claire last season and still don't understand how the writers make you root for two people who are so terrible. They're crafty ones, I'm tellin' ya.
Sunday
The time change hit us hard on Sunday but I think that's to be expected when you have a little one, right? We really could've used the extra hour we were missing, but made the most of a few free hours in the morning. After a short 20-minute Grokker barre workout (I did Sarah Kusch's barre #2 workout – no barre needed!), I prepped food for our barbeque and entertained Chase while Ryan vacuumed and cleaned the floors.
Then it was time for Chase's morning nap, so I nursed him and put him in his crib before driving to the Charlotte airport to pick up my friend Ashley who flew in a day early for a conference she's planning at The Ballantyne Hotel so she could spend some time with us!
It was so great to see her and her baby skills are seriously top-notch because she held Chase and my friend Carrie's baby for a long time and both remained quite content with her the whole time!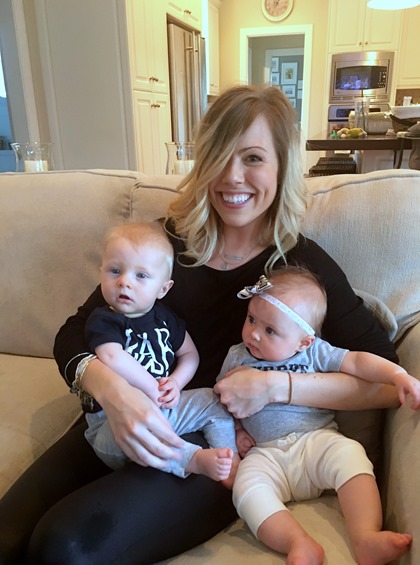 She's a baby whisperer!
We spent all Sunday afternoon just hanging out with our friends and soaking up as much quality time as we could with two of our favorite people.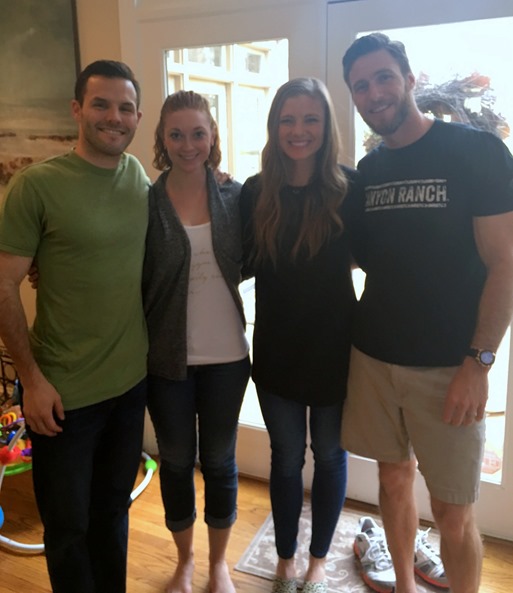 I'm so sad to say that yesterday was our last day with our friends Chandra and Kevin. They left early this morning for Arkansas and while I'm sure a lot of wonderful things await them in their new hometown, it's hard not to be really bummed to have to say goodbye to two of the first people we met when we moved to Charlotte who quickly became very close friends. I hope we see them again soon and wish them nothing but the best!
I had to make them a special going-away cake and decorated a big Rice Krispie Treats sheet cake I found at Publix on Saturday.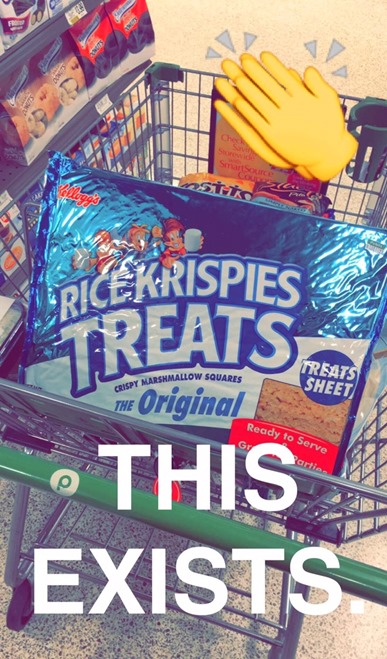 Have you guys seen this before!? It's amazing! I simply topped the giant krispie treat with homemade buttercream icing, crushed Oreos and a "We Will Miss U" message ("u" because I ran out of gel icing and didn't have enough for the "y" and "o") and everyone seemed to enjoy it!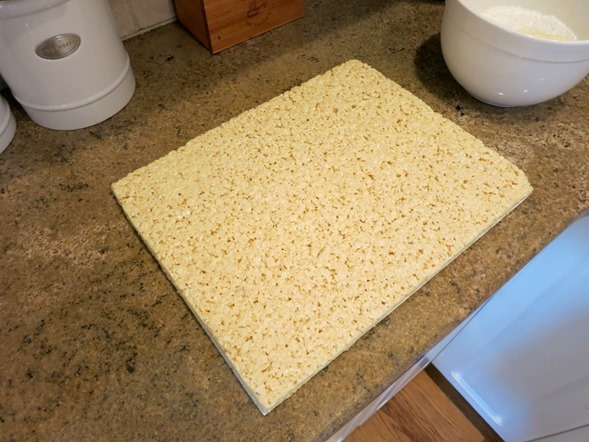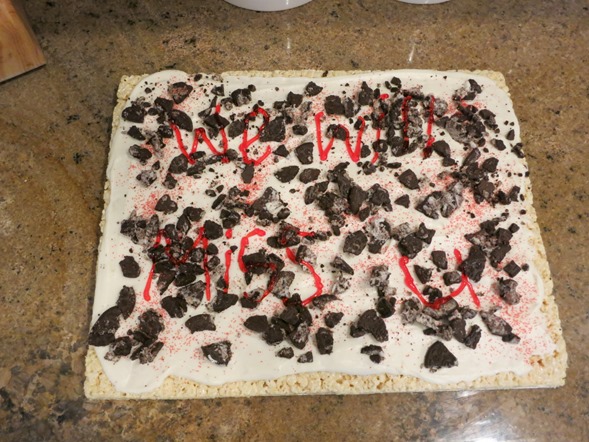 And that was our weekend in a nutshell!

I hope you guys had a good one!

Hi guys! My posting schedule is a little off today since I typically type up my Monday morning posts on Sunday and I didn't have the time or the energy to blog last night after our guests we were gone and Chase finally went to sleep. So here we are today! And now, since I usually use Monday's nap times to work on Tuesday's posts, I'm not sure how the rest of the week will look, so please bare with me if things are a little scrambled. Working from home with a little one requires some flexibility, that's for sure!