Ryan's mom came in town this weekend! We were so, so happy to have her here in North Carolina for her very first visit to our new house!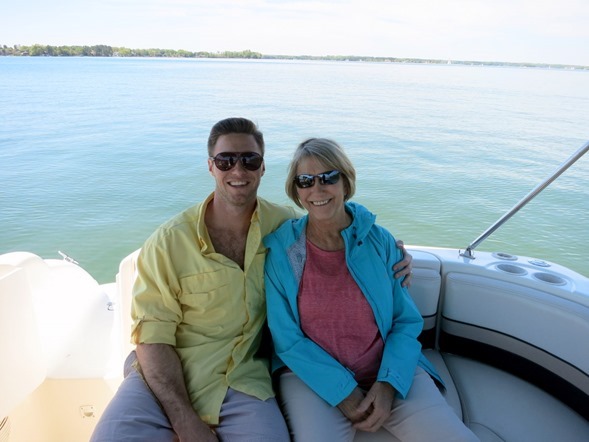 Truthfully, I ended up completely neglecting my camera for most of the weekend in favor of simply soaking up time with Ryan and my mother-in-law, but I did manage to snap a few pictures (mostly on my phone) to share that can serve as a little glimpse into our weekend.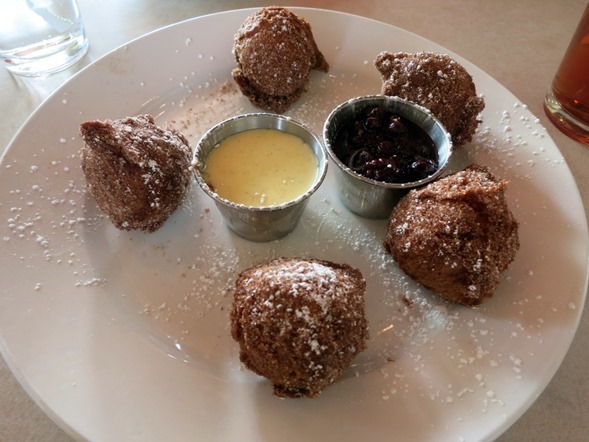 Our love for going out to brunch surfaced again when we moved to the Charlotte area and we have a fun time taking friends and family to some of our favorite breakfast spots whenever we have a visitor in town. This weekend we took Diane to Toast and Sun Up Café and had a great time enjoying a laid back morning meal over lots of conversation and hot coffee. (For locals, we also absolutely love Terrace Café, Tupelo Honey Café and Millstone Bake House for brunch among others.)
Yesterday morning, our brunch at Sun Up Café began with an order of the doughnuts you see above that came out with a delicious vanilla custard sauce and sweet blueberry spread for dipping. I think it's safe to say our Sunday kicked off on the right foot!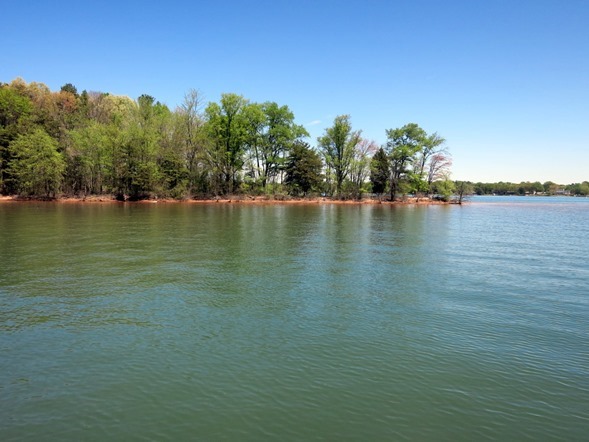 With spring weather in full swing, we had to spend as much time as possible outdoors. Thankfully Diane is all about outdoor activities, so she was game for two afternoons on the lake. This worked out perfectly because something rather exciting happened last week – Ryan and I bought a boat! We got a great deal on a used boat that will be so much fun to take out this summer and since we bought it on Wednesday night, we've already been out four times!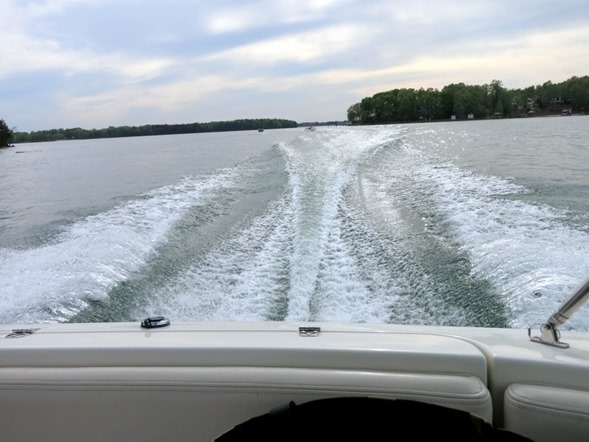 I've talked to a handful of women who have entered their final months of pregnancy during the hot summer months and many have said they basically lived in the lake or at the pool, so this fits into my plan perfectly. I'm hoping to spend all of June and July floating in the lake!  
During our first trip out on the water, one thing became quite clear: Sadie is in heaven!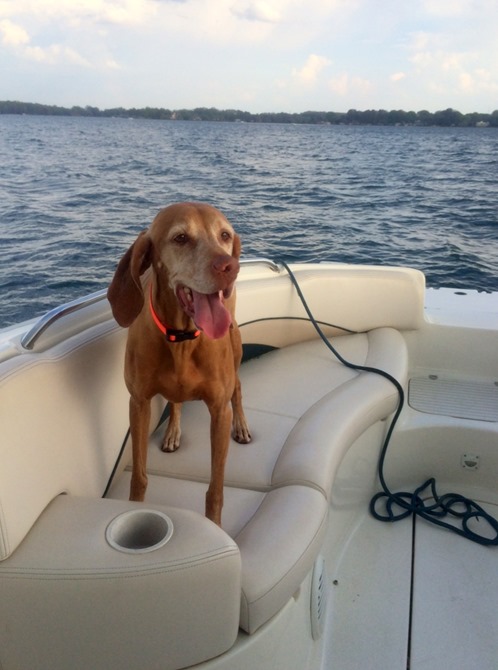 She's definitely a water dog through and through.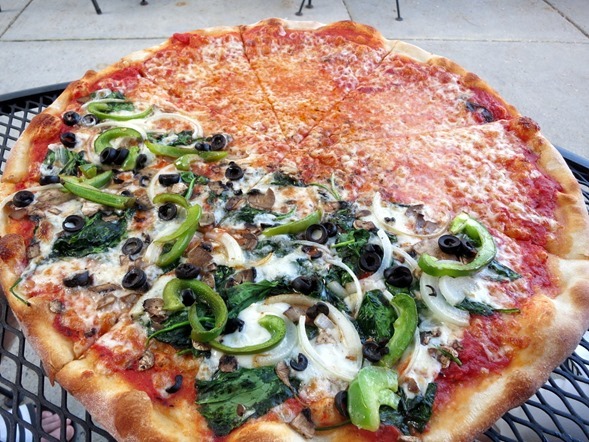 Since we spent hours and hours on the lake in the warm sunshine on Saturday, by the time we arrived back at our house in the early evening, we were all pretty darn tired and wanted something super simple for dinner. Pizza fit the bill and we headed out to our favorite local spot to share a vegetable and cheese pizza with a side of pepperoni garlic knots. Yum!
Sunday Night Documentaries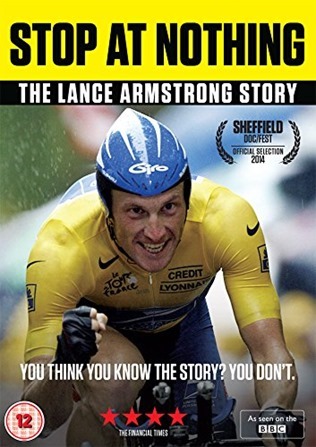 After we dropped Ryan's mom off at the airport on Sunday night, Ryan and I curled up on the couch to watch a new-to-us documentary, Stop At Nothing: The Lance Armstrong Story. We've been really into watching Netflix documentaries on Sunday nights lately and I'm surprisingly finding myself very intrigued by sports-related documentaries. (Based on a friend's recommendation we watched Slaying The Badger last weekend and thought it was really interesting. If you're at all interested in the Tour de France, I highly recommend it. It's also what inspired us to watch the documentary on Lance Armstrong last night.) If you've watched a great documentary lately, I'd love to hear about it and add it to our Sunday night must-watch list! And if you're also into documentaries, you may be interested in this post I shared last year with a list of Top Netflix Documentaries.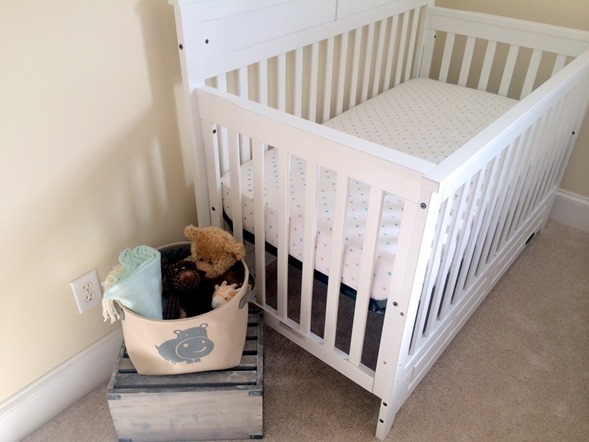 I texted the above pic to my mom and sister on Friday night to show them some of our nursery progress! It's coming together pretty quickly and I can't wait to show everything to you guys soon! Ryan and I have spent hours putting together furniture over the past week or two and just need to hang stuff on the walls and make some final touches before it's good to go. (Any tips for securing paintings/prints to the wall in a nursery in a safe way would be very much appreciated!) Everything you see above is either from Wayfair or HomeGoods (well, the toys were gifts from family) and I ended up incorporating more light blue/gray into our initial plans for a neutral nursery than I expected, but I think it really needed some color since the white and beige kind of took over… We're also still in the market for a crib skirt, so that will be added soon, too!
I hope you guys had a great weekend and that you're feeling well-rested going into a new week! Happy Monday!