There are still quite a few things I have on my summer must-do list before the weather changes and Ryan and I experience a real fall for the first time in years.
Some of my summer must-dos:
Spend a full day at the beach or on the lake
Eat s'mores (Preferably around a campfire, but I'm not picky!)
Take an outdoor yoga class
Visit the U.S. National Whitewater Center
Run in my first Charlotte race (I am currently eyeing the Electric Run with my friend Lindsey!)
Go on an all-day hike
Catch an outdoor concert
Grab dinner from a local food truck
What about you? What is one fun thing you're hoping to squeeze in before summer ends?
Weekend
Our weekend was pretty low key but in a very good way! I spent Friday with some new friends and checked out Vapiano, an Italian restaurant in Charlotte.
The concept of the restaurant reminded me a lot of a wine bar. When you arrive, you're given a card that you take around the restaurant and use at various stations, including the bar and pizza, pasta, salad and antipasti stations. It was a neat restaurant that I'd happily go back to for lunch or with a group. (It's not really a great "date night" restaurant in my opinion since I'm pretty sure Ryan and I would likely be in and out in 20 minutes.)
An added bonus? When you leave, you can take a little cup of gummy bears with you for the road!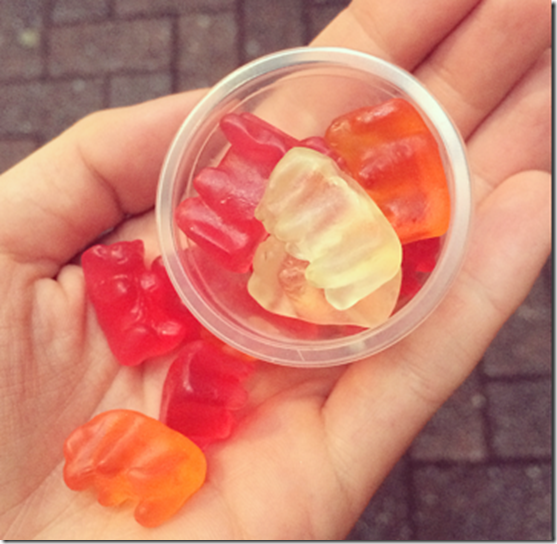 (And yes, I totally used the little scoop to grab only the red, orange and white gummy bears.)
On Saturday, Ryan and I spent most of the afternoon running around town with our realtor. We visited a house we like a lot for a second time and left with a bunch of questions. It's a great house but there are some pretty big changes we'd want to make if we bought it (which both excites and intimidates me), so we're setting up an appointment with a contractor this week to see if our vision is doable within our current budget. It's a process!
Sunday centered around laundry and cleaning in the morning but became a bit more enjoyable once we made it outside for some afternoon hiking with Sadie.
We drove out to Crowders Mountain State Park, but hiked up to Kings Pinnacle this time rather than tackling the Crowders Mountain hike we did back in June.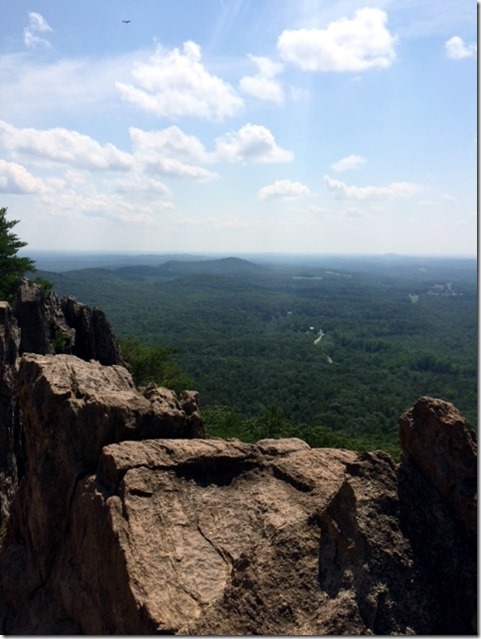 The hike was scenic and challenging but the trails were absolutely packed with people. Apparently we weren't the only ones who had the idea to hike on Sunday afternoon! Ryan and I prefer trails that are a little less populated and made a mental note to avoid this one in the future unless we make it out there earlier in the day. It's a great hike with wonderful views from the top, but weaving in and out of people and dogs made it slightly less enjoyable. I think it would've been better had we been out there without Sadie, but navigating around people with an energetic dog on a leash isn't super fun.
But you can't complain when you make it to the top and see this: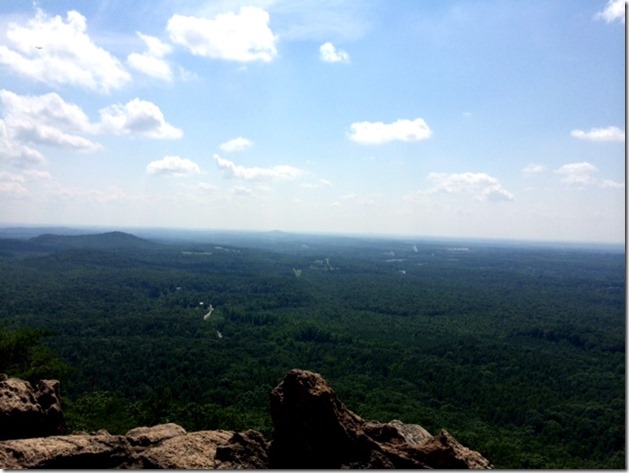 Once we arrived home, we ate dinner on the couch and I got totally sucked into Titanic on TV. I haven't seen that movie in years.
And now we're all caught up!
Hope you guys are having a great Monday so far!
Questions of the Morning
Share one of the highlights from your weekend!
What is one fun thing on your "to do" list that you're hoping to squeeze in before summer ends?
Good morning! How are you guys doing? I hope you're checking in after a relaxing and fun-filled weekend. It's August and even though most of September is technically summer, I always feel like August is the last month of summer. It's flying by!