Holy cow, today is passing by in a flash! I worked through the morning and most of the afternoon but enjoyed one longer-than-usual break during the work day.
During my break, I managed to squeeze in my own workout (I did the same TRX workout I shared on the blog this morning) and rushed out to Earth Origins for lunch with a coworker once I was done.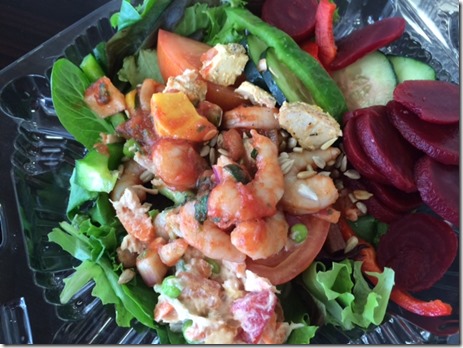 I opted for the salad bar and topped a bed of leafy greens with tuna salad, chicken salad, shrimp and mango salad, beets, peppers and cucumbers.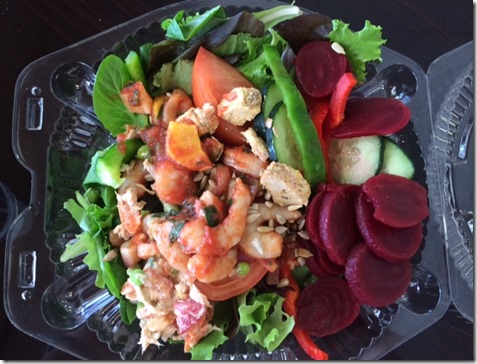 It was a great mid-day meal!
America's Fittest Cities
During lunch, conversation turned to my coworker's sister who recently moved to Colorado. When my friend mentioned that her sister moved to Boulder, I remembered a press release I received from The Active Times a month or so ago that said Boulder is the fittest city in the United States.
Of course I had to pull up my email to refresh my memory when she asked about the other "fittest cities" in America.
Here are the top ten fittest cities, according to The Active Times:
Boulder, Colorado
Provo-Orem, Utah
Santa Ana-Anaheim, California
Santa Fe, New Mexico
Fort Collins, Colorado
Cambridge, Massachusetts
San Jose, California
San Francisco, California
Logan, Utah
Denver, Colorado
(To see the measuring criteria and the full list of the top 25 fittest cities, check out the full article on TheActiveTimes.com.)
After viewing the top ten, it seems like California, Utah and Colorado are quite the active places to live! Sadly not one Florida city cracked the top 25.
And just in case you find this stuff oddly interesting like I do, here are some more articles about the fittest small cities and the least fit cities:
Questions of the Afternoon
Did your city or hometown claim a spot on one of the above lists?
Do you consider your current city or town an active or "fit" place to live?
Ocala did not appear on any of the above lists. I would definitely not consider it an active place to live. Orlando, on the other hand, was quite active! I miss it a lot!