The February committee meeting for the Taste of Ocala went well! We were in and out within 90 minutes and I have a list of tasks to accomplish that I'm excited to dive into, including launching the Taste of Ocala Facebook page and researching how to collect voting data via text message.
We're hoping to have the people who attend the Taste of Ocala vote on the best dish of the evening via text message. Cool, right? If any of you have insight into a great program I should use to collect data through text messages, I'm all ears!
Lunch
After the meeting, I high-tailed it home to eat lunch.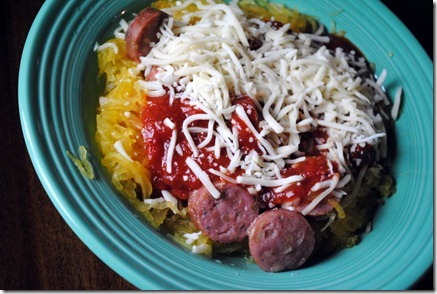 Yesterday while dinner was cooking, I simultaneously roasted a large spaghetti squash to have on hand for lunch today. (You may see how I roast spaghetti squash in this super-old throwback post if you're not familiar with the squash.)
I'm glad I had the forethought to roast the spaghetti squash yesterday because there's no way I would've had the patience to wait an hour this afternoon.
I topped a bowl of the squash with marinara sauce, chicken sausage and shredded mozzarella cheese.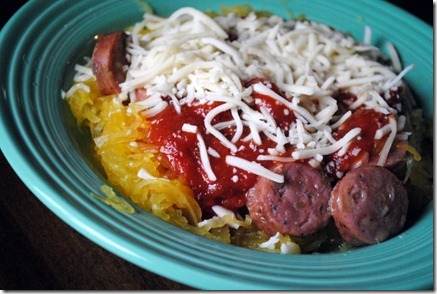 It tasted vaguely like deconstructed pizza!
I was quite a fan.
Book Club
For those of you hoping to participate in February's Book Club, the book of the month (as determined by your votes) is…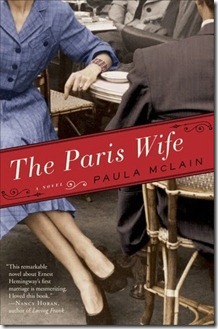 The Paris Wife!
We will discuss the book on March 1, when I'll post my review of the book along with discussion questions for us to talk about in the comments section of the post. Just another reminder that if you post a review of The Paris Wife on your blog before March 1 and email me a link at pbfingers@gmail.com, I'll be sure to include a link to your review in the post as well.
Happy reading!
And now I'm off to put the finishing touches on a freelance project. Tonight I'm attending my first blogger event in Ocala. Apparently there is a blogging scene in Ocala, it just took me a while to find it. Hoping to meet some fun people and eat lots of good food!