favorite hairspray
from the site. You can't beat the free two-day shipping and know the annual fee is more than worth it.
In March of this year, I had the chance to travel to NYC and meet Mary Helen Bowers, the creator of the challenging, low-impact Ballet Beautiful workouts. After discovering her workouts were free on Amazon with my Amazon Prime membership, I was so excited! I quickly made a note in my phone to look into other free workouts on Amazon and finally got around to it this morning. Better late than never, right!?
I know a bunch of you guys are Amazon Prime lovers and since I'm pretty sure we can all agree that free workouts are pretty sweet, I figured a roundup of some of the free workouts I found on Amazon might make an interesting blog post.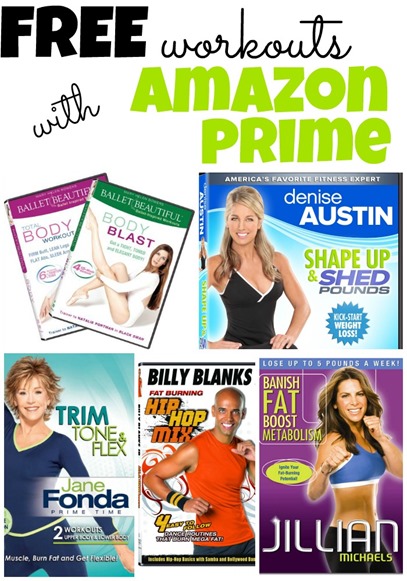 Below you will find a handful of free workouts for Amazon Prime members that have received great reviews on the site. (Please note that all text below the workout images comes from the Amazon descriptions of the workouts.)
Get ripped, flat abs in 6 weeks with America's toughest trainer, Jillian Michaels. Forget boring sit-ups – Jillian's ab-shredding system will chisel the midsection with her winning combination of core-focused cardio circuits and ab-toning exercises.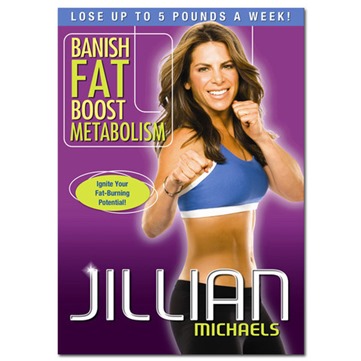 Fire up your metabolism with TV's top trainer, Jillian Michaels, and lose big with her fierce formula that adds strength and ab moves to dynamic cardio for increased fat loss. This 40-minute circuit workout blasts your heart rate with challenging intervals to turn up the burn and peel off the pounds.
Get into the zone with TV's kick-butt trainer, Jillian Michaels, and tackle stubborn problem areas with her surefire circuit training formula that combines upper- and lower-body sculpting moves to obliterate fat even faster.
 Ballet Beautiful Total Body Workout + Ballet Beautiful Sculpt & Burn Cardio Blast + Ballet Beautiful Body Blast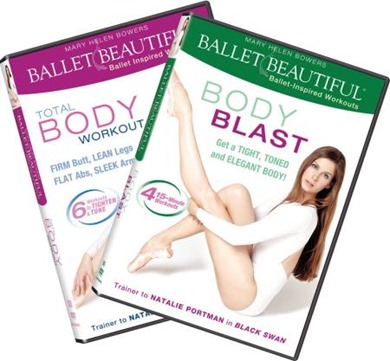 Get a tight, toned and elegant body with this ballet inspired workout! Sculpt sleek and strong legs, arms, butt, abs and upper body. Shape a lean and graceful dancer's body with targeted mat work and standing exercises that lengthen and tone.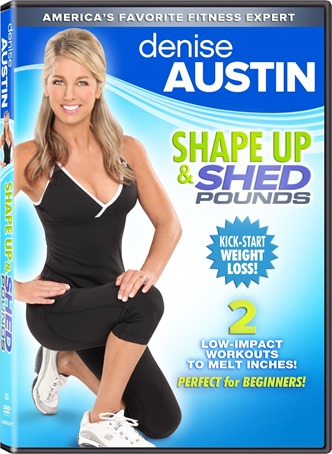 Kick start weight loss with Denise Austin's Shape Up & Shed Pounds! Includes low-impact cardio to condition your heart as well as total-body toning for a body-slimming effect.
With Burn Fat Fast: Cardio Blast you will enjoy incredible cardio training from the first minute to the last. Fitness favorite Denise Austin has designed four diverse workouts that you can mix and match for pure fat-blasting fun! These electrifying workouts condition your heart, crunch calories and melt pounds fast.
Find your "Om" at home and get the hot body you've always wanted with Denise Austin's Hot Body Yoga! Designed to sculpt long, lean sexy muscle, both workouts include effective moves and poses that burn fat fast.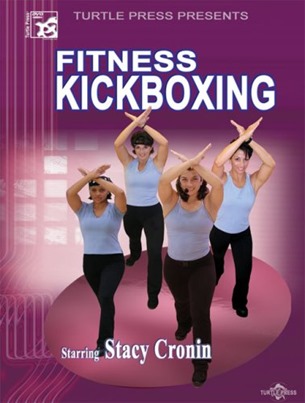 In this high energy fitness kickboxing workout video, Stacy Cronin leads you through a challenging fitness kickboxing routine.
Learn the hottest hip-hop moves and melt off the pounds with pro trainer and choreographer, Billy Blanks Jr.
Rev up your workout with the ultimate cardio dance party! Fitness expert Billy Blanks Jr.'s 30-minute workout is a non-stop mix of the hottest dance moves and boot camp conditioning.
Join Jane Fonda and strengthen your heart, muscles and mind with 3 dance-based routines that burn fat, firm your body and give you energy.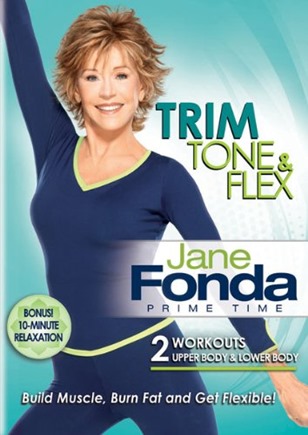 Jane Fonda is back with a low impact workout for Baby Boomers+. Build muscle and burn fat with a 20-minute upper-body and 20-minute lower-body workout, plus a relaxation segment!
Fit & Strong includes two 25-minute workouts that will burn fat, tone and shape every major muscle group and strengthen your core. Make a habit of doing these workouts and you'll look and feel your best.
Total Body Cleanse Yoga Part One + Part Two
Sybille Gebhardt presents Total Body Cleanse Yoga, a new workout designed to increase your emotional stability and enhance your sense of wellbeing. The sessions focus on yogic breathing, natural cleansing techniques, postures, relaxation phases and are designed for people of all levels.
Looking for free workout videos but don't have Amazon Prime? Check out this post:
Questions of the Morning
What are some of your favorite free workout resources?
Have you tried any of the above workouts? Thoughts?
Amazon Prime is amazing. I fell in love with it years ago and order everything from peanut butter to barre socks to my