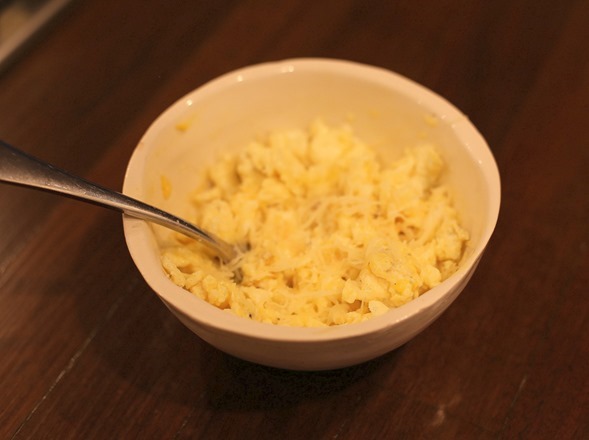 I was surprised by just how much I missed my morning carbs! I have a hard time feeling totally satisfied in the morning without some kind of carbohydrates with my morning meal, whether it be oats, fruit, toast or even veggies in an egg scramble.
Fueled by my cheesy eggs, I read stories with Chase once he was up for the day and we got ourselves dressed before it was time for me to drop him off at preschool.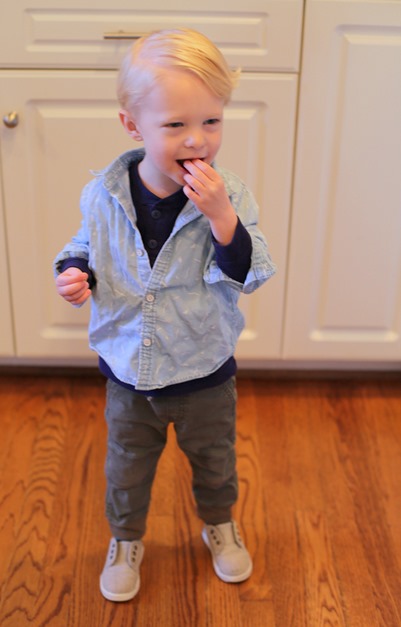 Our morning was a rather smooth one compared to Monday's tearful meltdowns spurred on by getting Chase dressed but a blog reader passed this along to me via Instagram and I had to share it here since it made me laugh out loud: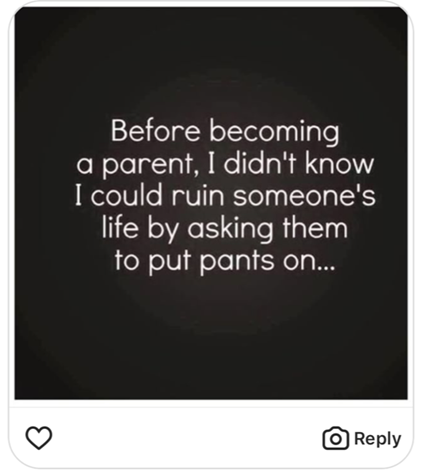 Too true!
Once Chase sprinted into Miss Debbie's arms, she whisked him into his classroom and I headed off to the gym for a workout. The Burn Boot Camp workout of the day was an arms and core workout so I modified it to make it primarily focus on my upper body.
Here's what my version of the workout looked like: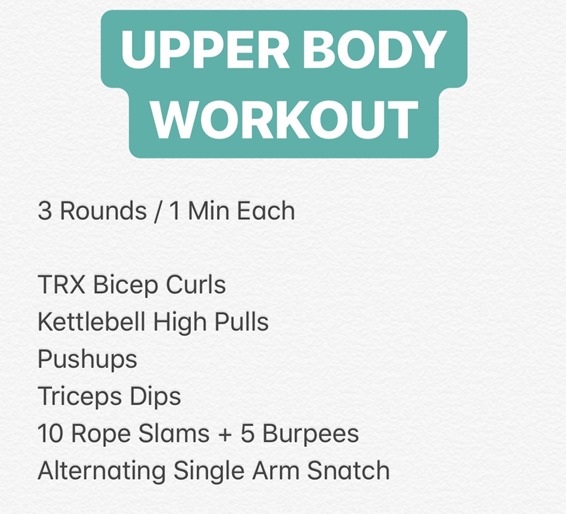 And my version of the workout finisher included two rounds of 45 seconds of mountain climbers and triceps push ups.
Once my workout was done, I said goodbye to my girlfriends and rushed off to my OB/GYN's office for the glucose tolerance test. I was instructed to drink 10 ounces of a glucose liquid that tasted like an overly-sugary orange Gatorade and then I met with my doctor while I waited for the blood work portion of the screening. When I was pregnant with Chase all I heard about was how awful the liquid you have to drink for the glucose test tastes but I don't find it too bad! When I mentioned this to the nurse who administered the test to me, she said they've actually been hearing that quite a bit since the formula changed a while back, so maybe I'm not the only crazy one out there!?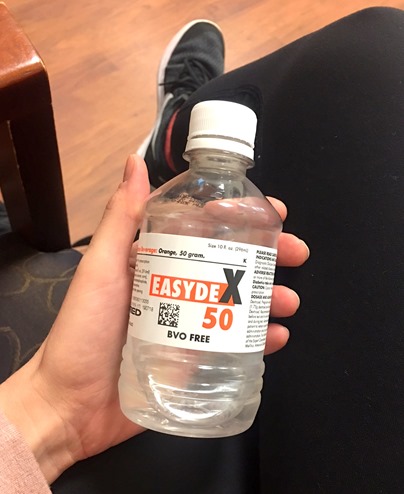 Since I had a solid hour to kill after drinking the glucose drink and my time with my doctor didn't take long, I fired up my laptop and worked for a bit in the waiting room before my blood draw.
The blood work went well and my results should be in within a week. (This test checks for gestational diabetes.) As I had my blood drawn, I began chatting with the nurse (I NEED to talk and be distracted during blood work or I get lightheaded) and we spoke about my pregnancy and she asked if we knew the sex of our baby. I explained our desire to be surprised and mentioned our miscarriages which caused her to then share some of her personal pregnancy and fertility struggles with me. I share this here only because sometimes I feel my heart telling me to say something a little more than "Thanks!" when someone congratulates me when they notice my belly. Lately I've found myself often saying something along the lines of, "Thank you so much. It wasn't an easy road but we are very grateful," which feels more true to how I feel than a perky, "WOOHOO! THANK YOU!"
This statement has opened the doors to some unexpected conversations with women who have either also struggled or are currently struggling with loss or infertility. (I also think this statement is vague enough to keep the door closed if it makes someone uncomfortable while still expressing sincere gratitude for congratulations.) I will never, ever forget two conversations I had with women after our losses when I longed for a baby and both were with relative strangers (a nurse who was pregnant with twins at my dermatologist's office and a mother of a toddler at Gymboree). Both of these women volunteered information about their struggles without me saying anything about where I was in life beyond our desire for another child and their experiences helped continue to shift my perspective about pregnancy and fertility.
I guess I feel the need to share this here today because now that I am noticeably pregnant and often running after a toddler, I feel like from the outside it may look like everything was simple. (I also recognize that our journey is simple compared to many, but it also didn't come without heartache and grief.) Despite everything I now know, all the stories I've been told and all of the struggles I've heard about from women in my personal life and all of you, it's STILL easy for me to look at a pregnant woman or a woman with a child from the outside and assume everything was perfect and that her journey to having a child was a breeze. This just isn't the case for so, so many people and I guess I feel the need to mention this here today because today's blog post touches on pregnancy and I think it will forever feel like something I want to talk about with sensitivity and a very open heart.
Anyway, back to our Wednesday…
I left my doctor's office with just enough time to grab a shower at home and down two chocolate superfood energy bites before I had to be back at Chase's school for preschool pickup. With my little buddy back in my arms, we made it home and I did my best to settle Chase down for his nap before I sat down to work again and dig into lunch thanks to a special delivery from Amelie's French Bakery. (More on this delivery tomorrow!)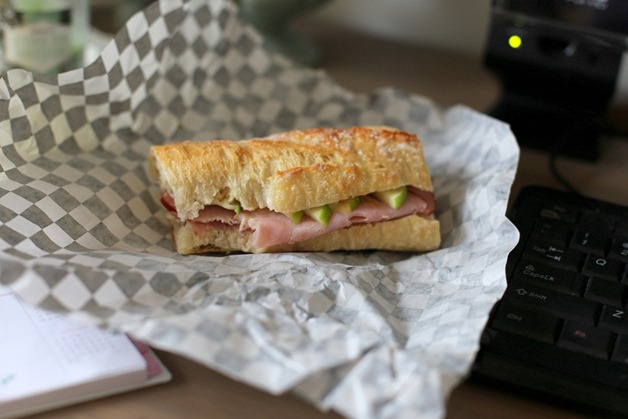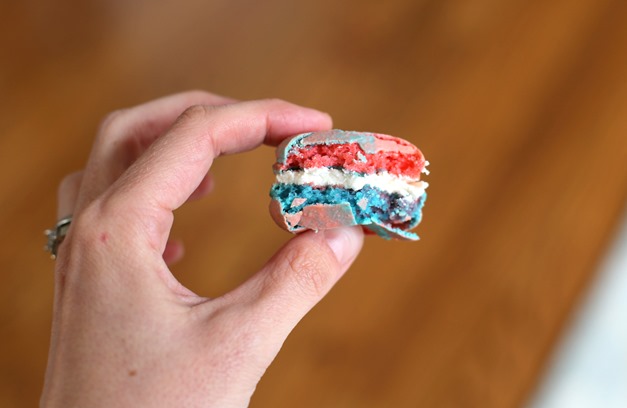 (And yes, I microwaved the ham in the sandwich before eating it to be pregnancy safe!)
Chase wasn't having nap time but seemed content to sing and play in his crib. (By the way, you guys totally convinced me to keep him in his crib as long as possible. Afternoons like yesterday only confirm this decision!) I did my best to get a little bit of work done through choruses of various toddler songs that came from Chase's monitor but eventually got him up and out the door for an afternoon play date with my friends Carrie and Laura and their little ones at Gymboree's open gym.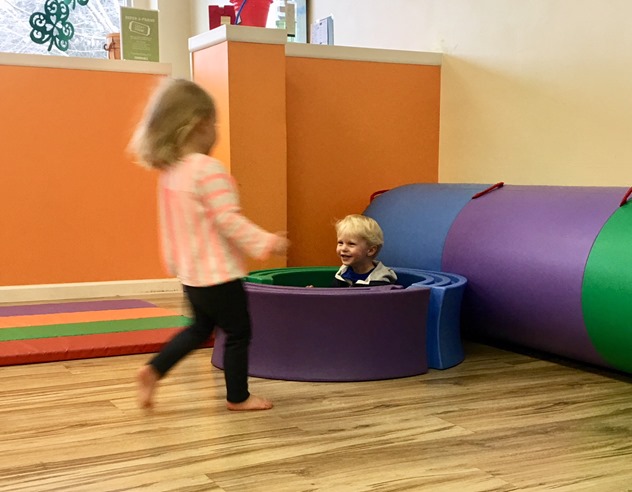 I needed the play date as much as Chase and left feeling grateful for my friends for the 10,000th time. They keep me sane on this motherhood journey and I just LOVE the way Chase lights up whenever he sees his best buddies!
By the time we made it home I had zero desire to put much effort into dinner, so Chase and I shared a box of white cheddar macaroni and cheese, apple slices and cucumber slices.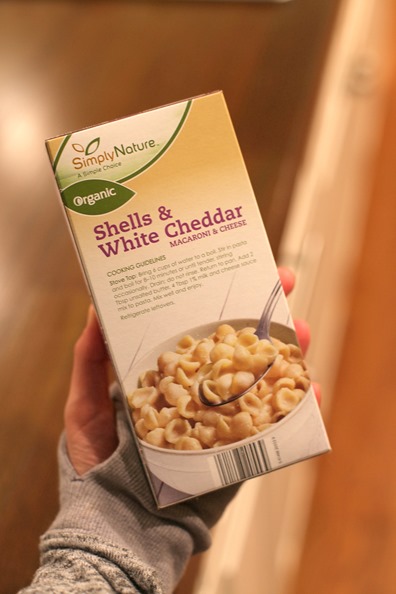 I'm not going to lie, it was perfect. Mac and cheese from the box can't be beat some nights!

Chase settled into bed on the early side of the evening – lack of a solid nap will do that to ya – and so I spent an hour or so working on the computer once he was down before eating a Chilly Cow chocolate ice cream bar and heading upstairs to read in bed. I finally finished The Keeper Of Lost Things (I'd give it a solid "meh" and think it was a little too slow to recommend) and began reading Little Fires Everywhere. I'll report back on that one soon!

Hope you guys have a great Thursday and I'll see ya tomorrow for the usual Things I'm Loving Friday shenanigans!

Good morning, friends! My Wednesday morning started out on a rather cheesy note. I had my glucose tolerance test yesterday morning at my OB/GYN's office and my midwife specifically advised me to stick with eggs and cheese before the blood test.