Today I got gas.
No, not Fiber One-bar induced gas, silly. Gas for my car.
My little pre-work errand to fill up my tank led me to 7-Eleven, where I experienced their fantastic coffee bar.
Check out all the options!
I was immediately sold on a hot cuppa joe when I spotted these little creamers:
Pumpkin pie spice!? Sign me up.
I dumped a creamer in my coffee and then drank one like a shot. Is that gross?
The coffee helped fuel me through a productive morning, though I was already pretty awake from an awesome sweat session at the gym this morning.
I completed this 30-minute workout on the treadmill:
It was challenging, but not "Oh my gosh, I'm gonna die" hard like this workout.
I completed my workout with 20 minutes on the elliptical while reading Southern Living.
Lunch
Yesterday I decided that only taking the Friday before my wedding off of work would simply not do. I requested Thursday off as well so now I have a lot of work to cram into the next two days.
I took a break from my to-do list around 12:30 to eat some lunch.
Today's spread included English muffin pizzas topped with marinara sauce and creamy goat cheese.
On the side I enjoyed a sliced red pepper and a cup of Chobani Greek yogurt sweetened with a honey packet that I previously snagged from Starbucks.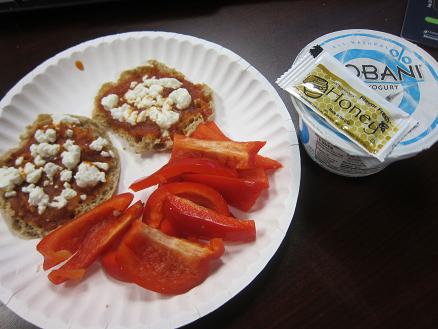 And now it's time for some long-overdue Q&A time!
Ask Me Anything: Round 13
I pulled the questions in this round of "Ask Me Anything" from the anonymous ones you guys submitted over the past couple of months. If I didn't answer your question, please check my Q&A page or browse through previous Q&A posts (which may also be found on my Q&A page). I get a lot of repeat questions, so the answer you're looking for may be there!
Let's get crackin'…
What is your favorite holiday?
Christmas! Nothing compares.
I know you don't post everything you eat, but could you please post everything you eat one day?
This is actually a request I receive quite frequently and I've debated about it for a while now. Eventually I came to the conclusion that I will not post an entire day of my eats for one reason… I think it brings about comparisons and that is not something I want to encourage. What I eat and the amount I eat is right for me. It may not be right for you. I can honestly tell you that I usually only blog about half of what I eat in a given day. I am a big fan of eating "mini-meals" throughout the day. I often eat six mini-meals during the day, with each meal being similar in size. You only see three (the mini meals I eat at typical breakfast, lunch and dinner times). I know there are many amazing blogs that post everything they eat and I love reading them, too, but I'm not sure that style is right for me and my blog. I hope this makes sense!
I've been with my boyfriend for years now and I love him but we've moved in together 5 months ago and I'm beginning to realize we're not compatible. Wondering if it's possible to snag a great guy like Ryan. Post about past loves please! I need some hope!
I debated answering this question because relationships are so personal, but reading this inquiry tugged at my heartstrings. I've been there and I know how confused and anxious you're probably feeling.
Before Ryan, I dated my previous boyfriend for more than three years. We never really fought and we got along fine, but part of me felt like something was missing.
I will never forget asking my ex-boyfriend if he wanted to go for a walk with me on one of the first beautiful days of the year in Chicago. His response was "Why?" and it triggered something in me. Why not? Why wouldn't you want to be outside, enjoying the beautiful day and spending quality time with your girlfriend? It sounds silly, but I can honestly say it really concerned me. I wanted to be with someone who would enjoy doing new things together and also make me feel truly loved. I was nervous to end things because I loved him very much. He was a really great guy, but I eventually realized he was not the guy for me.
We broke up after I met Ryan (you can read the whole story toward the bottom of this page). I knew that if I was really intrigued by another guy, my current relationship was probably missing something important. The process of breaking up with my ex-boyfriend and beginning to date Ryan was a very emotional time for me, but I am so happy I went with my gut and followed my heart. It doesn't lie! 😀
What are your favorite clothing stores?
Almost everything in my closet comes from the following stores:
J.Crew
Banana Republic
Marshall's
TJMaxx
Ruelala.com (ß I know I pimp this site a lot, but they have the BEST deals on designer goods. I buy a lot of my "date night" dresses and all of my designer jeans from Ruelala!)
What do you do after a weekend of indulgent eating? Do you ever cleanse or detox?
I almost always eat more indulgently on the weekends. My weekends are often filled with social events and dinners out and I eat what I want to eat. Of course I try to maintain my healthy eating habits on the weekend, but I don't beat myself up over indulging in dessert. After a weekend of indulgent eating, I can honestly say I look forward to eating healthy again on Monday morning. I know my body will feel better and I know I'll have more energy when I get back to my normal healthier habits. I don't cleanse or detox, but I do try to hop back on the healthy living bandwagon first thing on Monday morning.
When you talk about doing "light cardio" on the elliptical, what level of resistance do you do?
To me, "light cardio" is cardio done at a pace where I can comfortably maintain a conversation. On the elliptical at my gym, that is a level 10 (the ellipticals at my gym go up to level 20) and an incline of 9 (again, the ellipticals go up to an incline of 20).
What percent milk do you use?
I honestly don't like milk. I never have. If I use milk, it's usually just in smoothies or on top of cereal and it's typically 2 percent because that is what Ryan buys.
Do you eat lunch at home every day?
Nope. I eat lunch at work almost every day and usually snap my lunchtime photos after breakfast.
As always, if you have any questions for me, please feel free to shoot me an email at pbfingers@gmail.com (though I must warn you, I'm a little backed up at the moment due to wedding planning!) or you may click here if you're a little more bashful and would like to submit an anonymous question.