Guess what we found at the grocery store this week?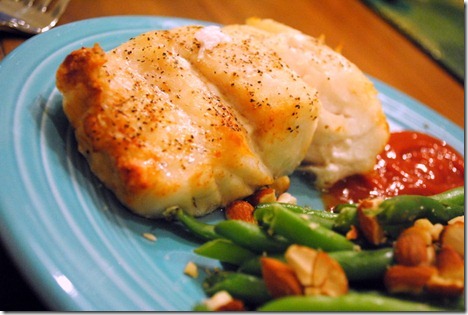 Grouper!
Though salmon is my all-time favorite fish, I am a big fan of grouper and halibut. Unfortunately fresh grouper and halibut are much harder to come by at the grocery store, so when I saw grouper available at the Publix seafood counter, I immediately knew we had to incorporate it into dinner this week.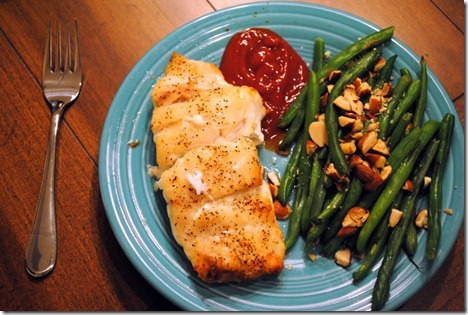 My dad goes spearfishing whenever his schedule allows it and grouper is one of the fish he frequently brings back for our family to eat. Nothin' beats fresh fish right off the boat!
I prepared our grouper by rubbing it in olive oil and sprinkling it with salt and pepper before broiling it in the oven until it flaked with a fork.
Complicated cooking = Not necessary
Ketchup served as my dipping sauce of choice.
Steamed green beans with toasted almonds rounded out the meal.
We sat down to our hot dinner after returning from our evening walk with Sadie.
She is in rare form today and kept grabbing any stick should could find. She is convinced that by jumping around in front of us she's going to entice us into playtime.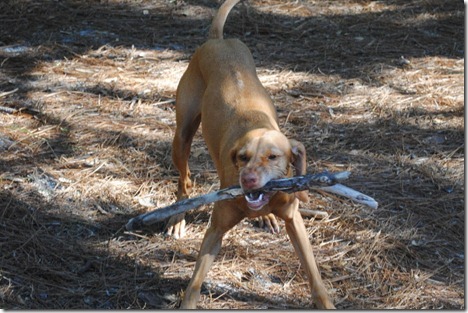 Doesn't she just look like a little menace?
Something about a little bit of a chill in the air makes her go berserk. I've talked to many other pet owners who have noticed the same thing. Cold weather apparently brings out the nuttiness in animals!
Time to hang with the little nut job and Ryan. Sleep well!