We had such a great weekend! It felt like Halloween festivities were popping up all over town last weekend and we definitely took advantage of the festive fall fun!
Our Friday night was a little more relaxed since we hung out at home and hosted our friend Ben and his family for a cookout. His family is visiting from England and we loved meeting them and chatting over grilled chicken thighs, burgers, roasted sweet potatoes, cornbread, cold quinoa salad and Brussels sprouts. The nice thing about hosting other people in our house is that we can put Chase to bed at a normal time and then spend hours of undistracted time with our guests once he is sleeping away. Of course Chase had a blast with his new friends (who completely won him over with a new Thomas train) and we really enjoyed meeting Ben's crew!
Saturday
Our Saturday morning kicked off with eggs and toast before our little trio headed off to the gym for a morning workout. I wasn't in the mood for anything crazy and took myself through a 30-minute incline treadmill walking workout and followed it up with some stretching before calling it a day. Ryan and I then reconnected and picked up Chase for our big adventure of the day!
We drive north to Statesville to check out Rescue Ranch's annual fall festival. Rescue Ranch is a non-profit animal welfare organization that is home to a myriad of animals, including donkeys, cows, pigs, goats, turkeys and more. The fall festival was a great time to visit the ranch because there was no shortage of things to do for kids of all ages. After we paid for our tickets, Chase immediately spied the big green tractor and began yelling "HAYRIDE!" so naturally we began our adventure with a hayride around the cornfields.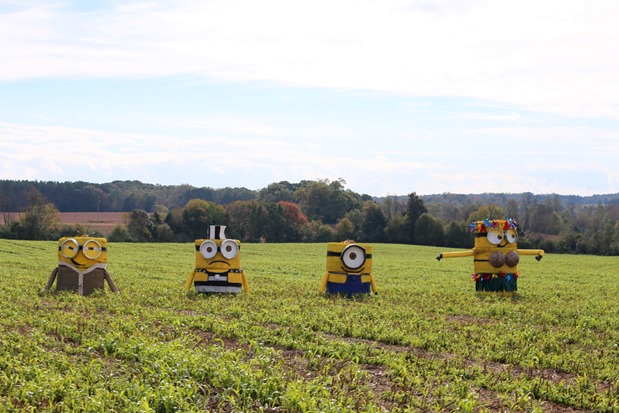 The hayride was a blast mainly because it was so toddler-friendly. Chase had so much fun pointing out the hay bales painted like some of his favorite characters, including Cookie Monster and Thomas. Once the hayride was over, we wandered around the expansive property, said hello to the animals and spent more than our fair share of time watching Chase jump around in the Bounce Houses, fish for magnetic fish and play lawn games.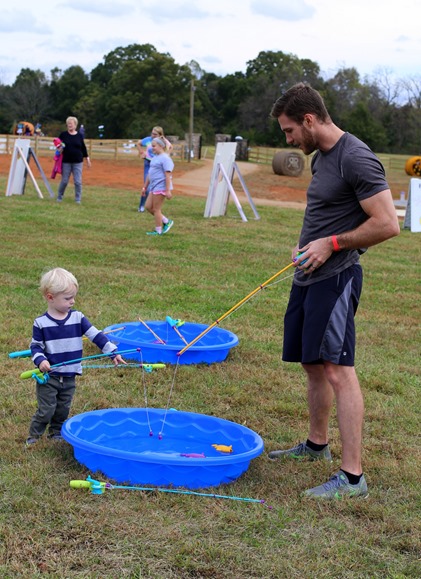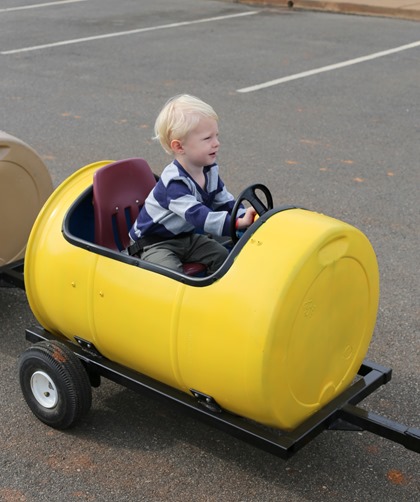 The playground at Rescue Ranch is also worth mentioning and is easily one of the nicest (if not the nicest) playgrounds I've ever seen. There were so many unique features incorporated into the jungle gym that Ryan and I could not stop pointing out to Chase and each other. A big red swing that looked like a cross between a large egg and a gondola was Chase's favorite feature and he rode that thing a million times!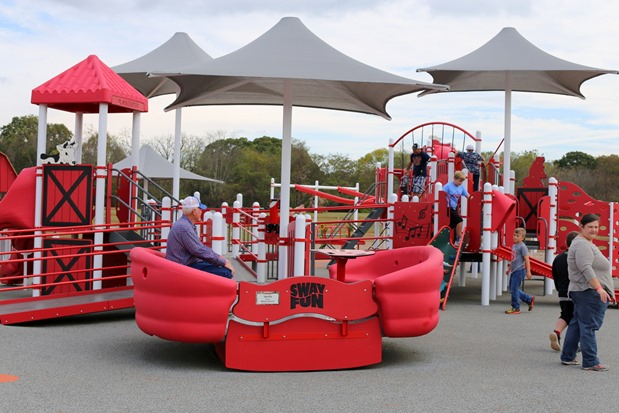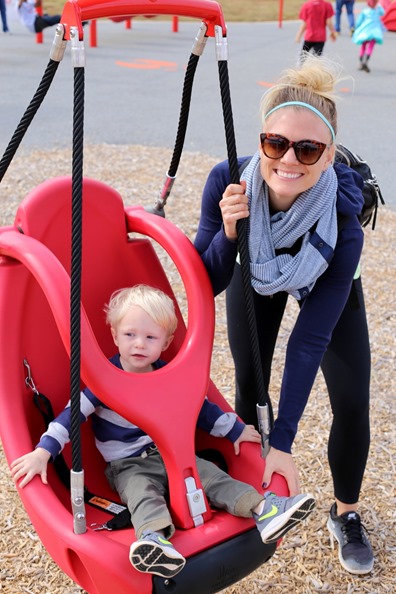 A mini kid's maze was also a hit and we let Chase navigate his way through that thing over and over again before our stomachs told us we needed to head out and grab lunch on our way home.
We made it home a little before 2 p.m. and Chase went down for his nap while Ryan and I parked our butts on the couch and began watching the second season of Stranger Things. So often I use Chase's naptime on the weekends to work so it felt like such a treat to do nothing other than curl up on the couch with Ryan and binge-watch one of our favorite Netflix shows!
By the time Chase was up from his nap, we were ready for Chase's preschool's big Trunk-or-Treat party!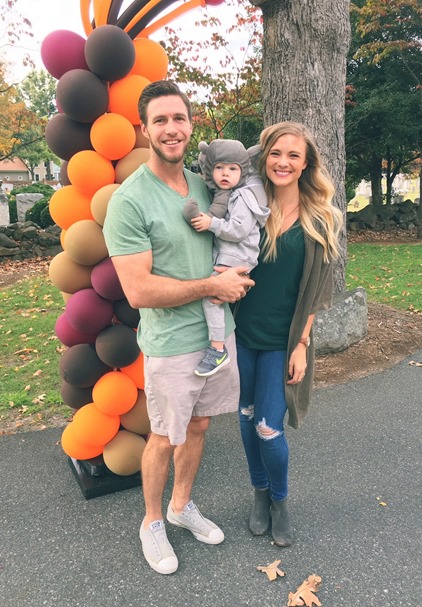 (Jeans:Just USA via Nordstrom Rack / Cardigan: LOFT via ThredUP / T-shirt: A New Day via Target / Booties: TOMS)
I wasn't sure what Chase would think of his elephant costume, despite the fact that he loved it the first time he tried it on. He seemed interested but not overly enthused, so I tried my best to show him that his costume was super cool by wearing it myself which kind of worked for five minutes.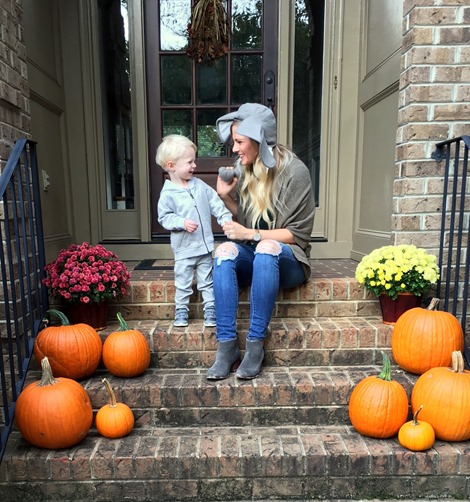 Thankfully seeing the other kids in their costumes helped Chase get excited about his costume again but we had an apprehensive little elephant on our hands as we made our way around the preschool parking lot to trick-or-treat out of the trunks of decorated cars.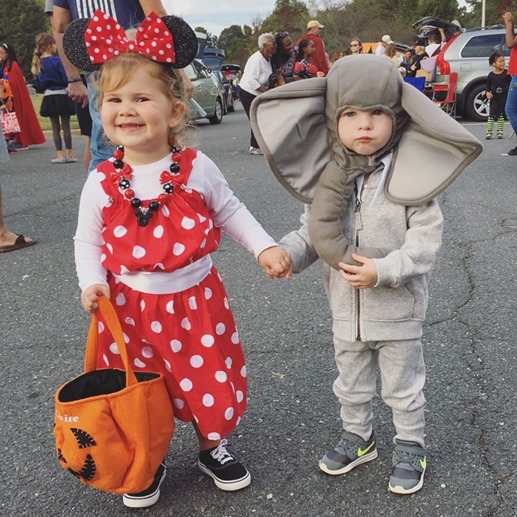 (Yes, Chase definitely had a mouthful of candy in the above picture.)
We spent the rest of the time at the Trunk-or-Treat party hanging out with friends while Chase and his best buddy Claire had a ball on the big inflatable slide. (They were 100 percent obsessed!)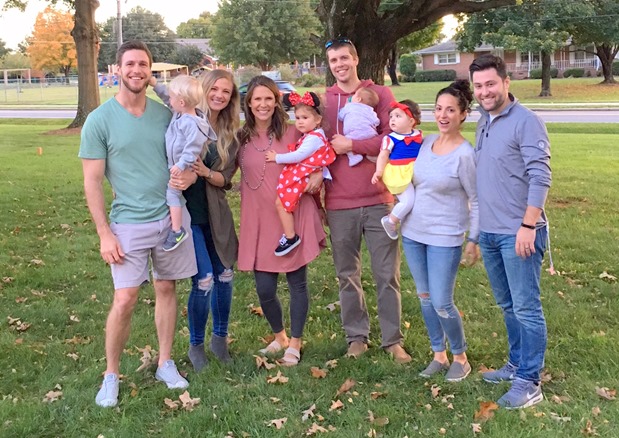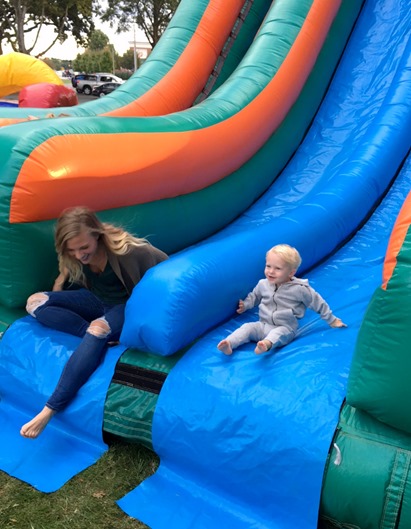 After a quick stop to pick up a pizza for dinner, we arrived back home around 7 p.m., ate dinner and then put Chase to bed a little before 8 p.m. And then – you guessed it – we watched more Stranger Things. I wonder how quickly we're going to make it through this season at this rate!?
Sunday
Sunday was a lot more low key around here due, in large part, to the cold and dreary weather. We spent the morning at church but hung out at home for most of the day until around 4 p.m. when we made our way to a friend's house for a delicious spaghetti dinner. We arrived back home feeling full and ready for a good night's sleep! I began reading a new book that is already pulling me in! Have any of you read The Girl Before? It's definitely intriguing so far!
And now I should probably wish all of you a very HAPPY HALLOWEEN before signing off this afternoon. We have plans to take Chase trick-or-treating tonight with four of his best buddies and I cannot wait to see all the kids in their adorable costumes. It should be a blast!! Hope you guys have a fantastic Halloween!