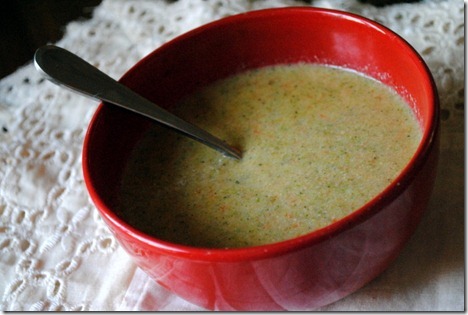 One of my favorite go-to recipe sites is my friend Gina's blog. I had the pleasure of meeting Gina in California during a visit to the POM orchards in 2010 and frequently check her blog whenever I'm looking for a new, delicious recipe.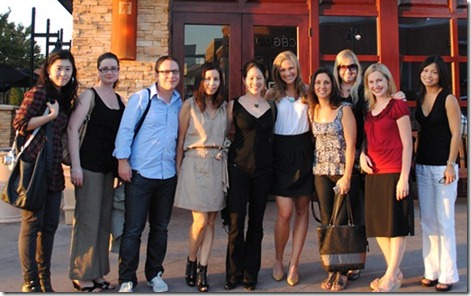 (She's standing to the right of me in the above picture.)
This afternoon I was craving broccoli cheese soup.
I had a feeling it was a recipe Gina likely tackled at some point since she's always revamping classic recipes and making them healthier. After finding a recipe for broccoli cheese and potato soup on her blog, I figured I could alter it a bit and come up with a homemade broccoli cheese soup recipe to satisfy my craving.
I'm not lying when I say that this may be one of the best homemade soups I've ever made in my life. If you're a serious cheese lover, you must give this a go!
Healthy Broccoli Cheese Soup
(Adapted from Skinny Taste's Broccoli Cheese and Potato Soup)
Makes approximately 4 1/2 cups of soup
Ingredients:
1/2 tablespoon olive oil
1 onion, chopped
1 large carrot, chopped
2 celery stalks, chopped
2 tablespoons chopped garlic
2 tablespoons whole wheat flour
1/4 teaspoon nutmeg
1/4 teaspoon ground pepper
2 1/4 cups reduced sodium chicken or vegetable broth
3/4 cup 2 percent milk (skim or whole milk will also work)
2 cups broccoli florets, chopped
2 1/2 tablespoons grated parmesan or Romano cheese
1 1/2 cups reduced fat shredded cheese (I used Mexican blend)
Directions:
Heat olive oil in a large pot on medium heat. Add onion, carrot, celery and garlic. Sauté until onion is translucent and slightly soft.
Add whole wheat flour to vegetables and stir until vegetables are coated in flour.
Add nutmeg, pepper, broth and milk. Stir and bring to a boil. Reduce head and allow soup to simmer for approximately 5 minutes. Add broccoli and allow to simmer for an additional 5 minutes or until broccoli is slightly soft.
Stir in parmesan cheese. Stir in shredded cheese. Stir cheeses into soup until melted.
Using an immersion blender, blend the soup until vegetables are no longer chunky and soup is smooth.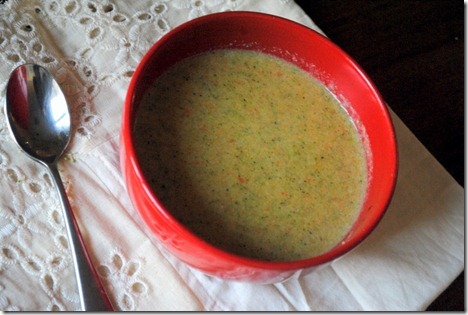 Enjoy!

This Weekend

Any fun Friday night plans out there?

Anyone super stoked for the Super Bowl?

I'm meeting up with my friend Laurel for dinner tonight and can't wait to see her. As for the Super Bowl, I'm not gonna lie to you guys. I don't even kind of care who wins. Which team is the underdog? I'll probably root for them. If you are really pumped for the big game, I hope your teams pulls off a victory! If not, I hope you attend a party where some quality food awaits.

Of Possible Interest

Time to bust out your soup pots! I've got an amazing recipe to share with you guys today.