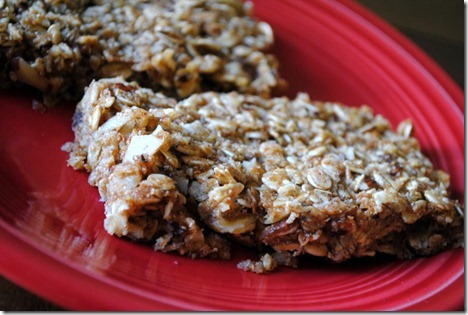 Here's the good news/bad news about these bars: You'll want to eat all of them in one sitting… but the recipe only makes four bars, so if you do, you'll be out of luck when you get a craving for another one later in the day.
Sooo, they require that you exercise some kind of self control if you want to have granola bars that last you longer than 20 minutes.
Or you could always double the recipe. That works, too.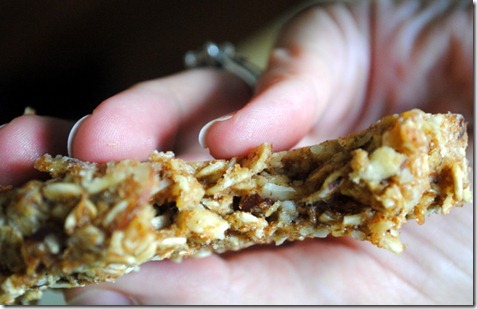 After receiving an email from a blog reader in need of some recipes for one person a couple of weeks ago, I figured this recipe would be a great fit for those of you out there who want to do some baking and make a homemade healthy snack, but don't want to be left with a dozen pumpkin oatmeal muffins or a huge batch of peanut butter protein bars to devour yourself.
These granola bars are soft and chewy and full of nuts to keep you full. With minimal ingredients, they are not complicated and can be made within 20 minutes from start to finish.
Healthy Honey Almond Hazelnut Granola Bars
Makes four granola bars
Prep time: 5 minutes
Baking time: 15 minutes
Ingredients:
3/4 cup old fashioned oats
1/4 cup wheat bran
1/4 teaspoon cinnamon
1/4 cup slivered almonds
2 tablespoons chopped hazelnuts
1/4 cup honey
1 teaspoon canola oil
1/4 teaspoon vanilla or almond extract
1 egg
Directions:
Preheat oven to 350 degrees.
Combine oats, wheat bran, cinnamon, almonds and hazelnuts in a bowl, stirring until ingredients are evenly distributed
Mix honey, canola oil, vanilla or almond extract together in another bowl.
Pour honey mixture over dry mixture, stirring together thoroughly.
Add egg and stir to combine.
Press mixture into the bottom of a loaf pan sprayed with cooking spray.
Bake for 15 minutes and allow to cool completely.
Cut into bars and enjoy.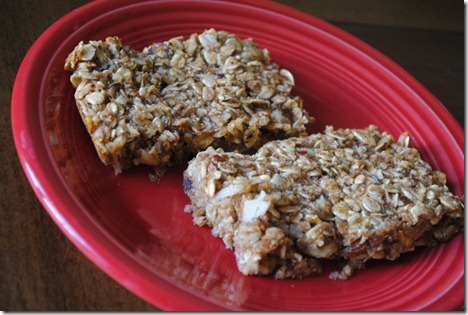 Enjoy!

I promised you a recipe last night!