Ryan has a habit of snapping pictures of me on his phone when I'm looking extremely ridiculous. Yes, I have a husband who enjoys capturing pictures of me making an ass of myself. (Example: Picture a photo of my adult-size body crammed into a tiny Power Wheels car driving it around my mother-in-law's lawn over Thanksgiving. Fueled by sangria.)
When I went to upload my photos from breakfast this morning, I noticed some new additions to our iCloud folder of pictures. Ryan's phone automatically uploads his phone photos to our desktop and I laughed out loud when I saw the picture he snapped of me wrapping presents with the headlamp from Monday night's blackout.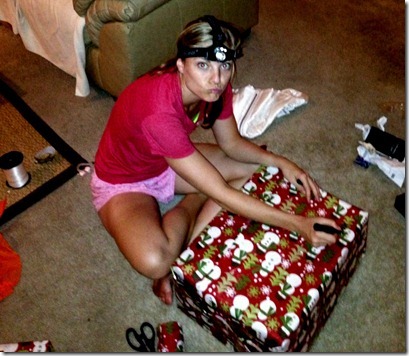 Isn't that how everyone wraps holiday gifts?
We are a rare breed of human.
Holiday Movies You Quote Throughout the Year
The holiday fun continued in the Fagan household last night!
Ryan and I parked our butts on the couch with our salmon dinner just in time to watch Home Alone.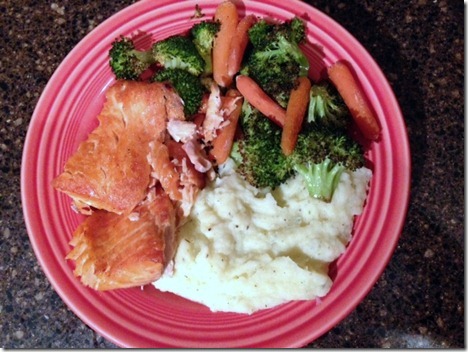 Plus extra dark hot chocolate for dessert!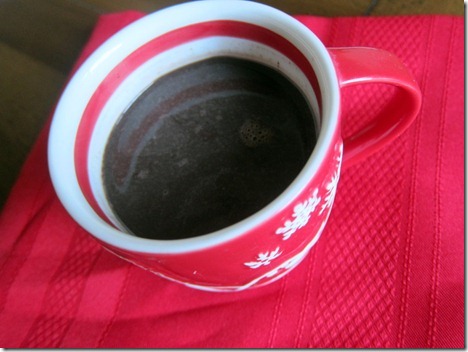 Home Alone is one of my favorite holiday movies. It also happens to be one of the holiday movies we seem to quote in our house throughout the year.
One of the best lines from Home Alone?
"Buzz! Your girlfriend! Woof!"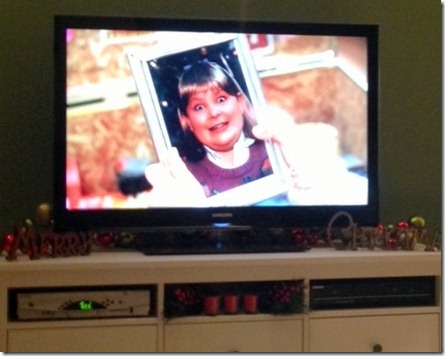 (Fun fact I learned from Brittany last night when I Instagramed that photo: Buzz's girlfriend is actually a boy. The director thought it would be too mean to make fun of a girl.)
As we watched Home Alone last night, I realized there are a lot lines from holiday movies that we seem to quote year-round.
Some of our favorites:
Home Alone:
"Buzz! Your girlfriend! Woof!"
"Look what you did you little jerk!"
"Keep the change you filthy animal."
Some variation of "get your no-good keister off my property" because I can never remember that line word-for-word.
Christmas Vacation:
"Can I refill your eggnong? Get you something to eat? Drive you out to the middle of nowhere and leave you for dead?"
"I wanna get you something… really nice."
"Shitter's full!"
"How could things get any worse? We're at the threshold of hell."
"It's Christmas and we're all in misery."
"We're gonna have the hap- hap- happiest Christmas!"
"Why is the carpet all wet, Todd? I don't know Margo."
"Grace? She passed away 30 years ago!" "The BLESSING."
"I'm gonna catch it in the coat… and smack it with the hammer."
Elf:
"Bye, Buddy! Hope you find your dad." "Thanks, Mr. Narwhal."
"Buddy the Elf. What's your favorite color?"
"Son of a NUTcracker!"
"He's an angry elf."
"I just like to smile. Smiling's my favorite."
Question of the Morning
What is your favorite holiday movie?
Do you quote holiday movies throughout the year? Any favorite quotes?