I loved all of your comments on this morning's post about negativity. You guys had some great stories and advice, applicable to both everyday life and the blog world. Dealing with the negative attitudes and remarks of others can be so difficult and your comments made me want to highlight a quote that Mary shared:
"Blowing out someone else's candle doesn't make yours burn any brighter."
Amen, sistah.
Breakfast
Last night I stayed up later than usual and when the alarm went off this morning at 5 a.m., I knew heading out to BodyPump at the gym I found that offers my favorite class in St. Pete just wasn't going to happen. I was so pumped for the 'Pump last night, but this morning my body wanted the rest.
I think I'm still trying to catch up on sleep from this past weekend's adventures.
I slept in for another hour before waking up to bust out this morning's Blog Talk Tuesdays post over breakfast.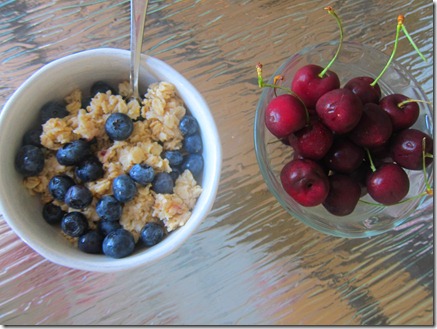 Today's morning meal included oatmeal topped with fresh blueberries, served with a side of sweet cherries.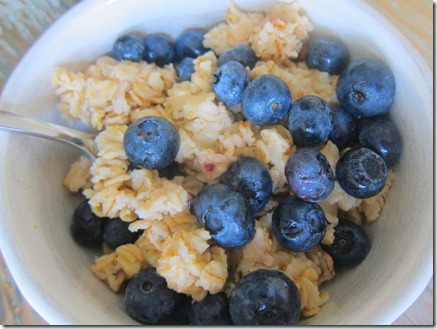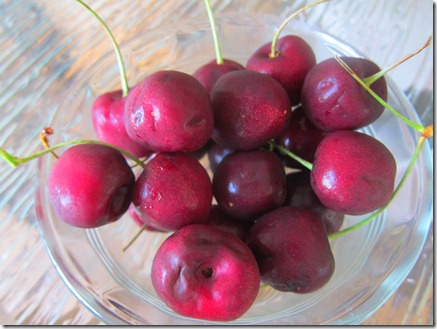 Not a bad way to start the day.
Once my morning post was published, I headed to the gym for a workout.
Workout
Today's workout began with 20 minutes of cardio on the elliptical before I tackled the weight room.
The strength-training portion of my workout included three sets of 15 repetitions of the following exercises:
Bicep curls
Tricep pulldowns
Leg extensions
Deadlifts
One-legged leg extensions
Lat pulldowns
Front shoulder raises
My mom took a Zumba class while I did my workout, so it was nice to have a buddy to keep me company on the drive to and from the gym.
Lunch
After the gym I snacked on a bowl of cereal and worked through the remainder of the morning until it was noon and time for lunch.
A smoothie was on the menu for today!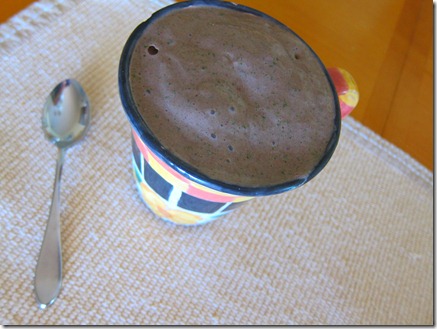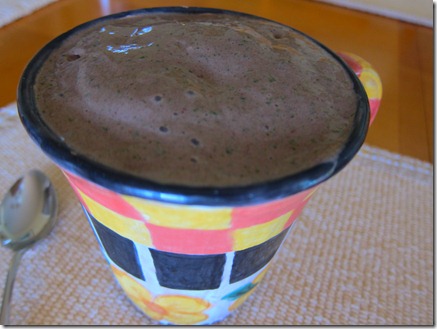 My grandma (the one you guys loved in our wedding video) painted that mug. I love it!
Today's smoothie included:
1 c. milk
1 c. cherry Greek yogurt
1 scoop chocolate protein powder
1 tbsp. cocoa powder
1 c. frozen strawberries
1 large handful fresh spinach
1 handful peanut butter M&Ms (<—Okay, so those were just enjoyed on the side)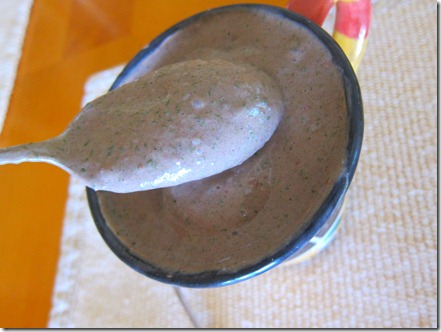 The cold temperature of the smoothie was a welcome treat. I've been trying to do a lot of my work on the computer outside on my parents' patio so Sadie can run around in the backyard.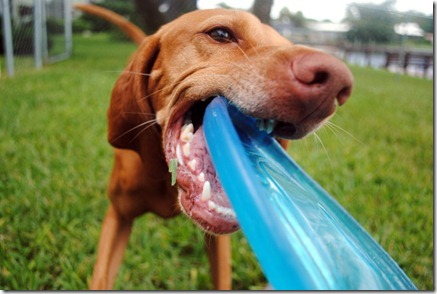 If no one is outside with Sadie, she wants to come inside to be with us… and then she just stares out the window. Watching her look longingly out the window breaks my heart, so I've been braving the 90-degree heat so she can happily play and think I'm paying attention to her. I'm so sneaky.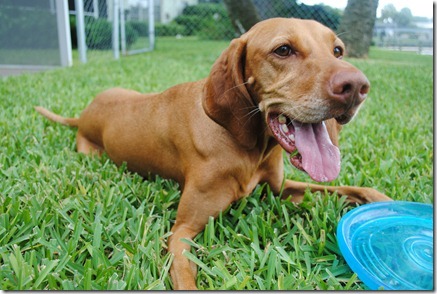 These pictures of Sadie remind me of one more thing I wanted to share with you guys with regard to this morning's post about negativity: Nothing can make you go from sad to happy faster than cuddling with a dog. I swear Sadie doesn't have one negative or nasty bone in her body.
And good news! If you're in need of a hug today, Sadie said she's more than willing so send one your way.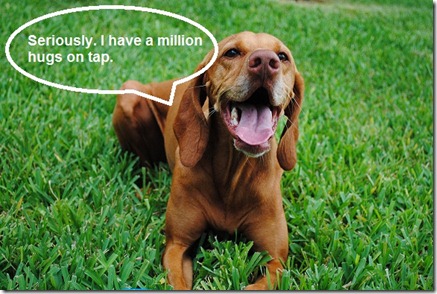 Back to work! I have two articles to get through today… one about shrimp (yum!).