Oh leftovers! You make lunch so easy.
Today's midday meal included reheated butternut squash and wheatberry mock risotto paired with a whole wheat tortilla microwaved with two sticks of Colby jack string cheese (aka a super-fast quesadilla)!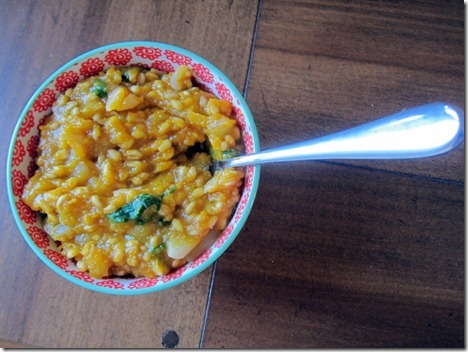 And yes, I just microwaved the 'dilla on a paper towel that I then used as my napkin in an effort to avoid more dirty dishes. Lazy or efficient?
Interviewing
A couple of days ago, I was talking with a friend of mine who is in the market for a new job. We started laughing about our past job interview experiences and had a good time sharing stories.
I remember interviewing for a position with the Orlando Museum of Art's public relations and marketing department. The interview took place at the museum, about 30 minutes from my apartment at the time. I gave myself 50 minutes to get there, figuring I would use the extra time to compose myself and answer mock questions in my head.
Well, road construction coupled with detours that took me way out of the way made me about 10 minutes late. I was mortified. I am a very punctual person and couldn't believe I was late and apologized profusely. Fortunately I got the job, but the experience left me totally paranoid and I've arrived at every other job interview way in advance.
One of the cooler interview experiences I had occurred when I interviewed for a marketing position with a new Whole Foods store that was opening in the area. After an initial interview, they had me put together a marketing campaign for the new store that I then presented to a panel of employees.
It was nerve wracking but I loved it because I was able to showcase ideas I had for the store and also interact with the people I'd be working with should I get the job. (The job was offered to a woman with more experience who was the marketing manager at another Whole Foods in the area and I was then asked to interview for a marketing position with one of their stores in South Florida, which I politely declined since I didn't want to leave Central Florida at the time.)
I think the one question that I was asked in an interview that threw me off guard the most was, "If you could have breakfast with one famous person – dead or alive – who would you choose?"
It was a hard one because I wanted to give the right answer and I wasn't sure if they were looking for an answer like George Washington or something less "cookie cutter" (and honest!).
Questions of the Afternoon
Do you have any interviewing horror stories?
What was the hardest question you've been asked in a job interview?
How would you have answered the breakfast with a famous person question in an interview setting?