When I'm not really in the mood to run but have to log a few miles in order to stick with my half marathon training plan, I set mini goals for myself during the run, with the reward of walking for 0.1 miles after I reach each mile.
I know it doesn't sound like much, but knowing I have a walking break ahead makes it a lot easier to pound out a few miles on the treadmill.
Today I completed five miles, with walking breaks after miles two, three and four.
And then I spent a glorious 10 minutes stretching and foam rolling. While I don't particularly love stretching, I really enjoy foam rolling.
Foam rolling my hamstrings feels amazing.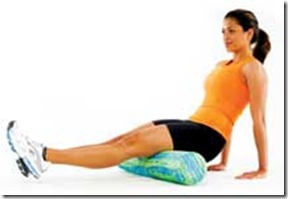 According to Runner's World magazine, "Rolling improves circulation, which gets the body ready for a workout and helps it recover afterward. And because rolling breaks down knots that limit range of motion, it preps muscles for stretching. Using a foam roller can provide similar benefits as deep-tissue massage. By increasing flexibility and decreasing muscle tension, it can help prevent injury and improve performance."
Breakfast
Breakfast was simple, simply delicious and protein-packed.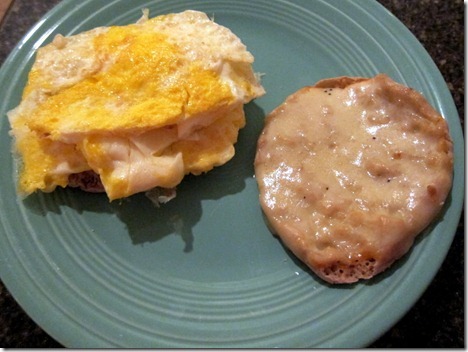 A two-egg egg sandwich on a whole wheat English muffin with raspberry jelly and muenster cheese satisfied my desire for a sweet and savory breakfast.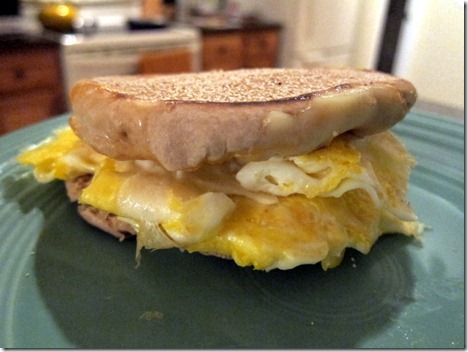 SHAPE Magazine Blogger Awards
I have some exciting news! Peanut Butter Fingers was nominated for a blogging award for SHAPE Magazine's 2011 Blogger Awards.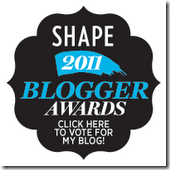 I was so excited and feel very honored to be listed with so many other awesome bloggers! I am currently in third place (crazy!), so thank you so much for your support!
If you would like to vote for me or any of the other amazing bloggers, you may click here to vote through October 28. Thank you!!
Feel Good Story
Before signing off for the morning, I know that many of you out there are dog lovers like me and thought you might enjoy this video about a dog that one sergeant bonded with while serving in Kuwait.
Steve the Dog is Saved by Sergeant in Kuwait
After the dog was attacked by another animal, they thought he would have to be put down, but the dog was brought to America and saved after the sergeant raised $1,800 to save the adorable dog! 
Gotta love a happy ending!