Ryan had to work late today, so tonight's dinner was up in the air. A smoothie for dinner? Fro yo? I had many different ideas running through my head, but figured it would be best to make a simple, yet healthy meal rather than head out for a cup of fro yo with all the toppings for dinner. One FULL week of healthy, remember? 
When I think "easy" for dinner, pasta is always one of the first meals that pops into my mind.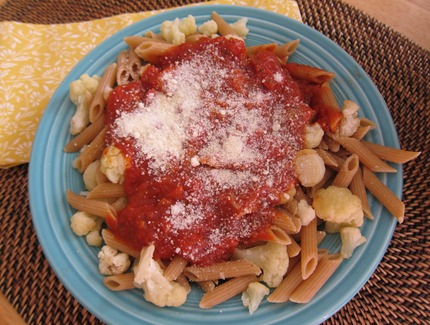 I made a big bowl of whole wheat penne pasta topped with scallops, steamed cauliflower, marinara sauce and parmesan cheese.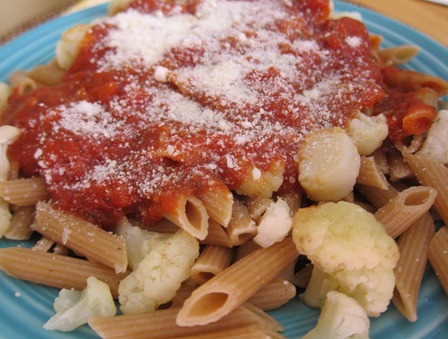 As shocking as it may sound, I'm glad I didn't high-tail it to the nearest fro yo joint and opted to make a nutritious dinner instead.
My decision to make a healthy meal was rewarded when Ryan walked in the door with CAKE leftover from a coworker's birthday celebration!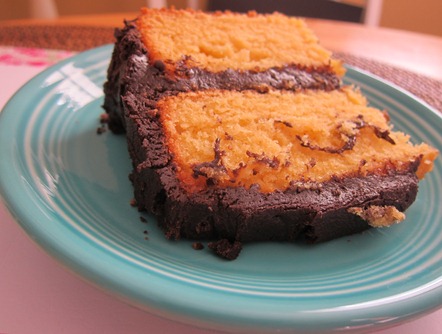 This cake wasn't just any cake. It was cake from Cheeser's Palace. Oh baby!
I've blogged about the cakes from Cheeser's Palace many times before with enthusiasm and drool. Every single piece of cake I've had from that place totally rocks my socks. I wish they taught cake baking classes because I would be the first one to sign up! The cake itself is dense but still moist and the frosting *oh my goodness* the frosting is in a class of its own.
When I committed to one FULL week of healthy, I said desserts and treats will have their place in my diet (as always) and today's cake took the… cake. So delicious!
Time to hang with my little family. I'm hoping I can coerce Ryan into a back massage tonight!