After sitting behind my computer all morning, I was more than ready to take a break around 11:15 a.m.
My work day used to start around 9 a.m. when I worked in an office but now that it starts around 7:30 a.m. (I begin working and blogging immediately after breakfast after I get back from my walk with Sadie), I am more than ready for some time away from the computer by 11 a.m. Lately I've been powering through without much of a break, but I'm trying to remind myself that it's important to step away from the computer screen even if it's just for five minutes every once in a while.
Today I combined my lunch break with some shopping! I needed to get a present for my sister whose birthday is this Sunday, so I headed out to some of her favorite stores to browse around.
I was successful and nabbed a few presents for her… and also a little somethin' somethin' for me! (Why does that always seem to happen?)
At the urging of my Twitter friends, I bought these beautiful little babies at Charlotte Russe.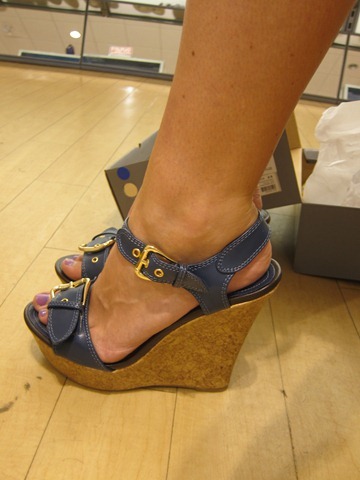 I wasn't sure whether navy wedges will go with a bunch of things, but your tweets told me to take the plunge! I have 90 days to return the shoes just incase I can't find anything to wear with them, though I already have three different outfits in mind. Someone come take me on a hot date!
Lunch
Once I was finished shopping, I headed home to make a quick lunch.
Today's meal included a homemade shrimp salad sub with carrot sticks.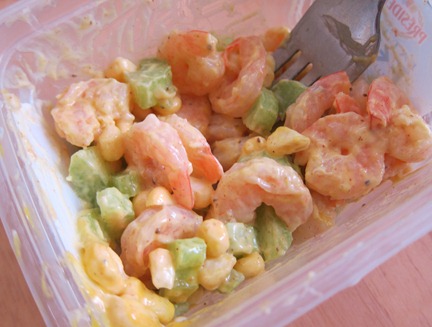 I made the shrimp salad like I normally do, but I added a squirt of mustard and some raw sweet corn to the mix.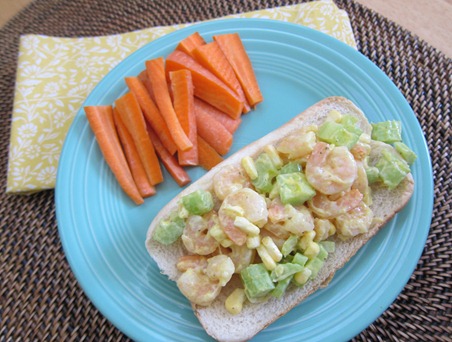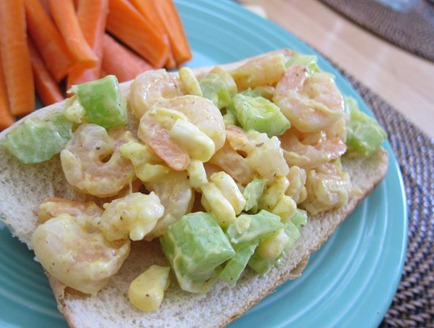 Such a summery lunch! I was quite a fan.
Back to work! I have a phone call with a lawyer scheduled for later today. Gotta protect zee blog. Intense stuff!
Giveaway
This post got way too long as I was writing it to tack a giveaway on the end, so pop over to the Fashion page for this afternoon's amazing fitness AND fashion-related giveaway! There will be FOUR winners. Woo!