Today I had a hot lunch date with three lovely ladies at the Virgin Olive Market in downtown Orlando.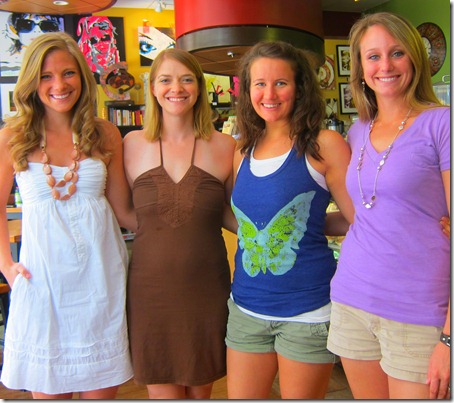 If you're an avid blog reader, you may recognize Tina, Meghann and Kelly from their amazing blogs. I've had the pleasure of meeting up with Tina and Meghann before, but it was my first time meeting (the newly engaged!) Kelly. Such a fun and friendly group!
Tina is in Florida for her family's annual trip to Daytona Beach, so we all got together for a long lunch since she was in our home state.
Once we were all seated, we looked at the menu and I found myself feeling indecisive as to what to order. When I heard Meghann and Kelly discuss a sandwich called The Big Cheese, I was immediately intrigued. Cheese? Big? Sign me up!
The sandwich was essentially a caprese salad on bread, with roasted red pepper and thick, creamy buffalo mozzarella cheese serving as the shining star. I ordered my sandwich on whole wheat bread and was pleasantly surprised when I bit into bread that had seeds and nuts in it. I love hearty whole wheat!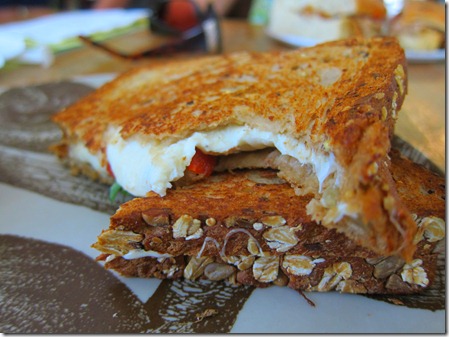 The food at the Virgin Olive Market was on point. It was fresh, flavorful and extremely delicious. No bite left behind!
We met up for lunch around noon and didn't leave for a good two hours! As a blogger, I love getting together with other bloggers because it is so nice to talk about something I love so much with other people who feel the same way about blogging.
In a normal work environment you have coworkers to talk to about your job who can relate to things you're saying, but when it comes to blogging, it can be a bit lonely when you have questions or need someone to lean on who understands the annoyances of website server issues or the sting of a hurtful comment. You don't really have a boss you can turn to with questions (and I always have millions!) or a coworker you can depend on for support. It's funky like that, and I love it oh-so-much. I jump at any chance to get together with other bloggers! (Also, if you're a blogger and are looking to meet up with other bloggers in your area, definitely check out HealthyLivingBlogs.com for a list of healthy living blogs by location!)
When I arrived home from lunch, the top of my neck felt a little itchy and when I went to scratch it, look what I found: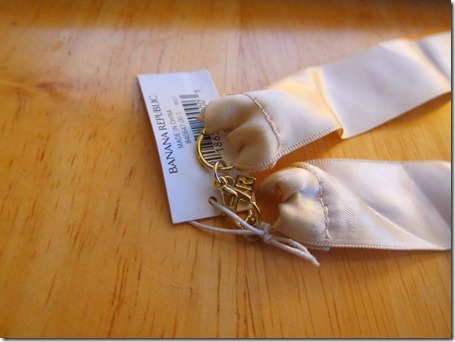 Whoops. Looks like I forgot to remove the tag from my necklace! I guess I was in a hurry to get out the door and didn't even realize it was still on. Thank goodness I wore my hair down! I wonder if the other bloggers thought I was some kind of a klepto?
Of Possible Interest:
Guest Post Round Up:
This week I had the pleasure of contributing guest posts to three different amazing blogs. Here are the links if you'd like to check them out: