For those of you out there who hit the pavement or treadmill for a run every now and then, do you have a magic mile number? You know, the number of miles you default to running that sort of feels like your running sweet spot?
My magic mile number is five. It's long enough that I feel like it's a challenge, but short enough that I know I can knock it out without feeling totally wiped at the end of the run.
This morning, after eating a hot bowl of crock pot apple cinnamon steel cut oats, I allowed my breakfast to digest for two hours while I worked before throwing on my running shoes around 8:30 a.m.
I leashed up Sadie and we set out to run five miles around our neighborhood.
Running at 8:30 a.m. may sound relatively early, but in Florida, in the middle of the summer, it's stupid. And hot. Stupid hot.
At mile three, I thought about calling it a day, but there was something about hitting five miles that just called to me. It's my magic mile number and I felt compelled to keep going even though I surely looked like death.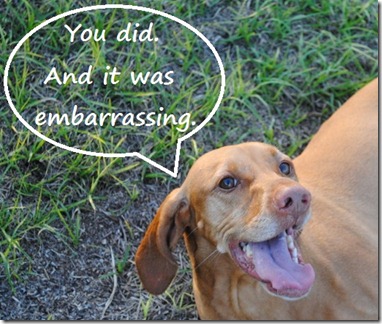 Sadie and I took quite a few walking breaks, but in the end we completed five miles.
When we arrived back home, I chugged water and refilled Sadie's water dish, assuming she'd be as thirsty as I was after such a hot run. Not so. She stopped panting within five minutes of our arrival home while I proceeded to sweat in the shower, after the shower and as I got ready for the day. Three hours later, I was finally cool.
Thank goodness no one was at home with me when I was getting ready because whenever I try to blow dry my hair when I'm already sweating, I turn into a demon. Cranky and evil.
My dad is constantly cold, so my parents avoid using the air conditioner until it's practically 100 degrees in their house, so whenever my mom, sister and I try to get ready at their house in St. Pete, we become the evil trio. Sweat 'staches don't make applying makeup very fun. 
I had to get ready relatively quickly after my run because I had an appointment to meet up with a reporter from the local newspaper early this afternoon.
Before heading out, I made myself a quick chocolate peanut butter cup smoothie.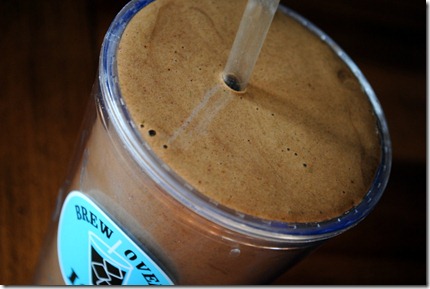 I needed fuel and that fuel had to be cold. A smoothie was perfect.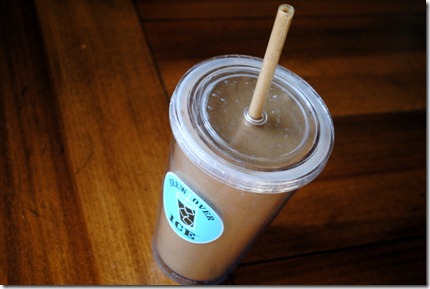 With a cold, creamy smoothie in my belly, I headed out to the Starbucks in downtown Ocala to talk with Ocala Star Banner reporter Rick Allen.
Since my day-to-day job includes a lot of freelance writing, I'm used to interviewing people, but rarely am I the one being interviewed. Last week I was contacted by the local newspaper and was interested to see what the reporter would ask me when the tables were turned.
Rick was interested in my freelance work with local clients, my blog and recipe development projects (specifically the salsas I created for Lipman) and we spent a good hour chatting away. I actually had a lot of questions for him about Ocala and his favorite restaurants in the area since he writes a lot about local cuisine. I am excited to venture out a bit and try some of his favorites, including Ipanema, a Brazilian steakhouse that apparently has the most amazing roasted pineapple in the world. 
Once Rick and I were done with his interview, I unpacked my laptop and worked at Starbucks for a bit while enjoying a non-fat misto with vanilla syrup.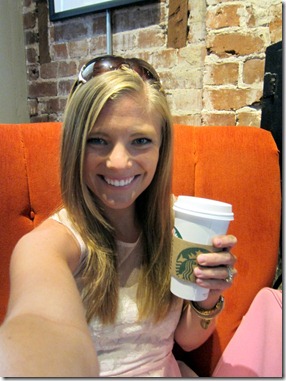 And a chocolate chunk cookie because my sweet tooth was raging after my run.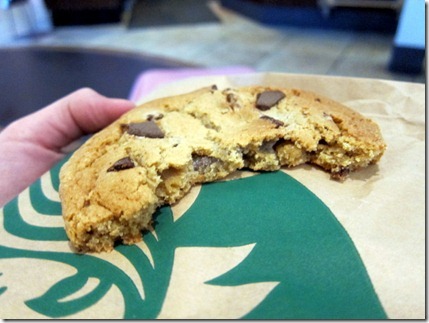 I hope your day is nice and cool and that you don't turn into an overheated demon at some point like I did this morning!
Questions of the Afternoon
Runners: What is your "magic mile" number?
Everyone: Please tell me how much it sucks to try to get ready when you're already sweating. Do you turn into a sweaty demon like me?