Minda and Clark's wedding day began bright and early on Sunday morning. I arrived at the bridal suite just before 7 a.m.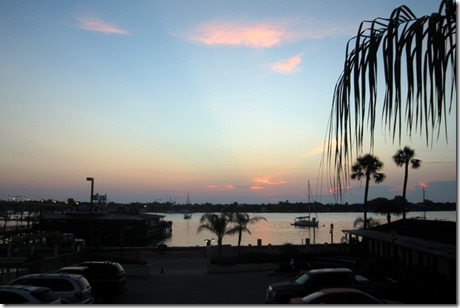 Minda arranged for two people from a local salon to come to the suite to do our hair and they got to work right away. Since Minda's wedding ceremony took place at 11:30 a.m. on Sunday, the morning was packed with wedding preparations! My friend and fellow bridesmaid, Amanda, and I were up first!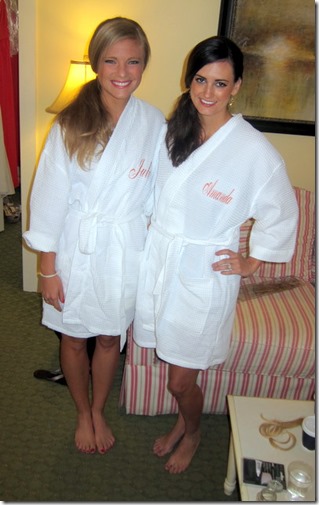 The people who did our hair followed Minda's instructions and gave each bridesmaid a teased side ponytail hairstyle inspired by a picture that Minda found online.
As we were getting our hair done, Minda surprised all of us with the sweetest bridesmaid gifts. Each bridesmaid received a white spa robe with our name on the front and "Bridesmaid" on the back. She also gave us custom-made earrings from Etsy and even got me a pair of clip-ons since my ears aren't pierced. She thought of everything and we were all so touched!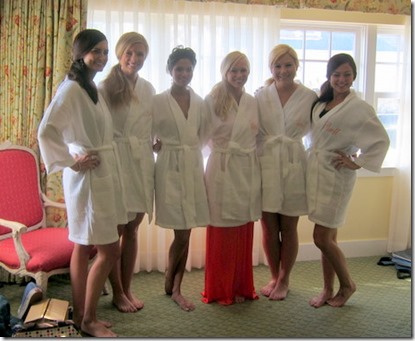 We lounged in our robes while we got ready and set up makeup stations around the bridal suite.
Michelle was in charge of champagne and took her job very seriously!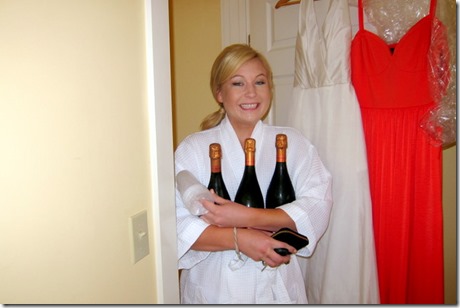 Love it!
Time absolutely flew by and before we knew it, the florist was knocking on the door to deliver our beautiful bouquets.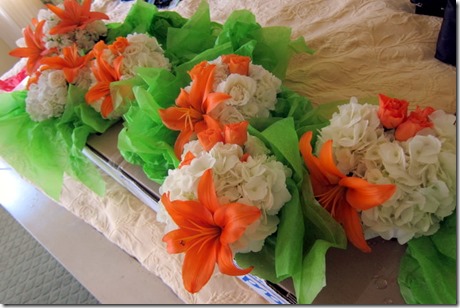 There's something about the arrival of the flowers that I adore. I know it's a rather trivial moment in the bride's special day compared to everything else, but I love how everyone always seems to gather around the bouquets and the bride always lights up! Minda immediately loved her bouquet and we all raved about the striking orange lilies.
Not long after the bouquets were delivered, Minda's friend and make up artist put the final touches on Minda's makeup and she changed into her beautiful dress before she was whisked away for first look pictures with her husband-to-be.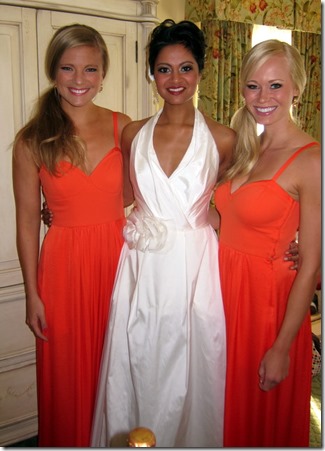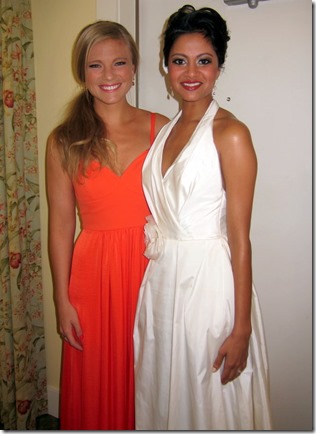 Check out Minda's shoes!!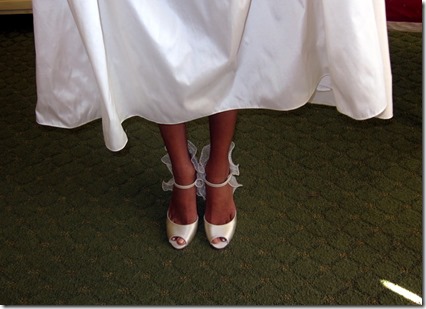 Aren't they so adorable? I love the ruffles!
While Minda was away taking photos with her groom, her mother told us the sweetest story about wedding dress shopping with Minda. Her eyes lit up and she told the story with such animation and affection. Apparently Minda kept saying every wedding dress she tried on was "the one" and loved them all which made all of us laugh. But, when Minda tried on the dress she ended up wearing, she cried and said, "No, this really  is the one." Her mom was the one who picked it off the rack for her try on!
About 30 minutes after Minda left for pictures with her groom, we joined the happy couple and took all of our pictures outside before the ceremony began. It was hot, but pictures moved quickly and took place in the shade.
Once pictures were done, we walked a block to the wedding venue and hid in a little side room while guests arrived.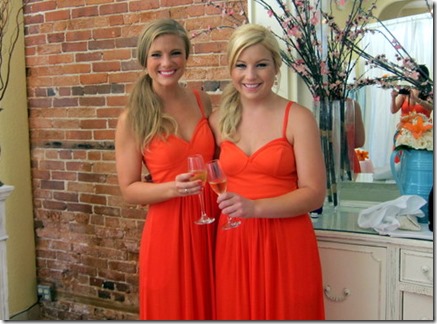 We sipped champagne, toasted to Minda and tried to enjoy every last moment.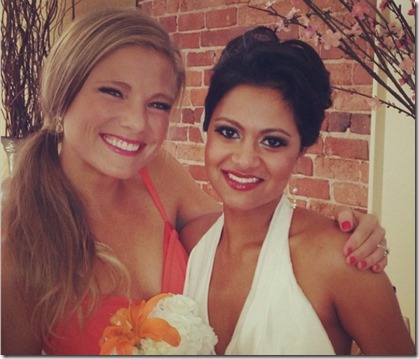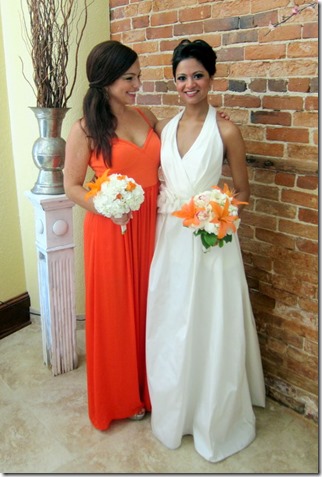 When the wedding coordinator told us it was time to head upstairs for the ceremony, my heart started racing. It was time for Minda to get married!!!
We lined up inside and waited for the coordinator to tell us to walk down the aisle.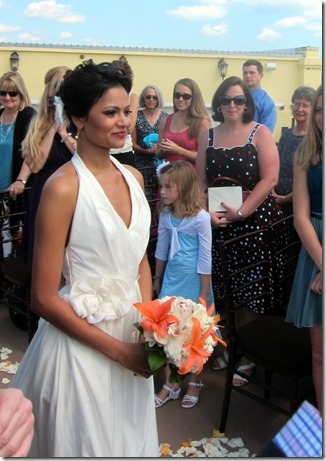 Once it was Minda's turn, everyone stood up and I could not stop smiling as she slowly walked down the aisle to meet her groom.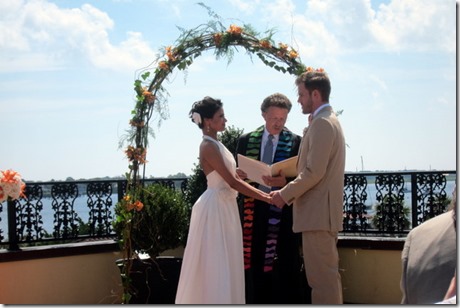 Their ceremony was so personal and sweet. Minda and Clark clearly put a lot of time into making the ceremony fit their personalities and I loved every minute of it. My favorite part occurred when they recited the vows they wrote for each other. They both made me cry! Clark's vows to Minda were so incredibly heartfelt and perfect and made me feel so happy that my wonderful friend is marrying a guy who has such intense, undying love for her. My favorite line from his vows? "I may be crazy, but I am crazy for you."
I also loved the exchange of rings because I knew this was a very special moment for Minda and Clark. Clark's wedding ring was made by melting the gold from their fathers' wedding rings together. It featured a single diamond set off to the side from a pair of diamond earrings that Minda's dad gave to her mom on their 20th wedding anniversary. Since Minda's loving father passed away when we were in college, we all thought this was an incredible way to make him always be a part of this incredible day in their lives. It was so touching and very emotional.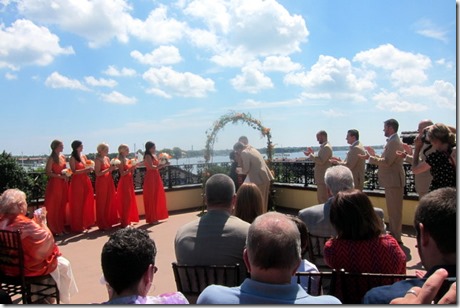 You may now kiss the bride!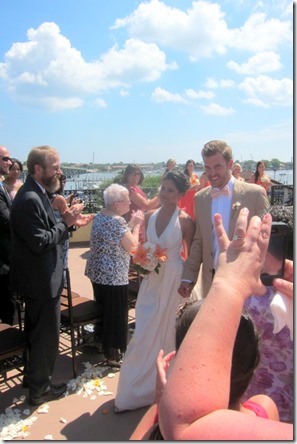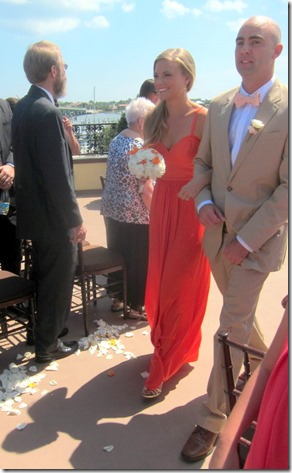 Minda and Clark's wedding reception kicked off at noon on the second floor of The White Room.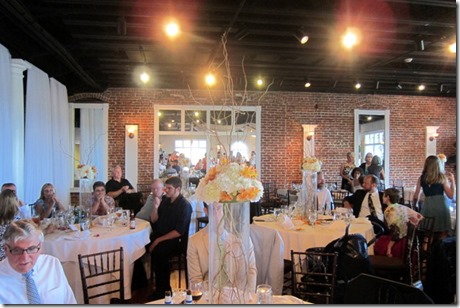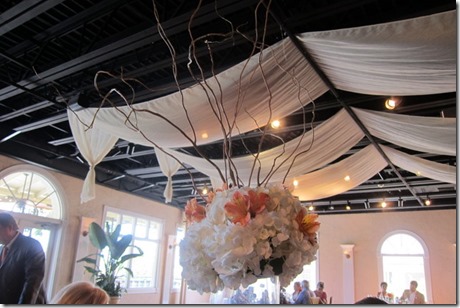 Since all of our pictures were taken before the ceremony, the bridal party was free to enjoy the cocktail hour with the guests which was great.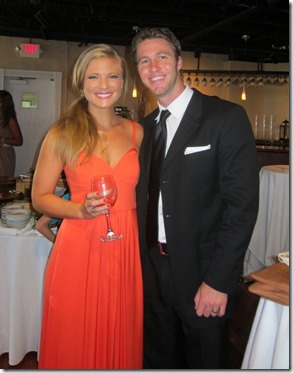 I had a great time catching up with some of my favorite girls from college while we waited for the bride and groom to join us after they were done with their family pictures.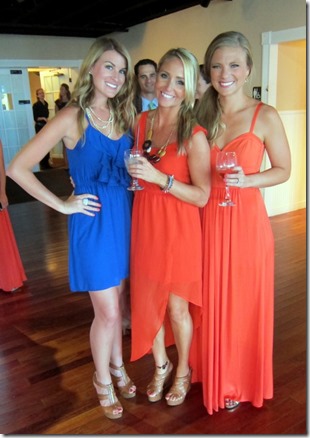 I sipped on wine and thoroughly enjoyed the bacon-wrapped scallops and baked brie. 
And then the beautiful bride and her handsome groom were introduced and everyone watched as the couple who first met when they were only 14 years old swayed together on the dance floor.
Once it was time to eat, Ryan and I joined a group of our college friends at a table for lunch.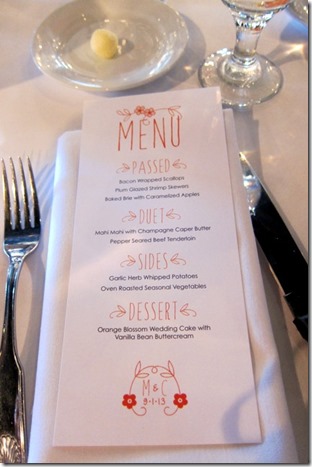 Lunch included a duet of beef tenderloin and mahi mahi served with mashed potatoes and oven roasted vegetables.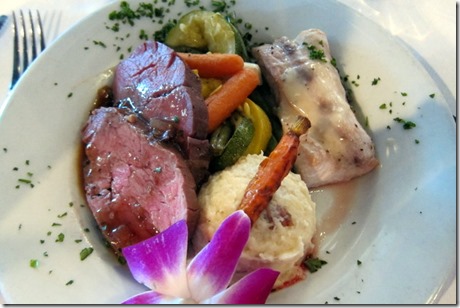 Our entire table raved about the food and agreed that the beef tenderloin stole the show. It was cooked perfectly and tasted fantastic.
As our plates were cleared, we listened to three heartfelt speeches from the best man, matron of honor and the mother of the bride. Minda's matron of honor, Brett, delivered a great speech and had everyone incredibly impressed with her public speaking abilities.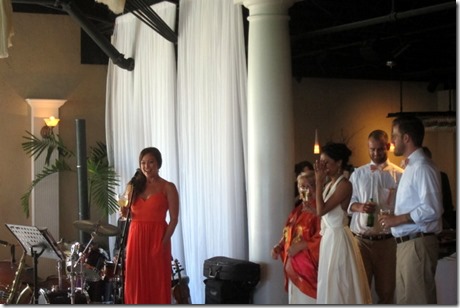 She was funny, sentimental and perfectly conveyed just how wonderful Minda truly is by highlighting her incredible heart, capacity for loving others, sensitivity and her killer sense of humor.
Minda's mother had me crying in no time at all as she beamed at her daughter and talked about how Minda's dad once said he wanted the perfect wedding for Minda. Hearing Minda say that her wedding day was absolutely perfect later that afternoon made my heart swell. I'm so glad Minda found Clark to share her future with since she deserves all the happiness in the world.
After the speeches, it was time to cut the cake!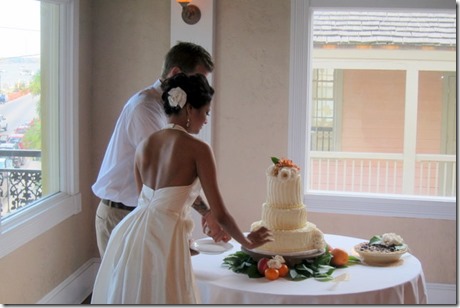 The cake was an orange blossom cake with vanilla buttercream frosting made by Sweet 'n' Flour and it was incredible. I can honestly say it was one of the most delicious cakes I've ever had in my life.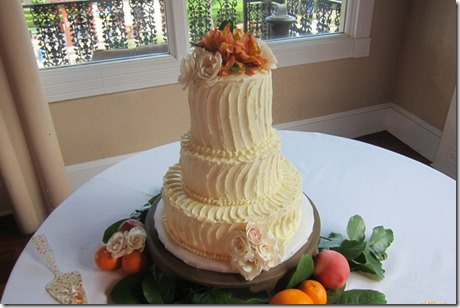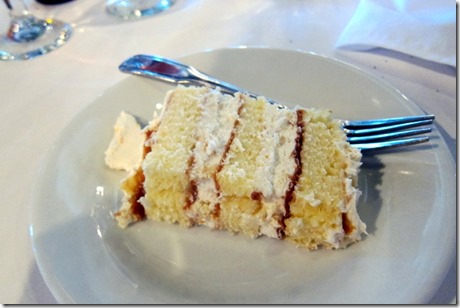 Minda also surprised Clark with a bourbon chocolate pecan pie because that is his favorite dessert.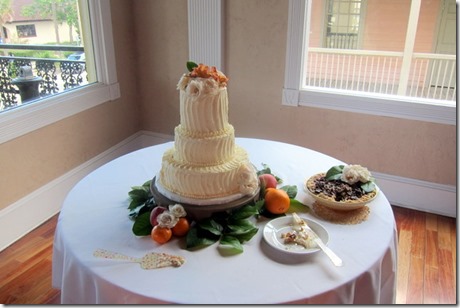 Minda and Clark's wedding day was absolutely perfect. It was filled with family, friends, fantastic food and so much love. I am so happy for the newlyweds!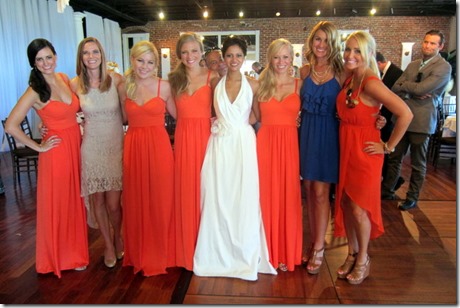 Congratulations Minda and Clark!
Giveaway Winners
Noonday Giveaway Winner
Angie: "I liked Noonday on Facebook, great concept."
Reebok Nano 3.0 Giveaway Winner
Meaghan: "I would love to win these to wear to Crossfit! I've heard great things about them."
Congratulations! Both giveaway winners have been emailed!