I have a question for my fellow Downton Abbey fans. Every time you finish watching an episode, do you find yourself fighting an intense desire to speak with an English accent and call everyone m'lady?
It took everything I had not to walk around calling Ryan m'lady after I watched an episode last night. Luckily I had Sadie to practice on…
"Here are your Beggin' Strips, m'lady."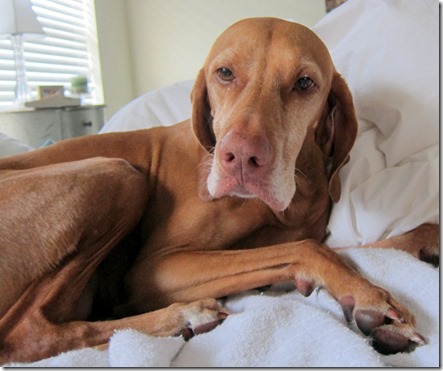 (Someone clearly mastered the Dowager Countess' unamused expression.)
For those of you who tried watching the first episode of Downton Abbey and couldn't get into it, apparently that is a very common thing! I actually didn't watch the first episode – my mom and grandma filled me in on the details – but I've heard that it's the second episode that hooks you, so it might be worth another try. Then come back here and we can all call each other m'lady and be jealous of their lovely accents together. Yes, I am trying to convert all of you into Downton Abbey fans.
Workout
Before breakfast, it was gym time. I took my booty through my lower body and abs circuit workout, but added 30 seconds of jump rope in the mix in between each exercise to get my heart rate up. Not a bad way to start the day!
Breakfast
My morning meal began with the most delicious grapefruit.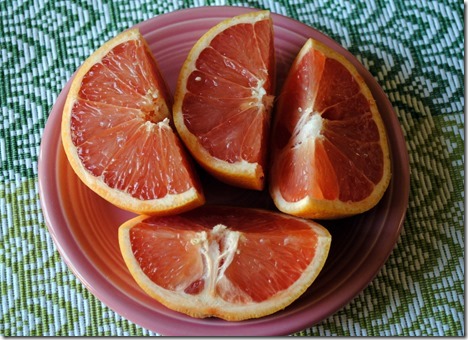 We got a box of grapefruit on Tuesday as part of the Harry & David fruit of the month club, so I've been on a big grapefruit kick all week. I can't get enough of them and have been eating them morning, noon and night.
Ryan laughed at me when he noticed the depleted number of grapefruit in our fridge when he arrived home from work yesterday. Naturally a Ron Burgandy quote was appropriate. "You ate almost all of the grapefruit? I'm not even mad. That's amazing."
They're just so, so good!
I also had a toasted English muffin topped with Publix natural chunky peanut butter and a combination of mascarpone cheese stirred together with Trader Joe's superfruit spread.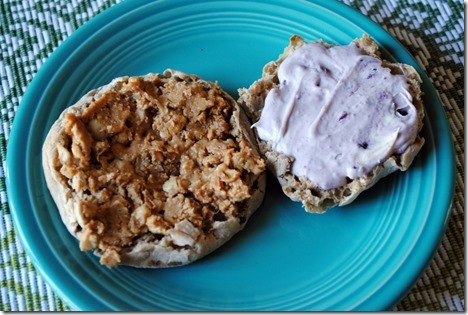 If you adore mascarpone cheese, I highly recommend stirring a little bit of jelly into the cheese to make a fantastic spread. It was wonderful!
Question of the Morning
Do people tell you that you have an accent? Is there a specific accent that you adore?
When I first moved to Florida from Palatine, Illinois, I got made fun of all the time for the way I said certain words like "Mom." (Apparently I said "maaaaam.")