BIG discovery today, guys.
BIG.
Did you know that Starbucks makes a mocha coconut Frappuccino?
Judging by the responses I got to my Tweet about this discovery earlier today, yes you do.
Well, it's a brand new flavor to me and I am basically in love.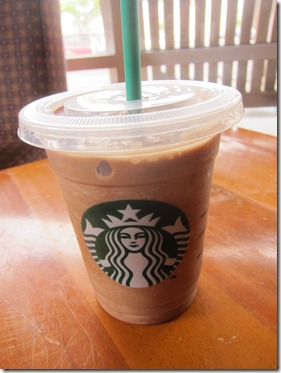 I ordered the light version of the Frappuccino late this afternoon and it tasted like a Caramel Delight Girl Scout cookie… or a Samoa, as some of you say.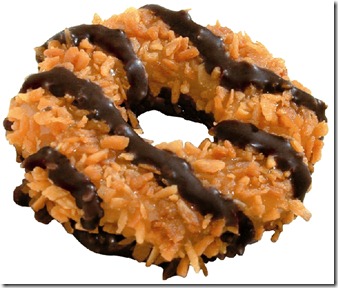 Quick poll: Are they Caramel Delights or Samoas to you? Caramel Delights all the way, bay-bay!
After working through the afternoon at Starbucks, I headed downtown for a meeting about an upcoming Orlando tech conference. I felt a little out of my element with all the talk about aps and start up technology businesses, but we'll see where it goes!
On my way out of the meeting I stopped by Mochi for some fro yo for real reason other than me just wanting the creamy dessert.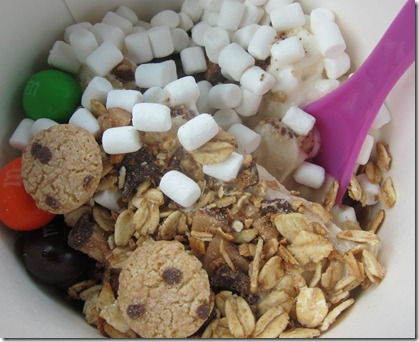 If you spend $5 at Mochi downtown you're supposed to receive validation for parking in the garage. Well, apparently that validation only applies if you're parked in the garage for under two hours, so I ended up paying $5 for frozen yogurt and paying $16 (YES, SIXTEEN DOLLARS!) for parking.
What a punch in the gut!
I got back to the hotel room in Ocala a little after 8:30 p.m. and am now off to slip into my pajamas and grab something quick to eat for dinner. I missed the hotel buffet (oh darn!), so I'm left to scrounge up a meal from the stuff we have in our fridge. I think that means dinner will be Greek yogurt with banana slices and a whole wheat bagel with peanut butter. That actually sounds delicious right now.
See ya in the morning for Blog Talk Tuesdays!