Its been rainy and dreary all day but sometimes a little cloudy weather isn't so bad. It just means you have a legitimate excuse to bum around the house, watch movies and bake fantastic desserts.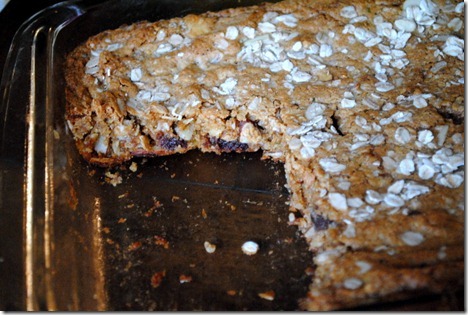 This afternoon I decided to do some baking.
I wanted today's kitchen creation to be extra delicious because they are going to be sent to a friend of mine who is currently battling some serious health issues.
Baking for others makes baking so much more fun.
When I am baking for myself, I don't really care about the finished product and rarely measure ingredients. Cookies can fall apart and I'll still eat them, but I'd like the cookies I make for other people to actually stay together.
A small request, right?

These bars stay together, taste fantastic and make the entire house smell mouthwateringly wonderful.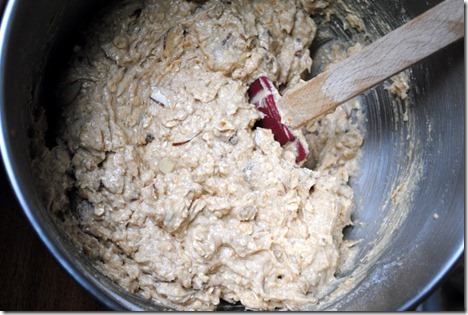 Waiting for them to cool was painful, but that first bite was worth the wait. Okay, let's be honest, I definitely cut right into them, burnt the roof of my mouth on the first bite and then decided it was a good idea to wait for them to cool. Happens every time.
Muesli Almond Date Bars
Recipe adapted from Martha Stewart's Oatmeal Bars with Dates and Walnuts from Martha Stewart's Cookies Cookbook
Makes approximately four dozen bars
Ingredients:
2 3/4 cups muesli (old-fashioned oats may also be used)
1/2 cup whole wheat flour
1/4 cup flour
1 1/2 teaspoons baking powder
1 teaspoon salt
1/2 teaspoon ground cinnamon
3/4 cup (1 1/2 sticks) unsalted butter, room temperature
1 1/2 cups packed brown sugar
1/2 cup sugar
3 large eggs
2 teaspoons vanilla extract
3/4 cup slivered almonds
1 cup dates (5 ounces), pitted and coarsely chopped
Directions:
Preheat oven to 350 degrees
Finely grind 1 1/4 cup muesli (or oats) in a food processor. Stir together ground muesli, 1 cup whole muesli (or oats), both flours, baking powder, salt and cinnamon in a large bowl. Set aside.
With an electric mixer, beat butter and sugars on a medium speed until fluffy, approximately five minutes. Mix in eggs and vanilla. Reduce speed to low and mix in dry muesli mixture until just combined. Fold in almonds and dates.
Spray a 9 x 13-inch baking dish with cooking spray. Spread batter evenly into dish and top with remaining muesli (or oats). Bake for approximately 35 minutes, turning halfway through. Bars are done when a knife inserted into the center of the bars comes out clean.
Let cool completely and cut into bars.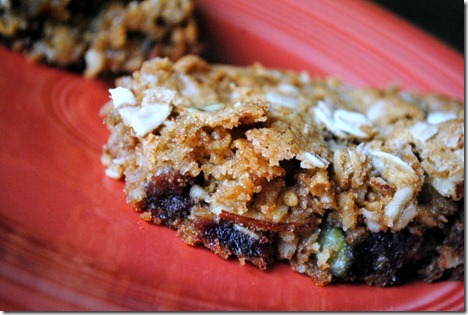 Enjoy!

The sun decided to hide today.