My 29th birthday weekend went by in a flash but it was filled with great friends, good food and lots of time outside. A fabulous weekend by all accounts!
Unfortunately I lost my camera on Saturday night at a bonfire party so Friday and Saturday's pictures have fallen into a black hole never to be found again. Well, I sure hope they are found again, but I am not holding my breath.
I'm bummed that I lost my beloved Canon S95 (it is a fabulous point and shoot camera that I actually convinced my mom and sister to buy as well) and I am in the process of comparing it to newer cameras before purchasing another one. Unless I can find a killer deal, the newest edition of my old camera (the Canon S120) is out of my current budget, so if you have a point and shoot camera that you love, please let me know!
Anyway, back to my birthday weekend recap with the small percentage of pictures I have to help tell the story thanks to my friend Minda's Facebook page and my iPhone…
Saturday
Saturday morning began with a run outside and a short shoulder workout before Ryan and I grabbed breakfast at our local farmer's market. After a quick walk with Sadie and a shower, our friends Laurel and John arrived at our house in Ocala to spend the weekend with us!
We had plans to drive to Melrose to hang out at our friend Heather's house for a birthday BBQ since her birthday was on Friday. So many April birthdays!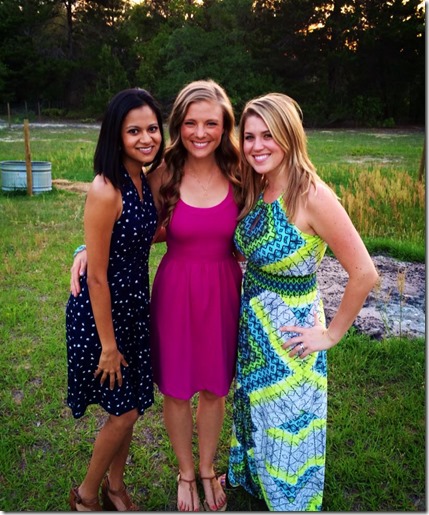 (Minda, me and Laurel – Sorry for the butt grab, Minda!)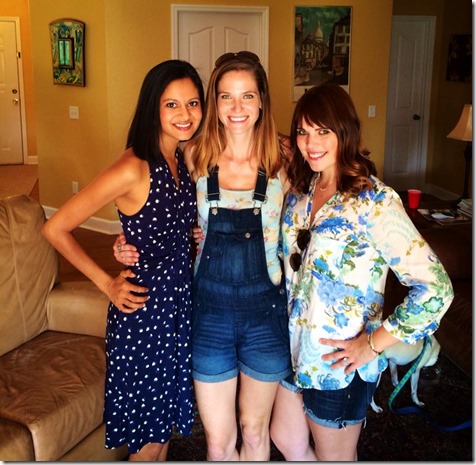 (Minda, Heather and Nicole)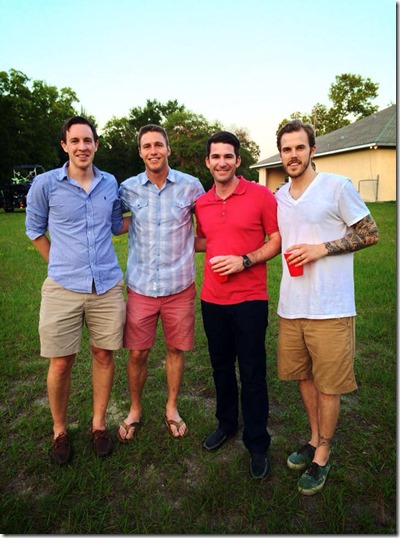 (John, Ryan, Ryan and Clark)
Heather and her husband Chris live on a farm, so the party had an added element of fun since we were able to interact with chickens, goats and horses. The goats and horses basically ignored us, but the chickens were quite lively!
We ate burgers, hot dogs and typical delicious cookout fare and had fun chatting by a massive bonfire until it was time for us to make the drive back to Ocala. We spent an hour or so hanging out with Laurel and John before eyes started closing and we put ourselves to bed.
Sunday
I somehow managed to sleep until 8 a.m. on Sunday morning which was a serious victory. My birthday was already off to a great start before I even got out of bed!
Once everyone was awake, we drove to Darrell's Diner for a delicious breakfast of eggs, toast and coffee.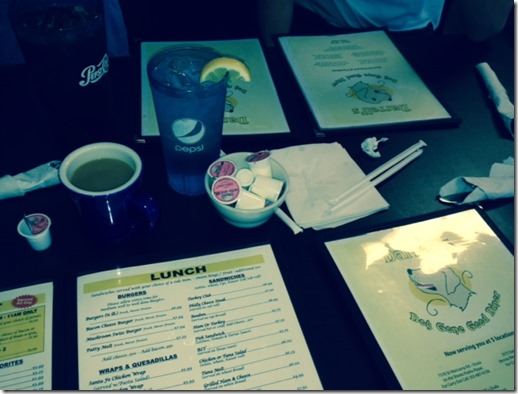 After we were done eating, we lingered over coffee before piling back into Ryan's car and driving back to our place. The guys watched soccer while Laurel and I had fun catching up. I miss her so darn much and am so glad I was able to spend my birthday my best friend. (We met freshman year in college and have stayed very close ever since. She's the best.)
Laurel also surprised me with an awesome birthday gift – a hydration backpack for summertime hiking and running. After we said goodbye to Laurel and John, we took Sadie on a 90-minute hike and I tested out my new present. It made staying hydrated a breeze. Thank you, Laurel! 
Birthday Date
Once we returned from our hike, we rinsed off and drove to Gainesville for a birthday date! Ryan treated me to a casual sushi dinner, a movie, frozen yogurt and ice cream. He knows the way to my heart!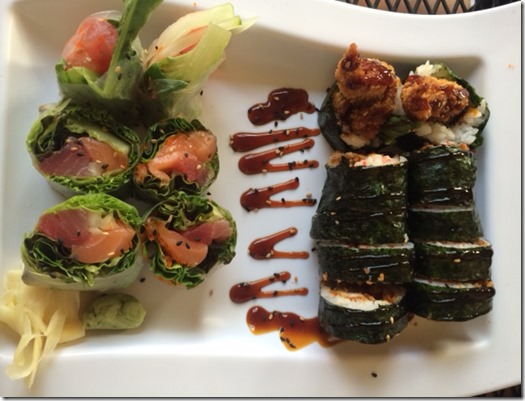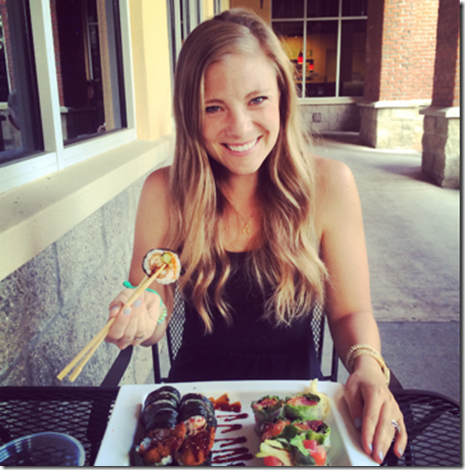 I ordered two rolls including a build-your-own roll with salmon, cucumber, masago and tuna and a fried soft shell crab roll.
Ryan stuck to a bento box!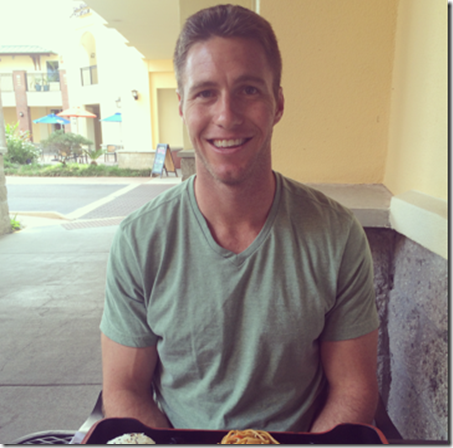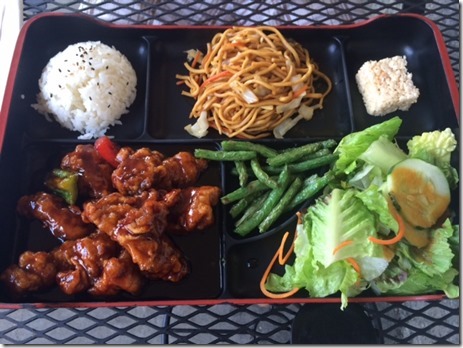 After dinner, we had 30 minutes to kill before our movie began and grabbed frozen yogurt from Yogurtology!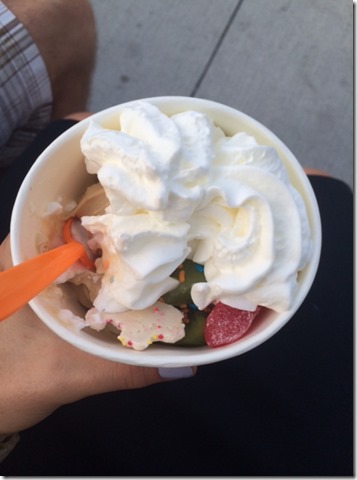 I filled my cup with oatmeal cookie and vanilla cake batter frozen yogurt topped with sprinkles, kiwi, red gummies, iced animal crackers and lots of whipped cream. It was a random combination, but I loved every bite!
Once we polished off our frozen yogurt, we drove to the movie theater to see Bears. I saw a preview for this movie a month or so ago and Ryan laughed when I said I really wanted to see it! I adore nature documentaries and thought the movie would basically be a documentary that followed the journey of a mother bear and her two cubs. Well, it was definitely more of a kid movie and Ryan and I had to laugh when we realized our (my?) mistake. We stayed through the whole movie – it was pretty cute and rather short – and I think kids who love animals would like it a lot! I'm just not sure I'd recommend it as a happenin' date night movie. Oops!  
After the movie, Ryan suggested a quick ice cream date at Coldstone before we made the drive back to Ocala. Ice cream!? You don't have to ask me twice!
We shared a large Apple Pie a La Coldstone and loved every bite. It tasted like cinnamon caramel ice cream! The perfect way to end my birthday.
I hope you guys had a wonderful weekend!