I never used to think of myself a superstitious person, but I'm beginning to think that I am.
This morning, when I got dressed for the day, I made sure to wear my turquoise sparkly BIC Band. I wore it during the Savannah Rock 'n' Roll half marathon when I broke two hours for the first time and I wore it again two weeks ago when I achieved a PR during the ZOOMA half marathon. Now I feel like it might be a little lucky, so I figured why not wear it today when I headed off to take my NASM exam?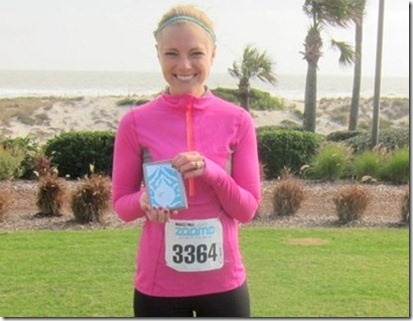 Yep, today I took the NASM Certified Personal Trainer examination late this morning and I have some good news to share!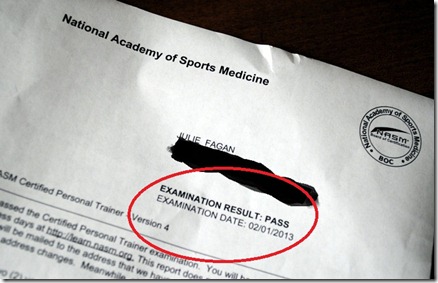 I passed! Woo!
I guess sparkly BIC Bands may be a little lucky after all.

At around 8:30 a.m., I drove to a tiny airport in Crystal River, Florida that served as the testing facility for my exam. I checked in and went over my study guide and note cards for another 30 minutes before I was escorted into the testing room.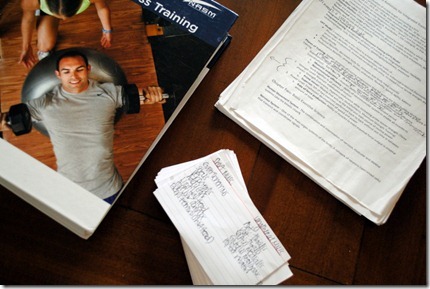 One hundred and twenty questions and a little more than an hour later, I was done!
When the man who ran the testing facility informed me that I passed, I felt awfully excited! (Unfortunately NASM doesn't reveal your exact score after you take the exam and and you're simply awarded "Pass" or "Fail.")
I plan to do a whole post about my experience with NASM since I've already received a handful of emails from you guys with lots of questions, so stay tuned for that next week. If you have any questions you'd like to see addressed, feel free to ask away in the comments section of this post. I know I had a million questions when I began researching personal training certifications and then once I had my study materials, I felt a little overwhelmed, so I'd love to help those of you interested in any way that I can.
As for what exactly I plan to do with this certification, I'm not 100 percent sure. My main motivation for obtaining the certification was to possibly teach group exercise classes. While I know you don't necessarily need a personal training certification to teach group exercise, I love it when group exercise instructors seem to have a greater knowledge of muscles and exercises and wanted to have that knowledge. While teaching group exercise still intrigues me, I have a few other ideas floating around in my mind and have some opportunities on the backburner that I may be interested in pursuing. I'll be sure to take you guys along for the ride!
Lunch
When I arrived home, I was awfully hungry and immediately grabbed a pear to eat.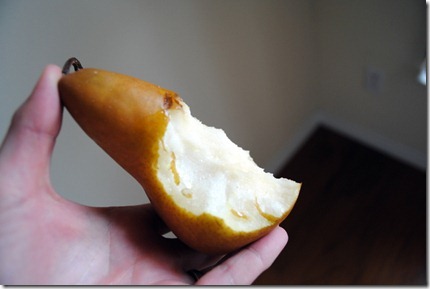 As I ate my pear, I made myself a chicken salad sandwich on 5-grain sub bread from the Publix bakery.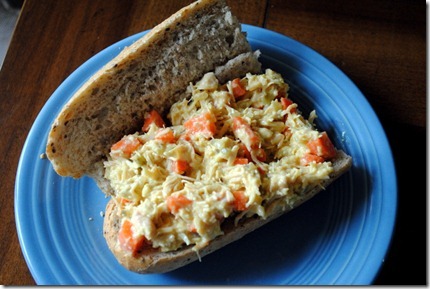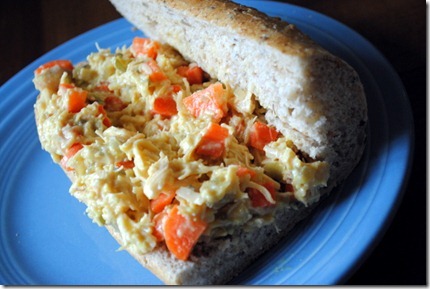 Dessert was a couple of small handfuls of peanut M&Ms.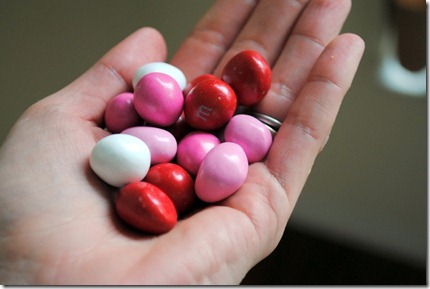 So good!
Nine Years
Today is actually a rather special day for me and Ryan. It's our nine-year dating anniversary!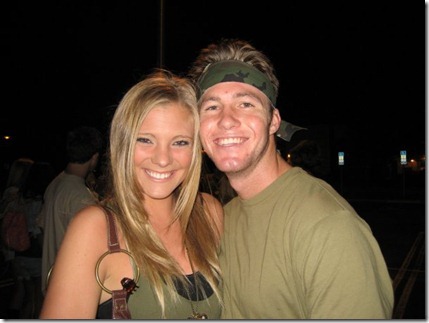 (Kappa Delta camo social, 2006 – Just lil' babies!)
Ryan told me this morning that he has a surprise date planned for us tonight. (He later told me that if I didn't pass my test and didn't feel like going out to celebrate, his alternate idea was an "eat ice cream on the couch date night" which sounded awfully fabulous, too.) I'm not sure what's on the agenda, but I'll be sure to report back in the morning.
I hope you're having a fabulous Friday and enjoy your weekend!