Hello, hello!
It's time for another PBF reader volunteer story! Tara emailed me about her involvement with New York Cares, an organization that runs volunteer programs for 1,200 nonprofits, city agencies and public schools and I immediately got sucked into the organization's website. If  you live in New York City and are interested in volunteering, New York Cares is definitely worth checking out! You can search the organization's site by volunteer project type, location, availability and more. It's a one-stop shop for volunteers!
Tara's involvement with the Culinary Explorers program really stuck out to me as someone who loves food and discussing healthy living with others. You can read more about her experience below.
To learn more about New York Cares and the Culinary Explorers program, please click the following links:
Tara's Story
Hi, Peanut Butter Fingers readers! My name is Tara, and I'm excited to share my volunteering story with you today.
I attended a high school and a college that both prioritized service to others as one of their main values, and as a result I spent a significant chunk of my extracurricular time volunteering during those years. I moved to New York City a year after graduating from college, and I was soon stunned to find that in a city as big as this one, it's surprisingly difficult to find a way to volunteer your time. A lot of volunteering happens through people's corporations or specific church groups, neither of which were options for me. I was stumped—until I had a lucky hit in one of my Google searches.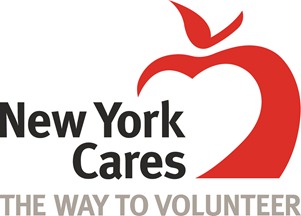 New York Cares was founded by a group of college friends in the 1980s and is now the city's largest volunteer organization—it runs programs in partnership with about 1,200 nonprofits! The group appealed to me in particular because it's so flexible. The organization behind New York Cares knows that many of its volunteers are young urban professionals whose schedules change from weekend to weekend and even day to day. It's totally fine with them if you bounce from service site to service site doing "one-and-done" projects. Or, if you want to invest yourself in a site on a long-term basis, you can choose a "committed project" that lasts over several weeks or months.
New York Cares offers a seemingly endless list of opportunities, from park cleanup to dog walking, resume building to food pantry service. My favorite program so far, though, has been the Culinary Explorers. This group seeks to help kids from the city's boroughs choose healthy and delicious foods by guiding them through the cooking process, oftentimes exposing them to cuisines they might not otherwise get to try. The particular group I volunteer with chooses a different theme for every week's cooking—we've had Southeast Asian, South American, African, all delicious! We try to let the kids do as much as possible (although the volunteers do most of the knifework), and everyone is served their culinary creations for lunch after a morning of preparation and cooking. As you might expect, we get our fair share of picky kids who—in spite of the time they just spent sealing dozens of mini empanadas—turn up their noses at the new and different cuisines. But, happily, sometimes even the kids are surprised by how much they like Thai Curry Chicken Turmeric or Red Lentil Daal!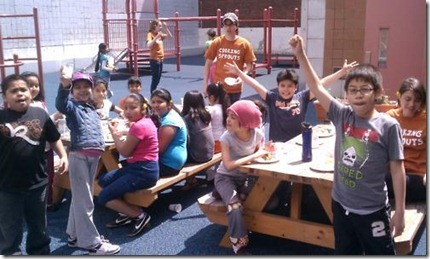 For all you New York readers out there, becoming a part of New York Cares couldn't be easier. After attending a one-hour orientation session during which you learn about New York Cares' mission and policies, you're cleared to start signing up for as many volunteer opportunities as you can fit in your schedule. And after serving on three separate occasions, you can even apply to be a Team Leader for a project to which you want to make a greater commitment.
New York Cares has reminded me that even giant metropolises like this one still have small, close-knit populations that need our assistance. And having the chance to meet other New Yorkers who want to spend their free time helping others has been incredibly eye-opening—our stories may be varied, but our hearts are all united in service.
(It might not be surprising for you to find out that I love the Culinary Explorers so much because I'm a foodie in my spare time! You can check out my blog, Chip Chip Hooray, where I write about my exploits in cooking, baking, and hitting the NYC restaurant scene on a 20-something's budget. I hope you come and say hi!)
***
Additional reader volunteer stories: