It's so good! Once it hits your lips! (Name that movie!)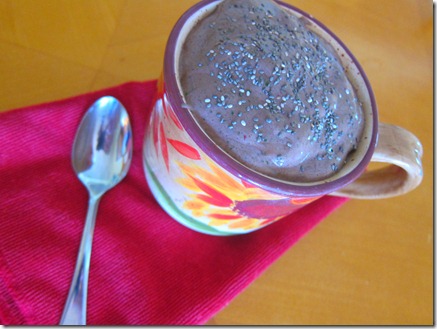 That's exactly how I felt today as a smoothie crossed my lips. (I wonder if we can create some kind of spiked smoothie keg stand at the Healthy Living Summit this weekend?)
Oh goodness, it has been far too long since I enjoyed a smoothie and it was just as good as I remembered.
I arrived at my parents' house just in time for lunch and I knew a smoothie would be my meal of choice.
Today's smoothie contained:
1 c. almond milk
1 1/2 scoops chocolate protein powder
1 c. frozen strawberries
1 large handful fresh spinach (<—Oh my gosh, the return of the vegetable!!!)
1 1/2 tsp. xanthan gum 
1 1/2 tbsp. cocoa powder
1/2 tbsp. chia seeds
I blended it all together and the smoothie ended up being so thick that a spoon was necessary to take it down.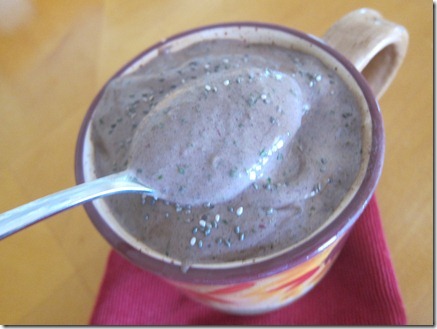 I wonder if I can talk my family into smoothies for tonight's family dinner?
My smoothie was a welcome treat at my parents' house, but being greeted by my mom's smiling face and Sadie's nibble kisses made the two hour drive more than worth it.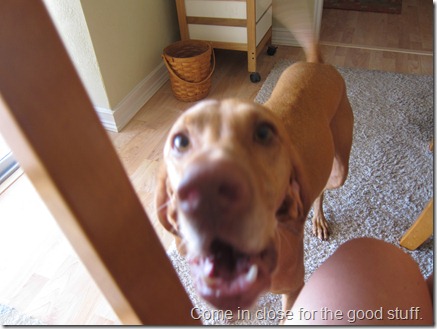 I think that Sadie's blurry tail in the above picture says it all.

Thundershirt
My mom was also quite excited to let Sadie show off a new item of clothing she acquired.
Sadie is now the proud owner of a Thundershirt.
I think Ryan is going to love it because it looks like a muscle tee on her. After the whole neon orange collar/leash debacle, I now realize that Ryan not-so-secretly wants Sadie to look like a boy.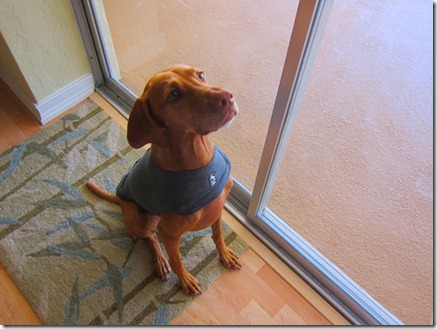 She's so buff.
My mom bought Sadie the Thundershirt to help with some her anxiety. Sadie gets a little nervous and anxious on car rides sometimes, particularly when we go over bridges or when it rains. (Her body starts shaking and she starts panting heavily whenever we go over a bridge. It's the weirdest thing!)
Apparently the Thunder Shirt provides gentle, constant pressure that "has a dramatic calming effect for most dogs if they are anxious, fearful or over-excited. Based on surveys completed by over two thousand customers, over 80% of dogs show significant improvement in symptoms when using Thundershirt. Thundershirt is already helping tens of thousands of dogs around the world, and is recommended by thousands of veterinarians and dog trainers."
It's kind of like swaddling a baby… but for dogs. I guess it's worth a shot!
Workout
My workout today began with 20 minutes on the elliptical before I hit the weights.
I did three sets of 15 repetitions of the following exercises for a total-body workout:
Leg press
Superset One: Bicep curls, Tricep dips
Superset Two: Leg extensions, Front shoulder raises
Tricep pull-downs
One-legged leg extensions
Chest press
Superset Three: Deadlifts, Side shoulder raises
Ab work on exercise ball (100 various crunches)
One minute plank
I was nice and sweaty by the time I was done. Mission accomplished!
And now I'm off to conquer today's to-dos. Must be productive…
P.S. Just realized I've totally used this blog post title before!