Lunch today was leftovers from last night's dinner.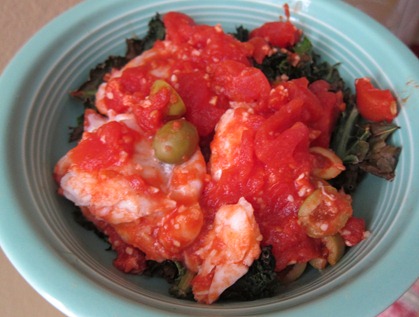 I topped a bowl of roasted kale with haddock veracruz. I made the haddock last night following a recipe that I received on a card at Publix. Publix Apron's recipes have proven successful in the past (remember the salmon with a raspberry glaze?), so I figured this one would be a keeper as well.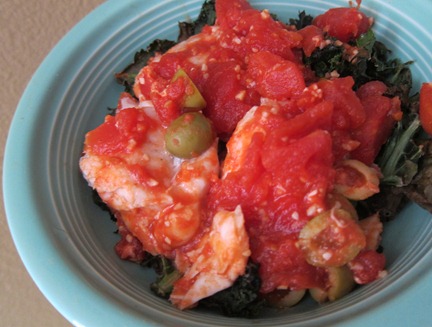 Unfortunately this recipe was only okay. The olives saved it, but it's not one I'd make again. After eating it two times, I'm officially over it.
And now it's time for me to write my heart out and work through some thoughts.
A Full Week of Healthy
Over the weekend, vegetables eluded me. Whole grains (other than boatloads of homemade granola) laughed at me.
Snacks ruled me.
I felt like I went from one snack to the next, munching my way through the whole weekend. I'd still sit down to meals because it was time for that meal, not because I was particularly hungry.
I awoke this morning feeling a bit lethargic, but committed. This week is going to be one full week of healthy. Not Monday through Thursday healthy… Monday through Sunday healthy.
Yes, desserts will be consumed. But reasonable desserts. Snacks will be enjoyed, but reasonable snacks… that have an end.
I absolutely love healthy food. I love the taste, texture and smell of fresh fruits and vegetables. I love the flavor of healthy fats and the way whole grains fill me up without zapping my energy.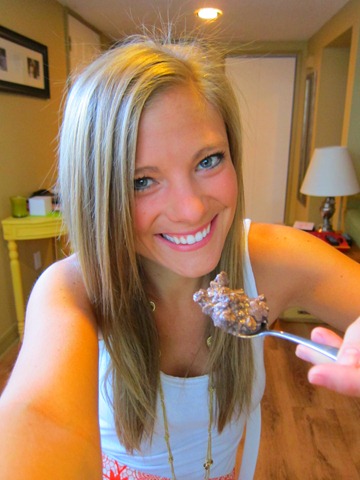 Why, then, do I eat cookie after cookie (no, not just one… like seven) when I know I'm going to feel like garbage afterward? I know it's not an issue of deprivation because I let myself eat treats and always eat when I'm hungry. So what's the deal?
As you may remember, I started reading the book The End of Overeating about a month ago. I haven't finished it yet, but one thing that really stuck out to me from the pages I have read is that study after study revealed that consuming sugar, salt and fat makes us crave sugar, salt and fat. Eating one cookie makes us crave another.
You guys know that I'm a big believer in indulging. Eat the dang dessert if you want it! I will never restrict myself or tell myself I can't have something because that just backfires and I'll find myself swimming in a tub of cookie dough in no time.
What I will tell myself as I head into my "week of healthy" is that I can have my treats, but make them reasonable and stop before eating one treat turns into eight treats, ruining my appetite for dinner and otherwise healthy foods.
You guys know I am a big advocate for enjoying what you want to eat, but my mom's breast cancer diagnosis also flipped a switch in my head, inspiring me to make healthier decisions when it comes to food. I want to eat foods that benefit my body and supply me with nutrients and vitamins. It's easy to veer off course every now and then, but the great news is that you can always hop back on the healthy living train.
Question of the Afternoon
If you find yourself struggling with healthy eating, what do you do to hop back on the healthy living train?