"Failure to plan is planning to fail."
I both agree and disagree with this statement when it comes to eating healthy.
Yes, I think it's important to plan to eat nutritious meals. This is easier when you plan ahead and buy healthy items at the grocery store.
When this statement doesn't work for me is when I plan my meals. I like to have an idea of the meals I'm going to enjoy so I know what food to buy for the week, but when it comes to actually planning meals, it's not for me.
You see, the minute I tell myself I have to eat meatloaf or BBQ chicken, I'm immediately not in the mood for that particular dish. When I say I could have BBQ chicken or buffalo chicken sandwiches, my mouth starts watering at either possibility. I guess I like variety and options.
Ryan and I will buy fish, lean meats and veggies at the grocery store with an idea of what we'll make throughout the week, but no real plan. This works for us because it gives us the flexibility to take lean ground beef and make sloppy joes or an Asian beef cucumber bowl.
Dinner
Tonight I opened the fridge and the salmon filet we purchased at Publix yesterday caught my eye.
I felt like getting a little creative in the kitchen this evening, so I took the salmon and placed it in a food processor before adding some ingredients to the mix.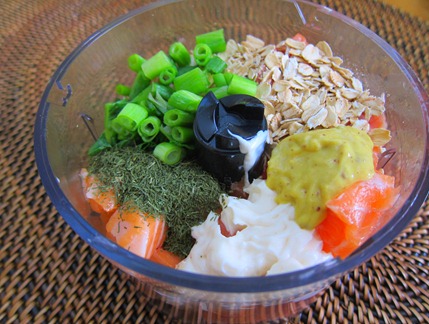 I then pulsated everything to make salmon burgers!
Salmon Burgers (Makes three burgers)
Ingredients:
3/4 lb. fresh salmon
2 tbsp. oats
2 tbsp. green onions, chopped
1 tbsp. light mayonnaise (I used light Miracle Whip)
2 tsp. stone-ground mustard (Dijon, honey mustard or regular mustard will also work)
1 tsp. dill
Directions:
Heat a griddle on medium heat and spray with cooking spray.
Combine ingredients in a food processor and pulsate until everything is fully mixed.
Shape salmon mixture into three patties and place on griddle.
Cook until sides of the patties appear cooked (approximately 5 minutes)
Flip patties and cook until salmon is completely cooked (another 5 minutes)
Enjoy!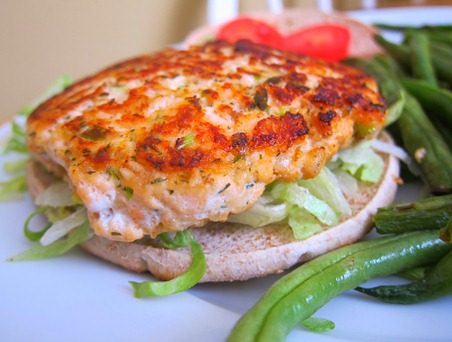 These burgers were really, really good! Both Ryan and I said we would absolutely make them again!
We enjoyed our salmon burgers on top of toasted whole wheat sandwich thins with lettuce and tomato slices and a side of green bean fries.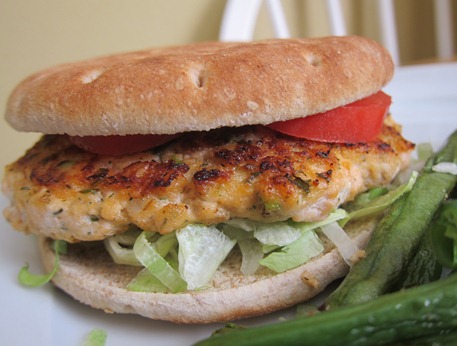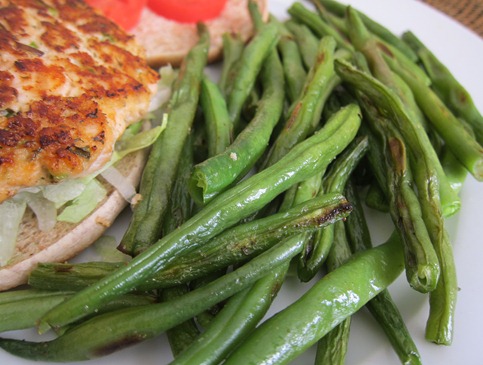 Eating healthy really can be so flippin' delicious!
And now it's Bachelorette time! Don't forget to join in on The Bachelorette discussion on the PBF Facebook page in the morning (or tonight, depending on how amped up we all get!).