Breakfast first, then some mantra talk!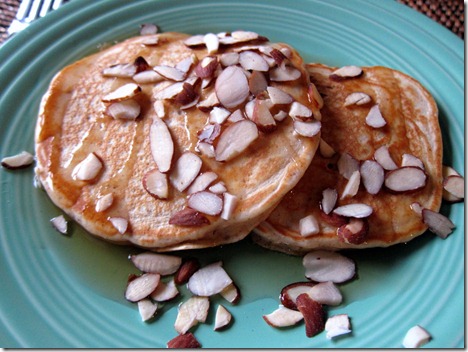 This morning I made a batch of honey whole wheat pancakes, but stirred some almond butter into the batter for a little extra flavor.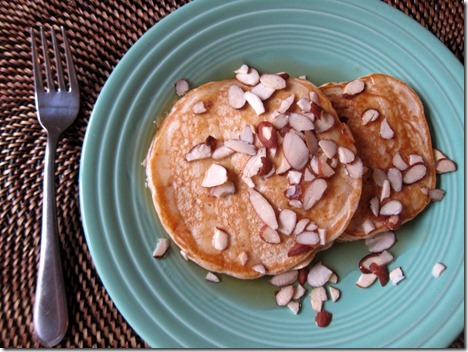 Topped with syrup and slivered almonds!
One Word Mantras
This morning, during my five mile treadmill run at the gym, I watched as the weatherman detailed the forecast for the coming week. Temperatures in Central Florida are expected to hit 80 degrees (and above) every single day.
My mind immediately skipped ahead to my half marathon next Saturday. What if the weather is still so warm? I started to think about my experience at the Women's Half Marathon in St. Pete when the heat really got to me about halfway through the race. I remember feeling incredibly overheated and my mind got into a funk and couldn't shake it.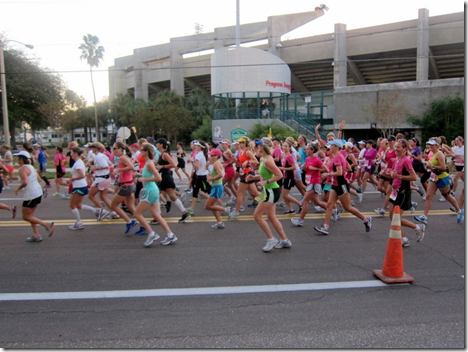 I've been lucky with the weather during my long runs for the past few weeks. My eight miler was hot, but during my 9, 10 and 11 mile runs, the temperatures were in the 50s or 60s which was perfect. I started thinking about how my body probably feels used to running longer distances in cooler weather and psyched myself out as I ran today. I let other negative thoughts creep into my mind.
I want to run next Saturday's half marathon and feel strong. I know heat and thick, humid air drain my energy quickly, but I think one of the biggest hurdles I faced during the Women's Half Marathon was my mind.
Rule your mind or it will rule you, right?
Once I got it into my mind that I was hot and tired, that's all I could think about. I focused on feeling defeated and that is obviously no way to invigorate a run.
Last month Theodora wrote a blog post about the power of running mantras. Her therapist encouraged her to explore using a one-word mantra during her runs. Theodora chose "speed."
I often use music as a way to break through mental funks during long runs. In addition to filling my iPod with upbeat music, I'm going to try Theodora's tactic and focus on a one-word running mantra during my half marathon if I feel negative thoughts creeping in.
My word?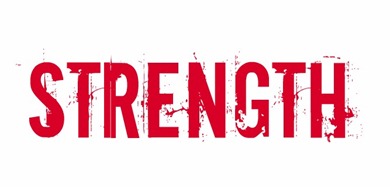 I feel confident in my ability to finish the half marathon. I've followed my training plan. I've run four half marathons before and know I can finish, but I want to really enjoy this race and keep my mind in a good place during all 13.1 miles. I know many things influence a runner's attitude, but hopefully calling upon the word "strength" during my run will help me remember that my body is strong and my mind needs to be strong, too.
Question of the Morning
If you were to use a one-word mantra to motivate yourself during a race or other fitness challenge, what word would you choose?