This week is clearly the week of leftovers for lunch.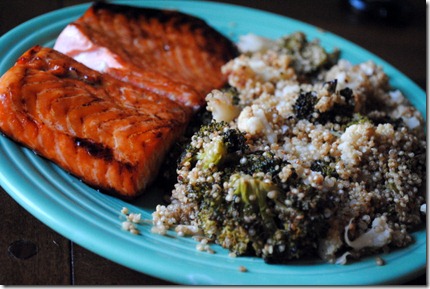 Leftover salmon from last night plus leftover roasted broccoli and cauliflower from Monday night!
I tossed the leftover vegetables with some quinoa and eventually ended up flaking the salmon with a fork and stirring everything together for a big, messy plate of yummy food.
The best part was that I assembled my plate in less than five minutes, thanks to the leftovers and the batch of quinoa I prepared in advance on Sunday evening. A little prep work goes a long way when it comes to throwing meals together in a flash. I felt like I was eating dinner!
Personal Training Certification Decision
I have a pretty big decision to make. As I told you guys last week when I talked about my Fitness Bucket List, I would like to get my personal training certification.
I've been researching various certifications for some time now and put out a call on the PBF Facebook page today looking for your certification recommendations since I know many of you are already certified personal trainers working in the industry.
A bunch of you guys weighed in with feedback about what certification you think I should go with, based on the knowledge it provides, the comprehensive nature of the certification and the credibility. I was happy to see that NASM, my current front-runner, received a lot of positive feedback. (If you're interested in becoming a personal trainer, definitely check out the comments on the PBF Facebook page. Lots of good stuff!)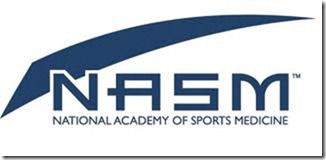 Now that I've basically made up my mind about the certification I wish to pursue, I am ready to take the plunge!
I registered for my CPR/AED certification next week, a requirement by NASM to receive my personal training certification. I was a lifeguard for several years in high school and hope the knowledge comes flooding back to me.
If you're a personal trainer and have any words of wisdom for me as I begin the certification journey, I'd love to hear your advice!