Since I already had the food processor out and got it dirty this morning after making high protein banana soft serve, I figured I might as well use it to make a few things before cleaning it and putting it away.
I made raw cashew butter (Ryan's favorite) and a large batch of my sunflower seed and walnut pesto.
I then used the pesto as the base for a yummy chicken salad.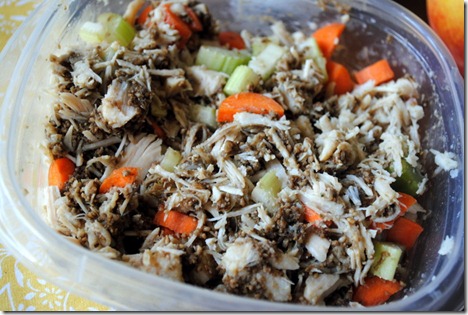 It was incredibly simple to make and would be even easier if you use your favorite store-bought pesto.
I combined the following:
1 shredded chicken breast
1 carrot, coarsely chopped
1 celery stalk, chopped
Enough pesto to coat everything (3 tablespoons?)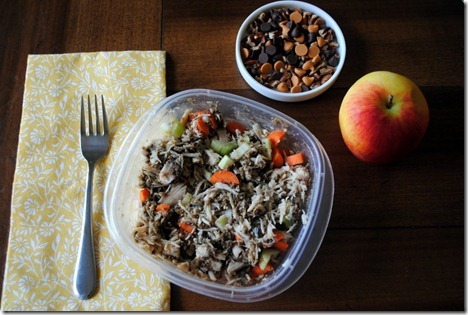 I ate the pesto chicken salad along with an apple and a little dish of butterscotch and chocolate chips and a sprinkling of chopped pecans.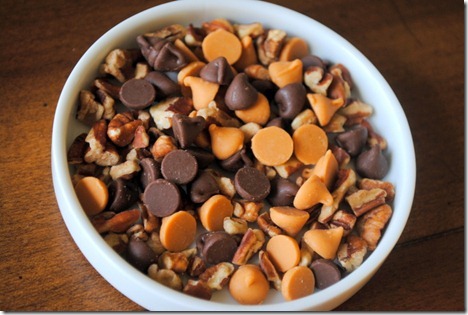 Portioning out the chocolate chips is key for me. I can mindlessly eat handful after handful of the sweet morsels, so bringing that little dish out of the kitchen and back into my home office with me got me away from the remaining sweets. It's a trick that I think more than a few of us try, and one that actually works sometimes.
And sometimes not.

Question of the Afternoon
When it comes to foods that you know make you want to keep eating and eating (not out of hunger, out of pure deliciousness), what do you do to help yourself not polish off a million servings in one sitting?
I love incorporating foods like chocolate chips into meals or snacks (on top of oatmeal or Greek yogurt) so I am able to enjoy their taste but feel like I'm not limiting myself since they're part of a more nutritious meal.
And then there's ice cream. A weakness for both Ryan and me. Both of us can easily eat an entire pint in one sitting (not kidding), so we don't keep it in the house. If we really want ice cream or frozen yogurt, we simply go out for it.