Good morning, friends! How are you doing today? All is well over here! The past couple of days have passed by in a whirlwind of preschool tours, play dates, internet issues and all that jazz.
As a first-time mom, I had NO idea preschool for the fall was something I apparently should be looking into now if I hope to get Chase into one of the smaller local preschools that don't cost an arm and a leg. Thank goodness for my girlfriends because I'm now feeling fully immersed in the preschool search and crossing my fingers we'll get into one we like this fall. Chase and I met up with some friends to tour one preschool that seems like a great fit yesterday morning so now we just have to wait until the end of February to see if Chase gets in for the fall. Right now the options we're considering only meet twice a week for half-days (usually around 9 a.m. to noon) and it's crazy to think Chase is already ready for preschool! Where did my baby go!?
Okay, enough of the preschool talk! Let's dive into a recap of yesterday, shall we?
Breakfast
The start of my day probably sounds quite familiar… 5 a.m. alarm + breakfast 1.0 (an egg white oatmeal protein pancake + coffee with whole milk and collagen) + work on the computer!
Once Chase was up for the day about 90 minutes later, I made my way upstairs and the madness began! I proceeded to dress the world's wiggliest toddler and then we headed downstairs to say goodbye to Ryan as he headed off to work before it was breakfast time!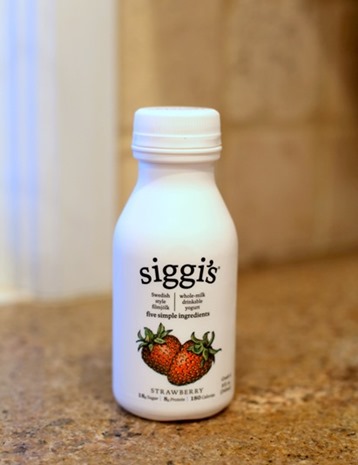 I sipped on a siggi's strawberry drinkable yogurt while Chase ate one of the muffins I baked for him yesterday. (I followed my go-to recipe for whole wheat pumpkin muffins but since we didn't have any canned pumpkin on hand I substituted fruit and sweet potato-based baby food pouches in its place and it still worked well! Success!)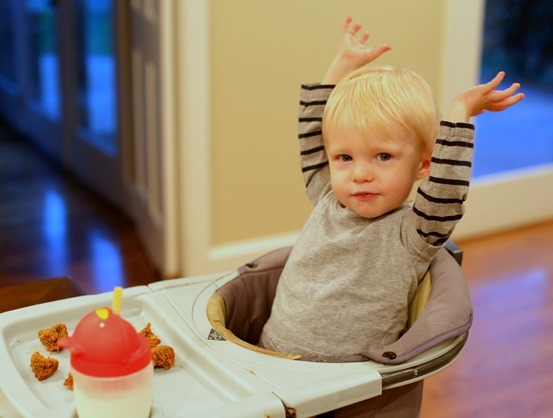 While Chase ate, I took advantage of his muffin-induced distraction and unloaded the dishwasher before prepping dinner for the night. I chopped onions and peppers, tossed them in olive oil, salt and pepper and topped them with chicken sausage before covering the dish with saran wrap and placing it in the fridge.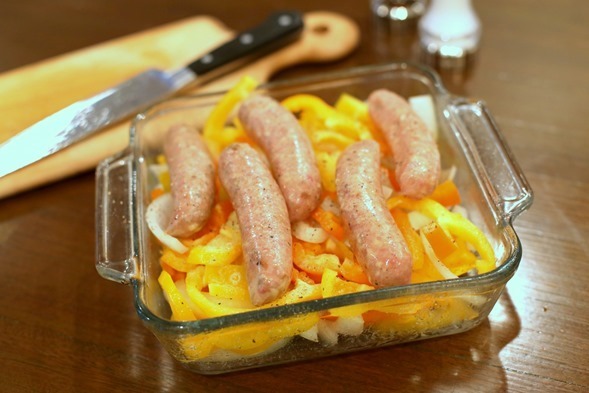 Workout + Story Time
Before too long it was time to head off to boot camp for a cardio workout. While Chase played in childcare, my friend Lauren and I sweat up a storm together and I looked like a strawberry by time 45 minutes was up.
The core of our workout included three 90-second rounds of the following exercises:
Once our workout was done, I scooped Chase up and we headed out to meet up with my friend Carrie and her daughter Lilly for story time at our local library. We haven't been to story time in ages and it felt almost nostalgic to be back! We went all the time before Chase was crawling and walking so singing "Open Shut Them" took me back to the cuddly baby days!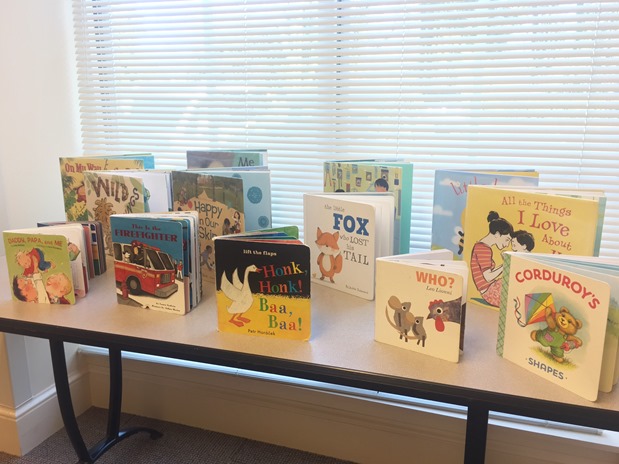 We made it back home around lunchtime so after some running around the house and a quick afternoon meal, Chase went down for his nap and I hopped in the shower. Then it was time to work! Our internet ended up being down which put a damper on my work time, but what are you going to do?
After troubleshooting internet issues on the phone for more than an hour, it was determined our modem is broken and a new one will be delivered today. (I brought my laptop to a local coffee shop to quickly publish this drafted blog post this morning.) Once I realized I'd be working internet-free for the day, I spent what ended up being the remaining 45 minutes of Chase's nap drafting this blog post using Windows Live Writer (the software I use for all of my blog posts) and I got a jump start on a future blog post I have planned for next week that didn't require internet.
Lunch
When I was talking to the internet customer service people, I multitasked during various holding periods and made myself lunch. I have been on a huge egg/tuna/salmon salad kick lately and threw together an egg salad sandwich with hard boiled eggs, carrots, avocado mayo (I buy this through Thrive Market), sweet relish, dijon mustard and pepper.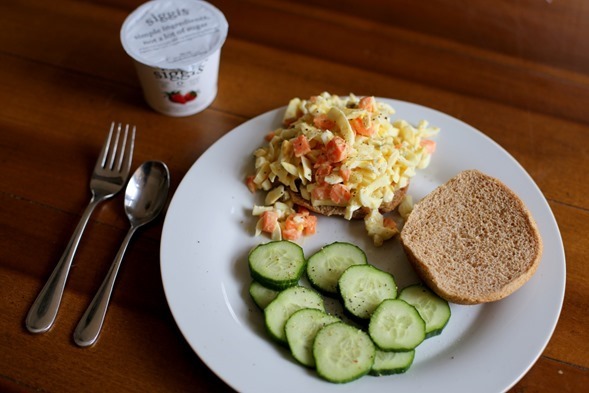 I served my sandwich with a side of cucumber slices and a cup of yogurt that I topped with sliced almonds for crunch and healthy fats.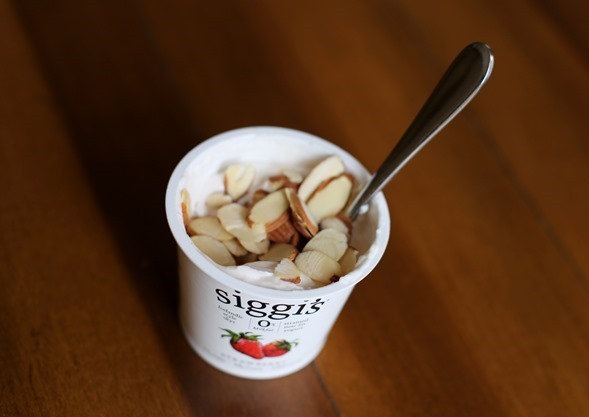 Lunch fueled me through internet frustrations and a brief period of work before Chase told me work time was o-v-e-r and he was up and ready for action. After a quick snack of homemade granola bars for both of us, we leashed Sadie up for a walk because it was sunny and absolutely gorgeous outside!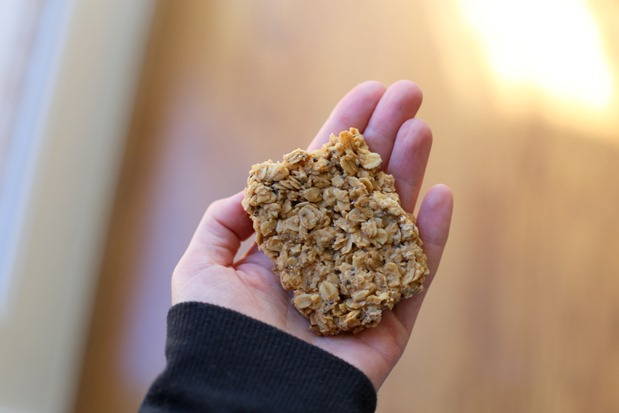 The fresh air felt amazing and I was determined to spend as much time as possible outside for the rest of the day. It was in the low 70s and unseasonably warm and just too pretty to stay inside!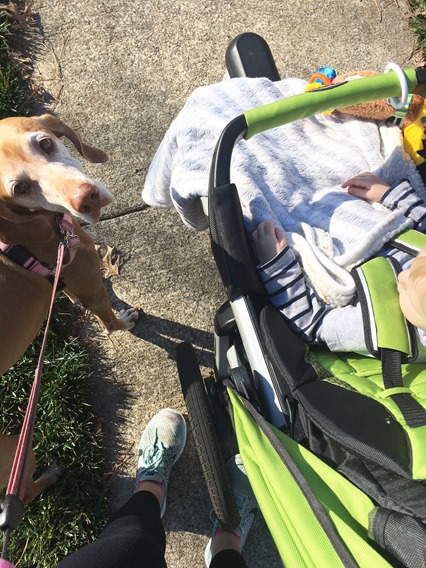 We walked around the neighborhood and played in the yard for a bit before I had a dentist appointment on my calendar. I actually chipped my front right tooth on Friday afternoon and have been feeling a bit self-conscious about it ever since so I was grateful Ryan could meet me at the dentist at the end of the day and pick up Chase so I could have m tooth repaired.
I was in and out of the dentist within 30 minutes and met up with Ryan at a local park where we ran into a bunch of our friends who were also there with their little ones.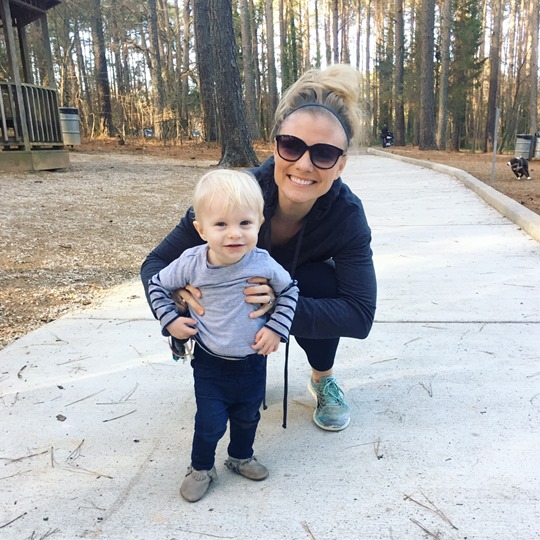 Apparently everyone wanted to take advantage of the gorgeous sunny day! We played at the park for an hour or so and had fun watching Chase run around like crazy before our stomachs told us it was time to head home. Once we walked through the door, I threw my pre-prepped dinner in the oven to cook while we took Sadie out for an evening walk. We also decided to take Chase for a spin on his Christmas trike toy which I'm happy to report is now a HUGE hit.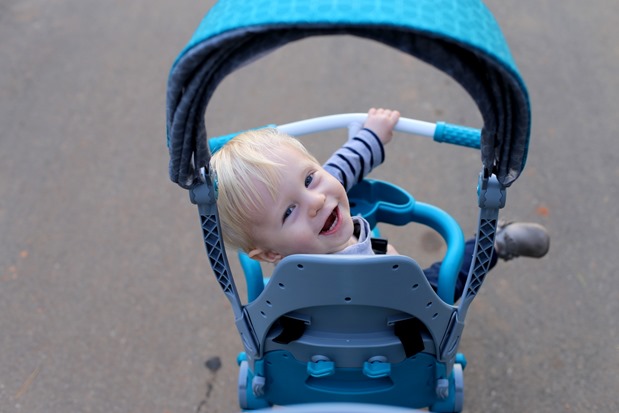 Once we got it outside and out of our living room, it was a total game changer and now Chase absolutely loves it. Phew!
By the time we made it home, dinner was ready and I quickly plated our chicken sausage, peppers and onions with two roasted sweet potatoes and we dug in!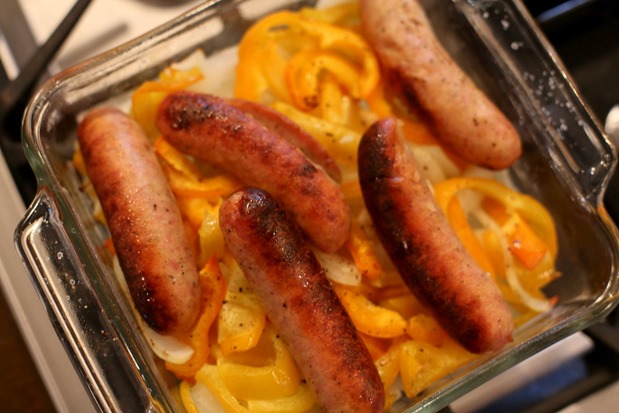 After dinner, we spent a little more time outside in our backyard before my sweet tooth told me to come inside for dessert. I've been back on my Yasso frozen Greek yogurt ice cream bars kick and the cookie dough flavor absolutely hit the spot last night.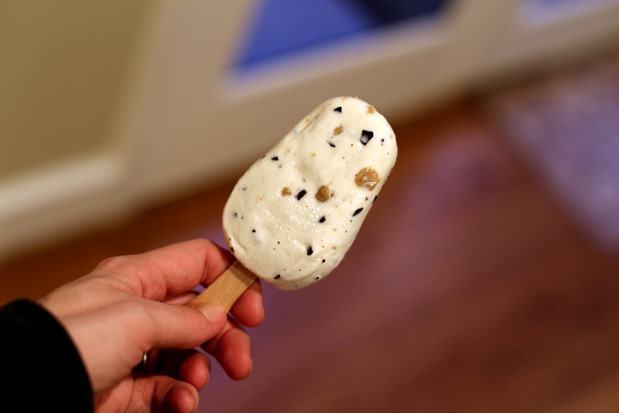 Chase went to bed not long after dinner and once he was snuggled up in his nursery, Ryan and I went to town on a bag of white cheddar popcorn (opened it and finished it in one sitting because we're champs) and I wrapped up this blog post on the couch before we watched an episode of Modern Family, headed upstairs to read and called it a night.
I hope you guys have a great Thursday and that the weather is nice and sunny for ya wherever you are today!