A festive fall take on traditional puppy chow, this recipe for pumpkin spice puppy chow is easy to make and the perfect crowd-pleasing treat for any autumn get-together!
When it comes to bringing something fun, festive and sweet to a party in the fall, I almost always default to cookies. But cookies – no matter how ridiculously delicious they may be – never get the same reaction that puppy chow gets.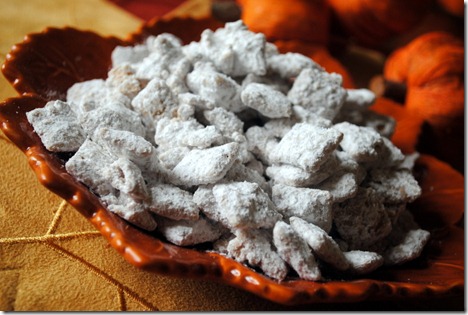 Just the name alone elicits a reaction. Puppy chow. Those who haven't heard of puppy chow scoff at the name. Those who have heard of puppy chow start drooling.
For those of you who may be unfamiliar with puppy chow, I'm so sorry you've been missing out on one of life's little treasures. But it's not too late!
I revamped traditional puppy chow (made with chocolate and peanut butter) and created a fun fall version with pumpkin pie spice and Biscoff.
Pumpkin Spice Puppy Chow
Makes 9 cups Puppy Chow
Ingredients:
2 1/2 cups powdered sugar
1 12-ounce package white baking chips
1/2 cup (heaping!) Biscoff spread (creamy or crunchy will work)
1 teaspoon pumpkin pie spice
9 cups rice Chex cereal
Directions
Place powdered sugar in a large sealable plastic bag. Set aside.
Combine white baking chips and Biscoff spread in a microwavable safe bowl and microwave on high for one minute. Stir. Microwave for an additional 30 seconds and stir.
Stir pumpkin pie spice into Biscoff mixture. Fold in Chex cereal and toss to coat.
Pour Chex into plastic bag and shake to coat the cereal in powdered sugar.
Remove coated cereal from bag and serve. Enjoy!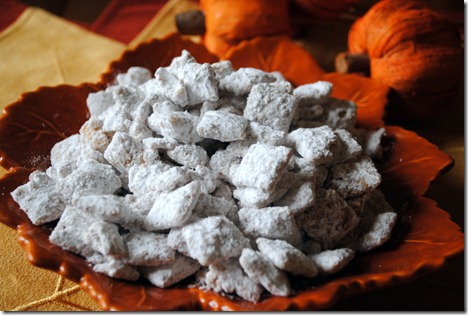 I think this puppy chow would also taste delicious with candy corn, orange and yellow Reese's Pieces candies or pumpkin pie spiced pecans stirred into the mix.
And here's a fun video for ya so you can see just how easy it is to whip up a batch of this delicious pumpkin spice puppy chow anytime you're in the mood for a festive fall treat!