Even though it is so easy to microwave a sweet potato, whenever I take the time to slice it up, toss the wedges in olive oil and salt and roast them in the oven, I am always glad I made the extra effort.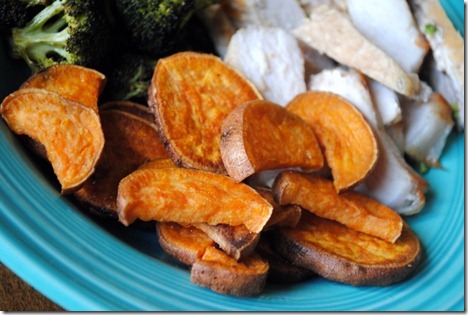 The sweet potato wedges stole the show this evening.
We ate them with roasted broccoli and pork, but I only went back for seconds of the potatoes.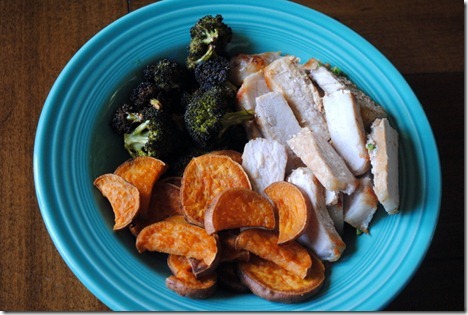 Now it's time for the return of a long lost blog feature!
Questions of the Month: July
In March I started "Questions of the Month," figuring it would be a neat monthly feature on the blog where I could answer some questions I received repeatedly that month. Well, the feature died a month after its debut because I completely forgot about it until a reader emailed me last week asking me if I planned to bring it back.
It's back, baby! Let's get to it!
What kind of harness do you use when you take Sadie on a walk or run?
We use the Gentle Leader Easy Walk harness for Sadie and I cannot recommend it enough.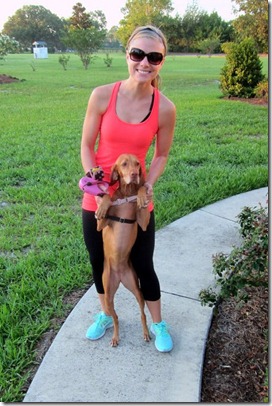 It goes around her belly and shoulders, leaving her neck free and doesn't seem to bother her a bit. If Sadie tries to pull, the harness  basically makes her walk around in a circle. I makes walking or running with Sadie a lot more pleasant!
I wanted to ask you about what made you want to run your first half marathon and what running base you had when you began training. I've been running (short distances) for several months, have run a few 5Ks, and running a half marathon is the next thing I'd really like to accomplish! Based on the running-related posts that I've read, it seems that we are pretty similar when it comes to running… .I'm not a natural runner at all, but I really enjoy the workout is gives me!
I got into running when I graduated from college. I found myself craving a new challenge in my life and began looking into running races, thinking that running a 5K would be a neat accomplishment.  I made it my goal to run the 3.1 mile race non-stop in August 2007. After that race, I ran a 10K and started training for my first half marathon in October using Hal Higdon's novice training plan. I completed my first half marathon before the end of the year.
Blog posts related to half marathon training include: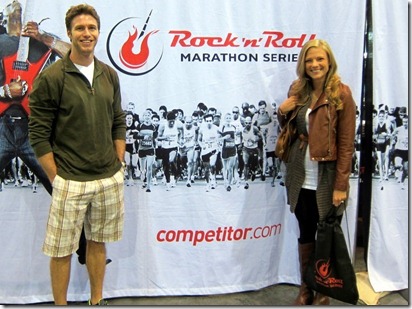 What is your favorite kind of peanut butter?
I am not a peanut butter snob by any means. I typically buy Skippy Natural because it is inexpensive and tastes like the peanut butter from childhood without the crazy ingredients. Justin's Nut Butter and Peanut Butter and Peanut Butter & Co. also make a mean jar of peanut butter.