If I could sum up today in one word it would be relaxing.
Ryan returned from a two-day business trip last night and arrived home quite exhausted. He requested a laid back weekend and that sounded good to me, especially since our calendar is quite full for the rest of December and I'll be out of town next weekend. "It's the most wonderful time of the year!"
After we awoke, we took our time eating breakfast and doing some chores before heading out of the house for a workout. While Ryan went to the gym, I stuck to running and followed the distance on the agenda for the day according to my half marathon training plan. I did a big six-mile loop without my favorite furry running buddy.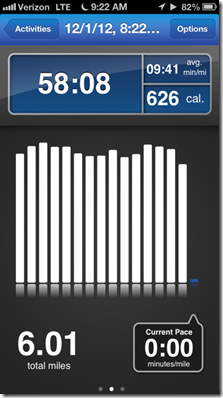 (I absolutely love the Run Keeper app and all the information it displays!)
My hamstrings and butt were so sore today thanks to yesterday's Winter Circuit Workout, which made the first couple of miles of this run a little challenging. Lead legs!
I felt so bad leaving Sadie at home while I went running because I know how much she adores being outside and trotting along with me. The vet said I shouldn't run with her until her sutures are removed, but assured us walking was perfectly fine as long as she seemed up for it.
Sadie's energy level has almost completely returned, so Ryan and I took her on two long walks today which she seemed to enjoy.
After my run and a quick shower, Ryan and I drove to the grocery store to buy some food for the day before I headed into the kitchen to bake something very special.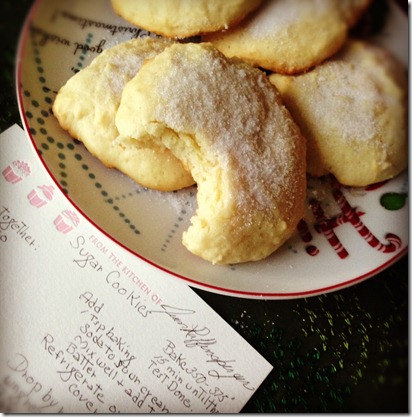 My grandma's sugar cookies!
My grandmother's sugar cookies are a family favorite and I made a double batch because I'm sending a dozen cookies out to three different bloggers through The Great Food Blogger Cookie Swap. One batch of the cookies easily makes three dozen cookies, but Ryan and I needed some for ourselves, too!
My first batch of Christmas cookies this year! Startin' early!
In between baking batches of cookies, I made a quick lunch that included some holiday-appropriate red and green roasted Brussels sprouts and cherry tomatoes.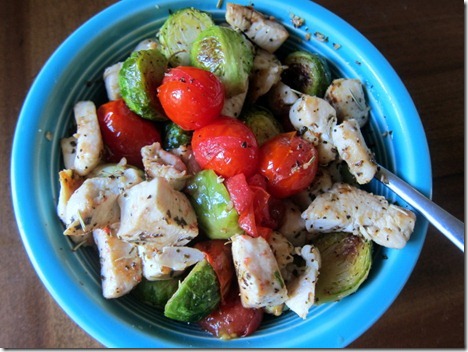 I tossed the tomatoes and Brussels sprouts in olive oil, garlic salt and pepper and roasted them for 20 minutes at 400 degrees. While they were roasting, I sautéed chopped chicken breasts in olive oil and seasoned them with salt, pepper, rosemary and basil.
It was such a simple meal, but Ryan and I both loved it!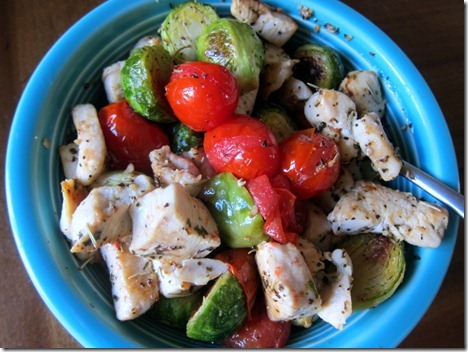 After lunch, it was time to decorate for Christmas.
I brought the decorations out earlier this week, but never got around to decorating until today. The outside of our house still needs some work, but it's looking awfully festive inside!
By the time dinner rolled around, Ryan and I were both in the mood for one thing and one thing only.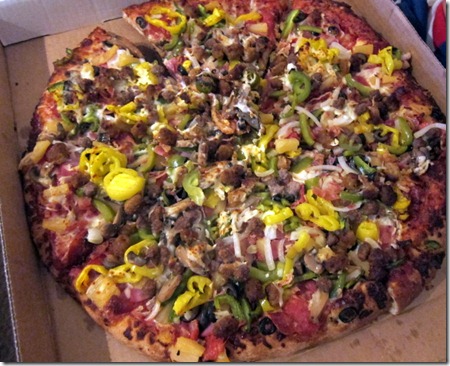 Pizza!
Now I'm off to eat pizza and snuggle up on the couch. We have a happenin' Saturday night on the agenda that features DVRed episodes of Modern Family. Oh yes!
See ya in the morning!