Relay For Life is an overnight relay-style event that raises money for the American Cancer Society. Teams of people camp out around a track and members of each team take turns walking around the track for the duration of the event.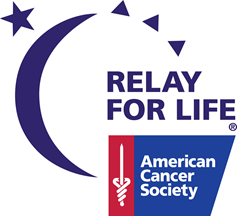 I raised money and participated in a small handful of Relay for Life events in high school and college and found the event to be inspiring, motivating and just plain fun.
To learn more about Relay For Life, simply click the link below:
You may also find an event near you here.
Stephanie's Story
My story kind of begins where my uncle's life ended, sadly enough. He died in November 2003, and I've been a part of our local Relay For Life ever since.
My mom kind of stumbled on the group in their second year, and I went to the 2004 Relay. It's an incredibly emotional 18 hours, including a lap to honor our survivors, a lap to remember those who we've lost, and a lap to promise to fight back. This year, I also registered for the Cancer Prevention Study-3 to hopefully end this disease. (It's probably completely callous to say, but I really f'n hate cancer.)
Last year, I was one of the co-chairs of our event, and we raised $134,000 ($19,000 covered our expenses, and the remainder went toward cancer research), smashing our 2011 goals. This year, I've dropped back to just a committee member to focus on my mom's team, among other things that came up in my life. 
The fundraising we do also covers the following programs (among others):
Hope Lodge – Getting the best care sometimes means cancer patients must travel away from home. This can place an extra emotional and financial burden on patients and caregivers during an already challenging time. The American Cancer Society is trying to make this difficult situation easier for both cancer patients and their families through Hope Lodge.
Road to Recovery – Every day, cancer patients need rides to treatment. Some may not be able to drive themselves, and family and friends cannot always help. Our Road To Recovery program provides rides to patients who have no way to get to their cancer treatment.
Look Good…Feel Better – In a Look Good…Feel Better session, trained volunteer cosmetologists teach women how to cope with skin changes and hair loss using cosmetics and skin care products donated by the cosmetic industry.
Reach to Recovery – If you have breast cancer, you may want to talk to someone who knows what you're feeling someone who has "been there." Through our Reach to Recovery program, we can match you with a volunteer who will talk with you about coping with your breast cancer diagnosis and treatment.
(Above information from RelayForLife.org.)
You may also follow Stephanie's blog that highlights information for the participants of the Greater Bridgewater Relay For Life team.
Maggie's Story
I got involved with the American Cancer Society on a whim; all I knew is that the ACS needed volunteers. I wasn't really sure what I was getting myself into, but I was driven by the fact that it was a good cause, and I have lost family members to cancer.
But what started as a whim ended up with me spending three years on the planning committee for the local Relay For Life event.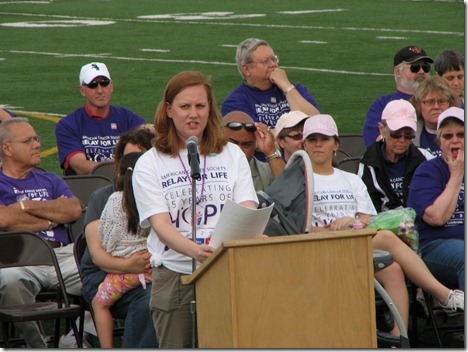 I was a "youngster," but I apparently showed promise of leadership, and our event was without a leader, so when asked to step up and be the Event Chair, I felt that I couldn't say no.

Despite my own hang-ups about being inexperienced or the time commitment required, it paled in comparison to the task at hand – fighting cancer. So, for two years in a row, I led a group of dedicated volunteers to plan an annual event that brought out 700 people, including many cancer survivors, and annually raised around $150,000 for the fight against cancer. I met a lot of amazing people, and also developed some great skills – when you are addressing a group who has battled such a terrible disease, a fear of public speaking seems so silly.

I am still involved with the ACS, but now I fundraise for them through Determination, their endurance running program. I've been trying to fundraise in more creative ways than just asking for money, including selling "I Run With Fast Women" shirts.

You may follow Maggie on her blog, Mag Mile Runner. 

***

Additional reader volunteer stories:

As a former participant in Relay For Life, I am excited to share Stephanie and Maggie's stories with you in this post that continues a series of PBF-reader submitted volunteer stories.